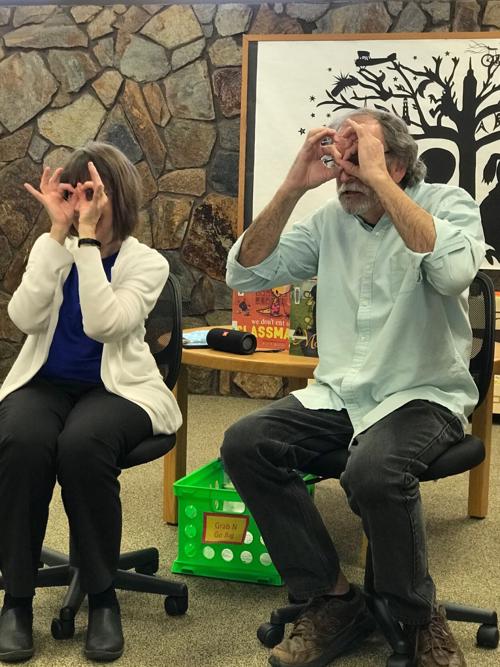 YORK – People from Oklahoma, London – even Japan – have visited Kilgore Memorial Library in recent months.
The library's Tuesday story hour is hosted by Mrs. and Mr. B. (also known as Carol Baker, Kilgore's Education Outreach Coordinator; and her husband John Baker, a professor at York College). The Facebook Live story time team and their antics have proven popular with kids and grown-ups from all over. Some are former students of John's, Carol said. "We have a lot of his former students that watch us. Our granddaughter watches in Oklahoma."
Kids can attend in person socially distanced; usually about five kids, along with their parents, come to Kilgore to watch Mrs. and Mr. B.'s antics. Carol said it is difficult to tell who tunes in online, but the weekly broadcast often garners hundreds of "likes."
The event was born, like many other things in 2020, out of COVID-19 necessity. "When things didn't change in the fall we couldn't do story time like we used to," Carol said. "We thought, 'Why can't we do both?'"
Carol and John discussed the idea with Carol's library colleagues, and moved forward with the idea. Craft activities have a bit of a twist, with pre-packaged "Grab and Go" paper bags containing a weekly activity. The most recent was Thanksgiving themed; kids were tasked with making a symmetrical turkey using pipe cleaners and paper turkey parts.
The bags are available to any child, whether they "attend" the story time or not. "They can come to the library in person and get them any time [the library is open]," Carol said. Materials already in the library's stash of leftovers and the talents of employees are used to put the popular bags together. "We use a lot of things we already have," Carol explained. The next bag will contain a balloon-centric activity to complement the week's story: "Balloons Over Broadway" by Melissa Sweet. It tells the story of Tony Sarg, who created the iconic Macy's Thanksgiving Day Parade helium balloon characters.
The most recent story hour featured the books "You Are Small" and "Don't Eat Your Classmates" (a Golden Sower Award nominee).
Sing-alongs and a word of the week are also incorporated in to the couple's production (which, Carol said, sometimes has a few "bloopers"). A few songs were selected to help teach kids the importance of staying safe in the era of COVID-19, including a hand-washing song and a masked super hero.
Of course, copyright permissions come into play, since it is broadcast. "We have a packet of publishers that have given us permission," Carol said, adding that writers, songwriters and companies have all been great to work with and supportive of Kilgore's – and Mrs. and Mr. B.'s – mission to bring learning and fun to kids, not matter where they're watching from.