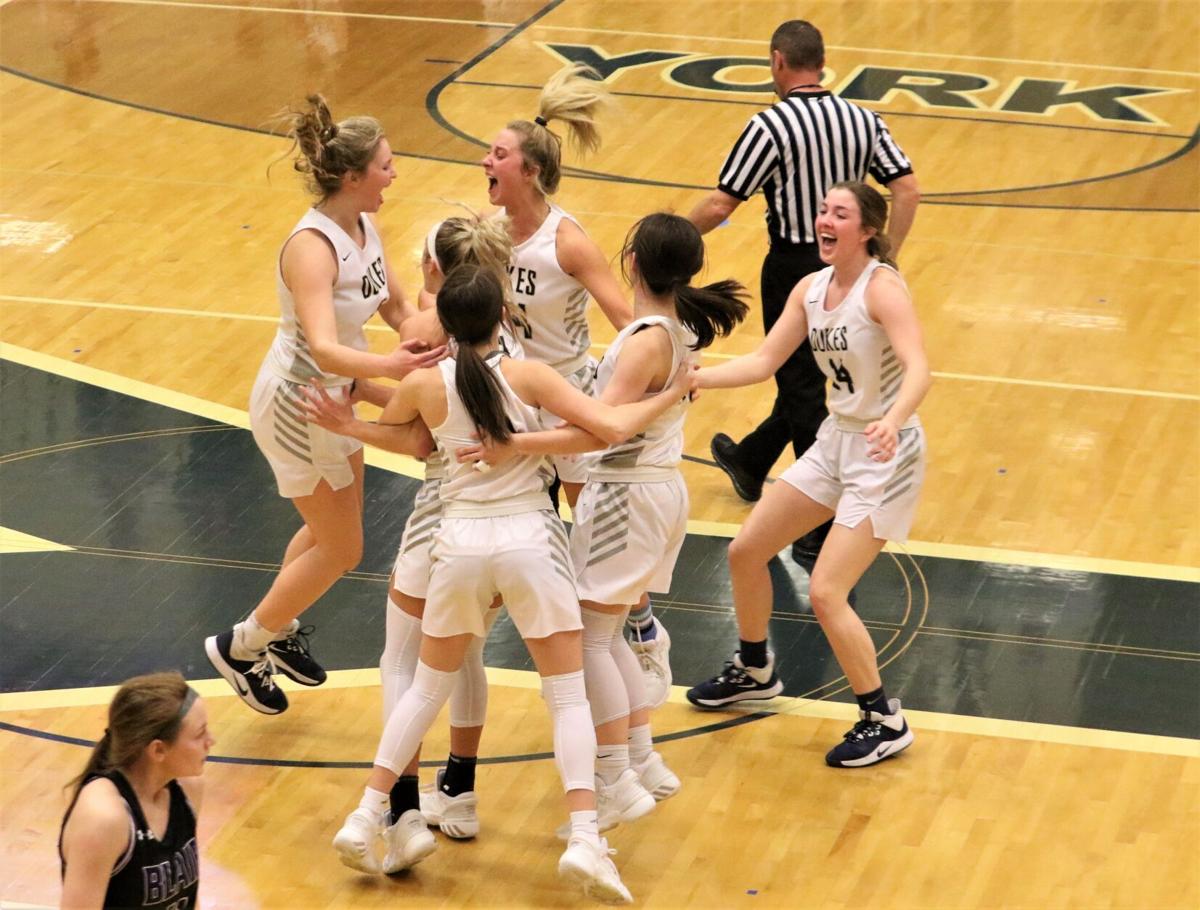 YORK-The Class B-5 District final at York on Saturday was everything that York head coach Matt Kern expected it to be.
He knew coming in that the Blair Bears would be a handful and he proved to be a prophet as York needed a late scoring burst to pull away for the 57-52 win and punch their ticket to the Class B State Tournament that gets underway on Tuesday, March 3 at the Pinnacle Bank Arena in Lincoln.
Blair came into the game with a 13-8 record, but the ability of the Bears to dribble drive penetrate and kick out for the 3-point shot was evident from the start.
"That is an awesome, awesome team. They are well coached, they play so fast and so hard and they can really shoot the ball," said Kern after the win. "They just kept shooting and if you gave them any room at all they were going to make it. They are going to be back again next year because they are a very good team and young."
Blair hit two three's in the first four minutes and for the game knocked down 8 of 15 to stay with the 19-3 and No. 7 rated team in Class B for 32 minutes.
York led by four at the half 28-24, but gave up the lead as freshman guard Leah Chance knocked down two 3-pointers in the third quarter.
York answered with a three-pointer from freshman Kiersten Portwine and four points from junior Masa Scheierman and the lead was back to 38-33 at the end of the third quarter.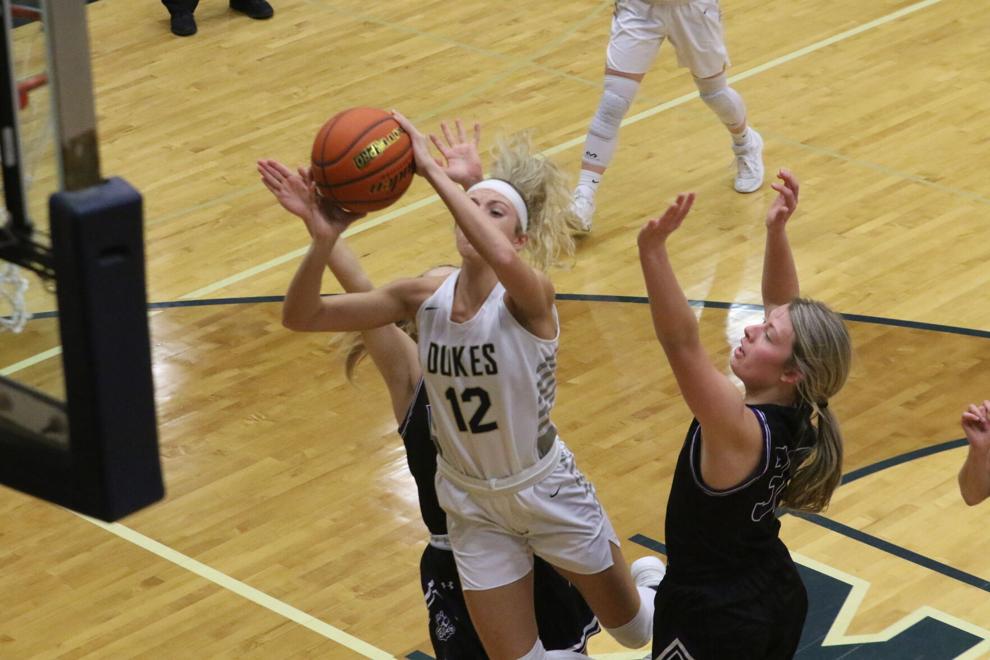 York senior Maddie Portwine scored seven points in the first quarter and nine in the second as she scored on the drive, knocked down two 3-pointers and she was 4 of 5 at the free throw line in the first half. She finished the game with 25 points and she was 11 of 15 at the foul stripe.
Blair continued to fight and once again erased the Duke's lead as junior guard Mya Larson had six points in the fourth quarter and finished with a team high 14, junior Makayla Baughman put up six points over the final eight minutes as did senior Ella Ross who finished 13. Chance added 10 points.
York led 51-50 with 51.3 seconds to play and was able to put the game away from the foul line as they were 10 of 14 over the final eight minutes.
Both teams were hot behind the arc today as the Bears were 8 of 15 and the Dukes 7 of 15
"We shot the ball better today and that really helped. The score 57-52, -we want to win with defense and I told them that in the locker room and I think they laughed at me," Kern added. "Our 57 points is outstanding. It's a credit to these girls and how darn hard they have worked and how much they wanted this and I am really proud of them."
Other than Portwine's 25, the rest of the scoring fell on 6-foot 1 inch junior Masa Scheierman with 14 and junior guard Destiny Shepherd added 12.
"Maddie is a special, special player and her ability to score at the rim and her ability to find open players, we are just very blessed to have her and I was very happy for her because she has wanted this for four years," Kern said.
York was 15 of 35 from the field and out rebounded the Bears 26-16. York was 20 of 28 at the foul line.
Blair finished 14 of 32 and turned the ball over 12 time to just nine for York. The Bears were efficient at the foul line hitting 16 of 22.
York will find out their opponent later today once all the Class B girls subdistrict games are completed.
"I'll take who over shows up and we will be ready to play that is for darn sure," Kern concluded. "Anytime you get to the state tournament it is special and we knew we were capable of this and we are just very happy to be in the position to play down in Lincoln next week."
Blair (13-9) 9 15 9 19-52
York (20-3) 15 13 10 19-57
BLAIR (52)-Valasek 4, Larson 14, Chance 10, Baughman 9, Ross 13, Murray 1, Ulven 1. Totals-14-32 (8-15) 16-22.
YORK (57)-Scheierman 14, K. Portwine 3, Shepherd 12, M. Portwine 25, Pohl 3. Totals-15-35 (7-15) 20-28-57.