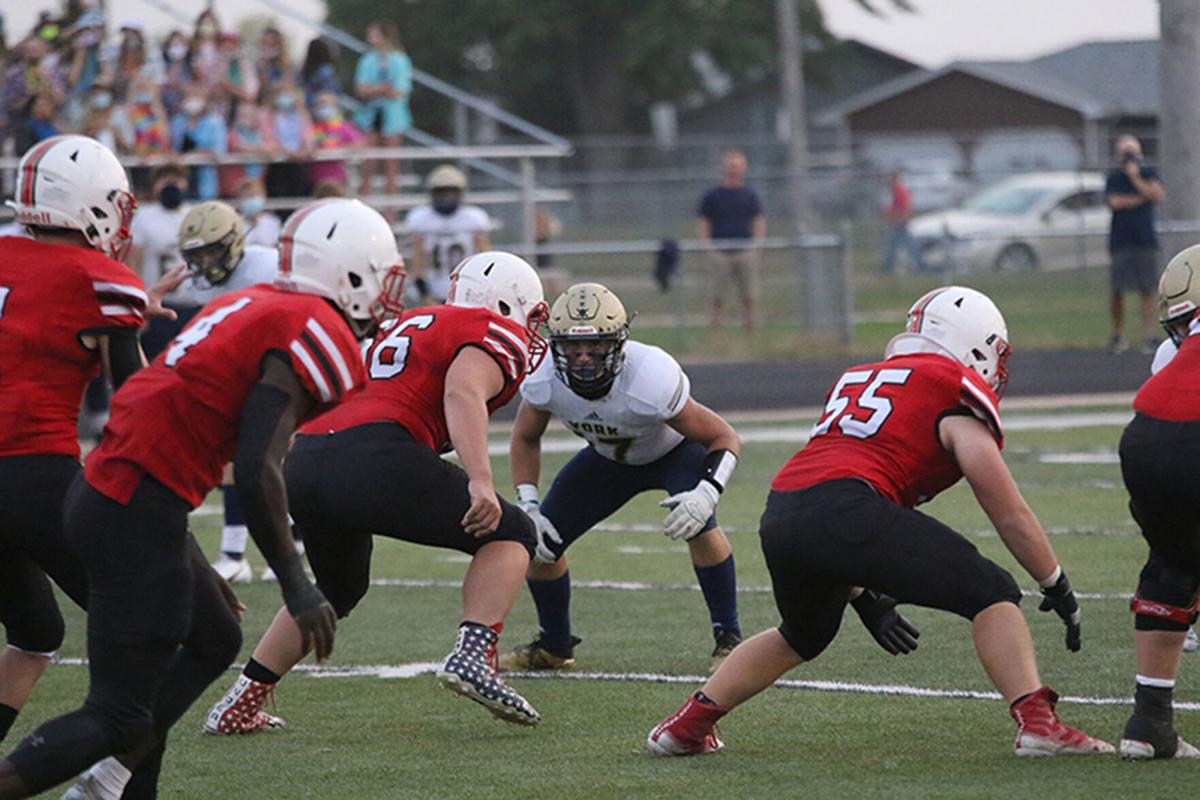 YORK – The York Duke pipeline is alive and well at Concordia University's football program.
Versatile senior Ty Bartholomew is the latest Duke to commit to head coach Patrick Daberkow's team. The addition of Bartholomew will make four former Dukes on the Bulldogs' roster next season with tight end Wyatt Cast, kicker Jorre Luther and fullback Dylan Rahder.
Other schools like Morningside College and Midland University had interest in Bartholomew, but Concordia was the place that had everything he was looking for.
"It's close, only 30 minutes away, and that was a pretty big factor," Bartholomew said. "I also want to study Ag and they have a really good Ag Science program. But when I got on campus for the first time for a visit during a game, it felt like home right away. I met a lot of my future teammates and they were all super amazing to me.
"It just felt like the place I needed to be."
One specific moment really stood out to Bartholomew during his visit. It was Concordia's homecoming game against Morningside. Almost immediately when Bartholomew showed up, he was greeted by coaches. He was treated like a priority, and that resonated.
"They took me out on the field and I got to watch warmups. Being able to be out there with everyone, I got the feel for it and what it'd be like next year for me and the following years after that," Bartholomew said. "It was just an amazing feeling being able to be out there and see what my next four years is going to look like."
The Duke connection was another aspect of Concordia that Bartholomew liked. He went to lunch with a couple of his former teammates and they helped him with any questions he had.
"They had a lot of good things to say, and I can't wait to be a part of the team that they're a part of," Bartholomew said.
What's Concordia getting in Bartholomew? According to his high school head coach, Glen Snodgrass, a great person and an excellent worker.
"He's one of those kids you can always count on to not only show up to all the workouts, but then do extra on his own," Snodgrass said. "I knew early on he was going to be a pretty good football player just because of that work ethic and his athleticism."
One thing that jumps out with 5-foot-11 Bartholomew on the field was his versatility. He's seen varsity snaps at quarterback, running back, receiver, linebacker, defensive back and punter during his career.
Being able to play multiple positions is going to help Bartholomew at the next level. It's early of course, but outside linebacker is a position he may start out at. Outside 'backer in particular is a difficult positon to play as it's asked to do different things, like fall back in pass coverage on one play and slide down in run support the next.
Bartholomew has shown he has the athleticism to do both.
"His versatility allows him to play the run and also drop back and be a pretty good coverage linebacker, and I would say that might even be his strength," Snodgrass said. "We played Hastings and matched him up against a first-team all-state receiver that they had, and he did a really nice job against him. But then you can also put him in the box on a third-and-short and he'll make a play there, too."
Bartholomew was playing at 192 pounds this past fall but wants to get bigger while keeping his speed. He's now up to 196 with the goal to get around the 205-210 range. To do that, he's been on a weight plan. Breakfast these days includes a lot of bacon, eggs and protein waffles. There are protein shakes and snacks throughout the day, too. Dinner is usually a carb-heavy meal like pasta.
Bartholomew is serious about wanting to continue his football career. He always has been.
"It's hard to describe the feeling of being out on the field with your teammates and going all out," he said. "I knew when I started football in third grade that it was going to be something I wanted to do in high school and then college."
Bartholomew said his time in the York Duke football program and being coached by Snodgrass has really made an impression on him. He's been taught lessons that will stick with him for a long time.
"He taught us how to be amazing teammates, brothers and future husbands and fathers," Bartholomew said of what he learned from Snodgrass. "Teaching us 'yes, sir,' 'no, sir,' and 'yes, mam,' 'no, mam,' and, 'please,' 'thank you,' 'pardon me,' and just to be respectful. And on the field, he taught us to be tough and that we're always going to go nose-to-nose on every Friday night against whoever we're playing. That was the biggest learning factor that my teammates and I all took."