YORK – In the midst of a difficult and injury-plagued season for the York Dukes football program in 2019, it was good to have guys like York's Erwin brothers.
Both Tom and Jake Erwin shouldered a heavy load mentally and physically by playing multiple positions on offense last year. During his senior campaign, Tom chipped in at tight end, fullback, running back and even guard along the offensive line. Jake, then a junior, saw snaps at running back, fullback, tight end, the X and Z receiver positions and quarterback when then starter Ty Bartholomew went down with a season-ending leg injury Week 6 at Hastings.
But instead of two Erwins on the squad this fall – Tom is graduated and now a walk-on fullback for the Wyoming football team – the York coaching staff is down to just Jake, and he's heading into the season opener at Crete on Aug. 28 as the Dukes' starting quarterback.
With Erwin and Bartholomew switching roles this season – Erwin to full-time quarterback and the elusive Bartholomew to running back – the Dukes are hopeful the move will pay off. With a revamped lineup following the graduation of the talented 2018 class, York's offense struggled to put up points last year. The Dukes didn't score in three games and averaged just 212.8 total yards.
Injuries to key players and inexperience in the starting lineup had a lot to do with the offensive woes, but Erwin did show flashes of leading successful drives when he was under center for the final three games. For the season, he rushed for 288 yards with two touchdowns and averaged 5.54 yards per carry. In the passing game, he went 22 of 53 for 206 yards.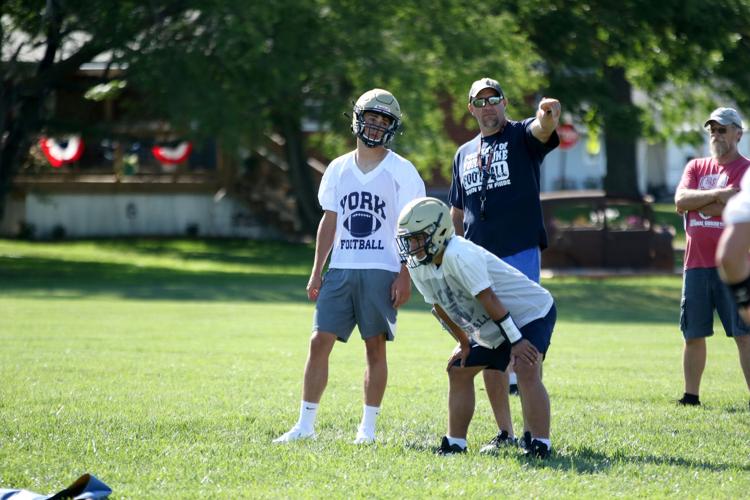 Before Bartholomew's injury in Hastings, Erwin said he was prepared as the team's backup quarterback. Playing all the positions he did helped his readiness and football IQ.
"I love being that kind of Swiss-Army-knife guy. It's fun to know the game like that," he said. "Football is a fun sport – you have your job, and if everybody does their job it'll execute perfectly. It's like art. Knowing every position, it's even more fun because you understand what everyone is supposed to do and understand how everything flows."
Erwin admitted that he was a little nervous to take that first snap in Hastings. But that feeling quickly faded.
"After I got that first snap and I kind of got the feel for how everything moves in the game at that position, I just felt more at home," he said. "I sort of embraced the moment in Hastings."
Erwin is embracing the position move, too. Now fully healthy, Bartholomew has put the injury behind him and is back to his normal athletic self. The 5-foot-11, 188-pound Bartholomew rushed for 259 yards and two touchdowns last season.
"I love the switch. Ty's built for a running back. He's a heck of an athlete that has speed. He gets downhill and he can bulldoze people. I think he's going to do great at running back," Erwin said. "I like it (position change) a lot more and I think our coaches like it a lot more. I have a great feeling about it and I know others do, too. I'm excited to see what will happen."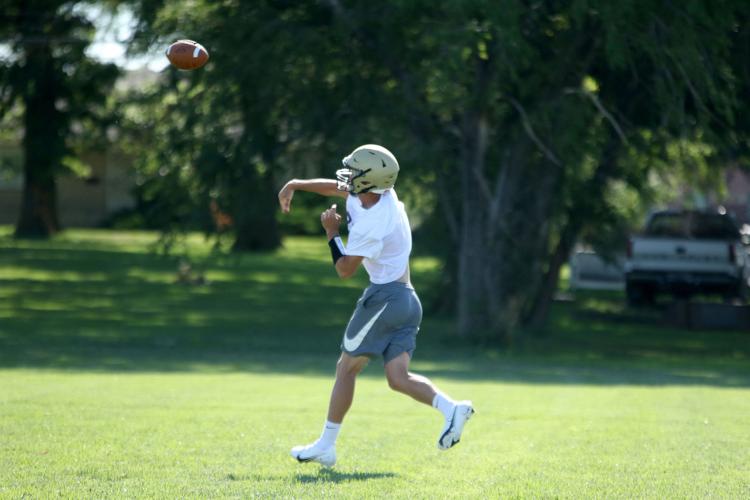 Erwin's best game of the season at quarterback may have been the season finale, a 34-27 loss at Crete, where he racked up 243 total yards, rushing for 128 and two scores while throwing for 115. The week before, in an 18-0 loss at home to Seward, he rushed for 133. Although those were two losses for the Dukes, the offense showed life with trips into the red zone.
"We weren't winning games necessarily, but it was a better feeling when we would put together drives to get a field-goal opportunity or a touchdown," Erwin said.
York averaged just 67 passing yards per game last year. With little threat downfield, defenses keyed in on the Dukes' run game, making it harder to move the ball on the ground.
"I think our passing game will improve from last year, and that's not a tough thing to do," Erwin said. "The end of the Crete game last year, I think, showed a little glimpse of it. We put together some drives off the passing game. We'll be bringing in some receivers that are really hungry for success, and we didn't get a lot of that last year."
With the graduation of York's top three receivers from last year in Tyler Wright (16 catches, 160 yards, one touchdown), Tom Erwin (10 catches, 139 yards) and Jacob Diaz ( eight catches, 97 yards), guys like Cooper Koch, Thomas Ivey, Kirby Linhart, Chase Collingham, Joel Jensen and Austin Phinney – as well as Bartholomew – could be Erwin's key targets this season.
With a full summer of knowing where he'll play, Erwin is excited to get to work and see how the season goes. He wants to keep a level head and take things one game at a time.
"Of course I want to win all the games, but above anything else, I don't want to be selfish," Erwin said when asked what his goals for the season are. "I want us to play as a unit, as one, and always keep our heads up. I want to do whatever we can to get an advantage. I think we have the right guys to do it."