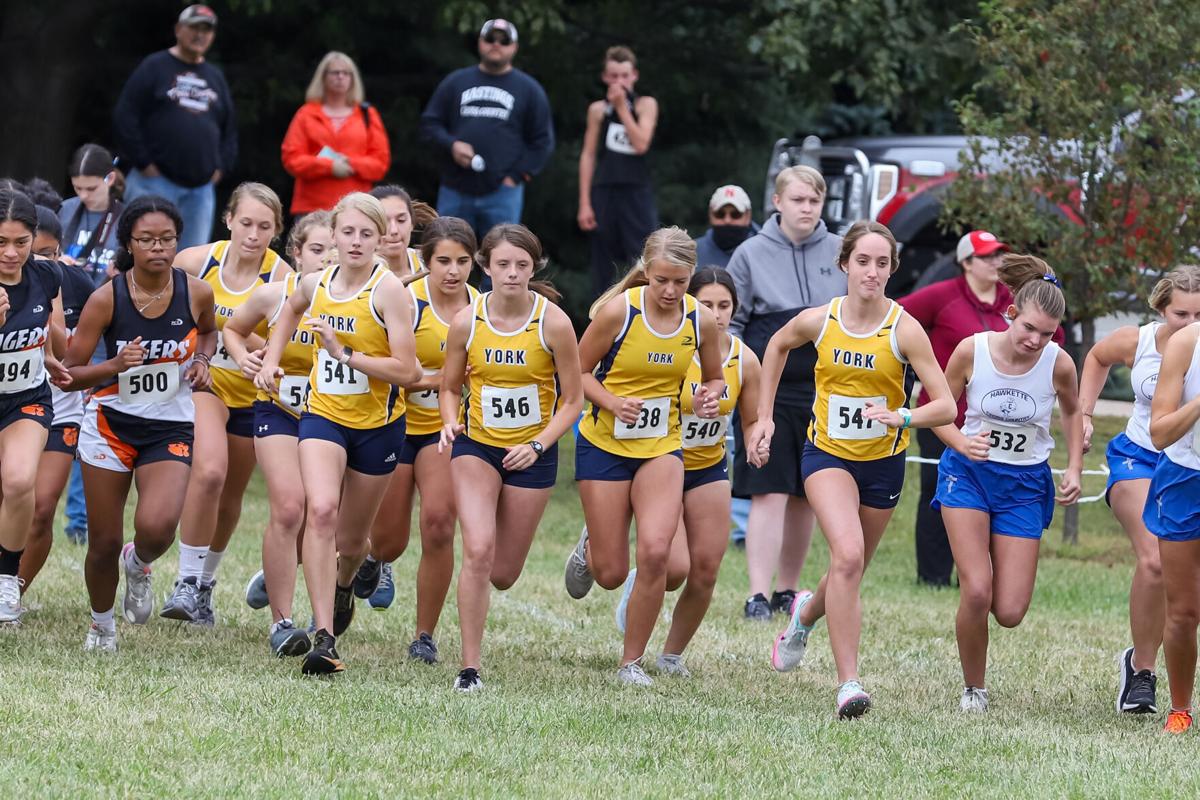 KEARNEY – The York Dukes and McCool Junction Mustangs cross country teams ran at the University of Nebraska-Kearney Invite on Monday and saw strong performances despite running in a harsh wind.
The McCool girls had the most success as a team – they scored 25 points and finished runner-up out of 26 squads in the Class D girls race, just one point from invite-champ Ravenna, which had 24.
McCool had three runners finish in the top 15, including Payton Gerken (7th, 21 minutes, 28.9 seconds), Alyssa Plock (8th, 21:29.7) and McKenna Yates (14th, 22:05.7).
"Our girls competed the best they have all year today. We were really gunning for first place, yet came one agonizing point short to a very strong Ravenna team," McCool head coach Ryan Underwood said. "Despite that, I love the competitiveness our girls showed. While the running conditions, with strong winds, were not ideal for great times, I was very encouraged by how our girls closed the gap to Ravenna toward the end of the race."
Hastings St. Cecilia's Alayna Vargas won the race in 20:08.7.
The rest of McCool's runners included Sarah Vodicka (50th, 24:40), Sara Weisheit (70th, 25:52.6), Aurora Toms (76th, 26:02.4) and Carryna Light (145th, 31:22.1).
Another local runner was in the Class D girls' race – Centennial's Madison Brandenburgh. She finished 23rd in 22:40.5.
Neville leads the Mustang boys
McCool enjoyed a strong day in the Class D boys' race, too, placing sixth with 69 points despite not having its No. 2 runner, Jake Brugger.
Axtell won the race with 40 points while Southwest Public was runner-up with 61 and Shelton third with 63. Mullen's Trevor Kuncl won the race in 17:45.8.
McCool was led by Tyler Neville, who took third in 17:54.7.
"Our boys had a solid day today. Senior Tyler Neville ran very well for us at the top," Underwood said. "He went out pretty fast to get into the lead pack to give him a shot to win the race. While he wasn't quite able to bring home first place, he still ran very strong to finish in the top three. Tyler is having a great senior season. I'm excited to see what he can do the rest of the way."
Rounding out the McCool boys were Luke Brugger (40th, 19:59.2), Ian Stahr (42nd, 20:01.6), Trent Neville (75th, 20:53.7), Caleb Weisheit (79th, 21:04.3), Harry Yunevich (89th, 21:25.6), Aydin Orr (116th, 22:10.2), Isaac Stark (121st, 22:18.8), Garrett Hansen (134th, 22:44.6) and Devon Lamonde (202nd, 27:00).
Centennial runner sees top-15 finish
Centennial's Clinton Turnbull and Garrison Schernikau also ran in the Class D boys' race. Turnbull was 15th in 18:32.3 while Schernikau took 83rd in 21:15.6.
York's Stuckey earns top-5 finish
The Duke girls placed 13th as a team with 220 points in the 17-member Class B girls' race, but had one runner finish fourth in freshman Kassidy Stuckey (19:59).
"Kassidy looked really strong in the race early. She came through two miles at a good pace and looked strong, but fell back the last 1200 meters of the race," York head coach Eric Rasmussen said. "She had a large enough lead over most of the field to hold on to fourth place. She has had really strong practices lately and I'm excited for her to get to race again soon."
Omaha Skutt's Jaedan Bunda won the race in 19:33.4 while Omaha Duchesne Academy won the team title with 60 points off a tiebreaker with Elkhorn.
Kiersten Portwine (84th, 23:28.9), Emory Conrad (85th, 23:29.4), Chloe Holmes (87th, 23:32.9) and Zoe Kreifels (101st, 24:05.7) also ran for York.
"Kiersten, Emory and Chloe were really tightly packed over the final straight away," Rasmussen said. "I was proud how they finished over the final mile. It was our best race as a team since Aurora early in the year. Zoe also ran well."
In the Class B boys' race, the York boys came in 14th out of 17 teams with 245 points. Skutt won the team championship with 18 points while Plattsmouth was runner-up with 69.
Skutt runners finished 1-2-3 as Ryan Zavadil won the race in 16:45.2 while Isaac Richards was second (17:02.2) and Alex Rice third (17:08.6).
The York boys were short-handed on Monday and were without top runner Colin Pinneo. With Pinneo out, it was Gabe Zarraga with the best finish on the team as he took 26th (18:09).
Jackson Schmid (33rd, 18:23.5), Nick Conrad (99th, 19:59.2) and Trenton Ellis (138th, 22:47.7) rounded out the York boys.
"Gabe Zarraga ran a really good race, running around 20th most of the race," Rasmussen said. "He has been running with a lot of the best runners in Class B all season long. He dropped off the medals with about 400 to 500 meters to go. It's amazing how much he has improved. He's one of the most improved runners in the state and has become one of the top sophomores in the state."
Be the first to know
Get local news delivered to your inbox!