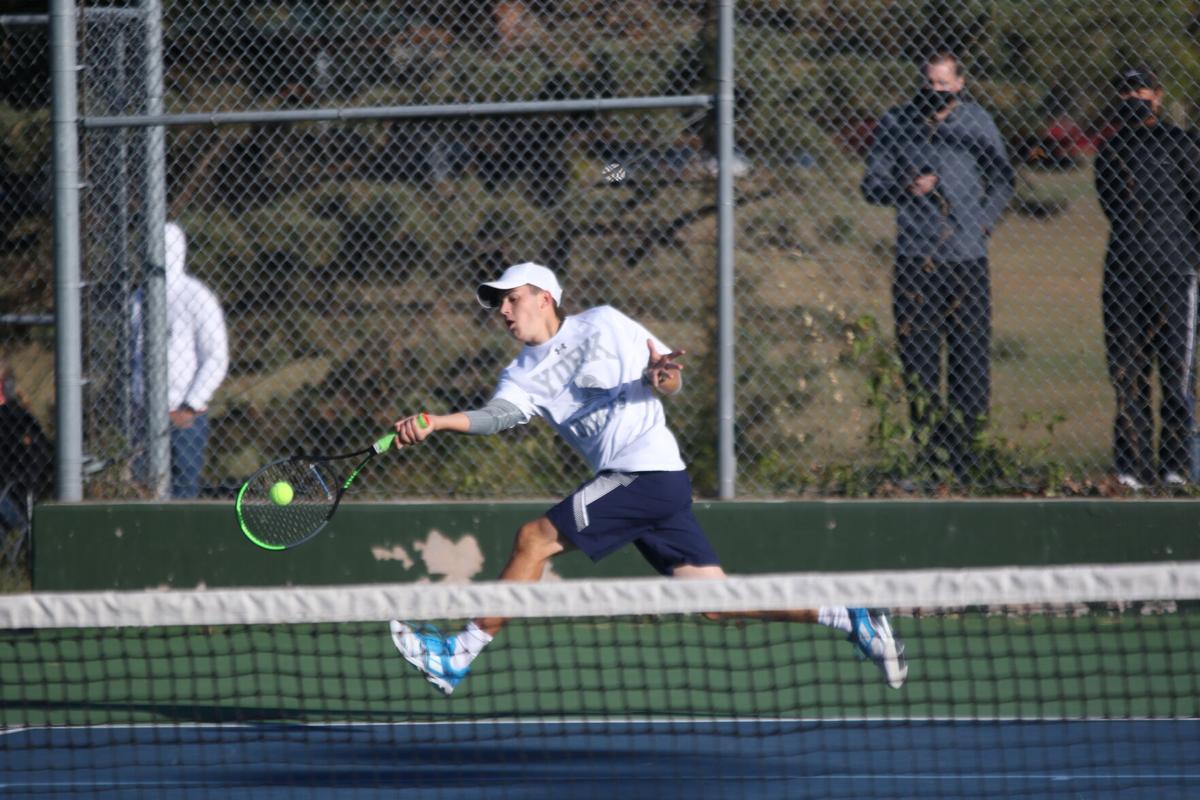 LINCOLN – A small bottle of milk and a bag of teriyaki beef jerky.
York junior Drew Hammer would stop at the local Pump and Pantry and get those two items before he played tennis for the Dukes this season. Emmett Heiss, Hammer's junior teammate, would get chocolate milk and pickles, because they're supposed to help with cramping.
The milk, jerky and pickle routines seemed to have worked out, as Hammer and Heiss both placed fifth in their respective divisions at the Class B state tennis tournament on Friday at Woods Tennis Center in Lincoln.
York finished seventh in the team race with 19.5 points. Mount Michael Benedictine was the Class B champ with 50.125 points and barely held off runner-up Omaha Skutt, which finished with 49.
Hammer, the No. 7 seed of No. 1 singles, won both his matches on Friday after going 1-1 on Thursday. He started the morning with Waverly junior Hogan Wingrove and got an 8-5 win.
Those two had met four times previously, with Wingrove winning three of them.
"We both played our best and I came out on top because I think I was playing smarter, with the lob game and pure shots," Hammer said of the match. "I have to thank Coach (Dan) Malleck, too, because he helped me strategize. It was definitely helpful to have a new strategy against him to come out on top."
Hammer's final match of the day was against fiery McCook junior Isaac Hinze, the No. 4 seed. Hinze came into the tournament undefeated at 35-0 and had played Hammer once before in the regular season, winning 8-5.
An agitated and vocal Hinze couldn't keep up this time, however, as Hammer cruised to an 8-3 win to seal his fifth-place finish.
"He's a very good player and was very efficient in picking the lines and going back and forth," Hammer said of his match with Hinze. "He slowly started to break down, and I was using the lob game, too. Over time, he mentally just couldn't do it and I got the win."
Hammer also placed fifth at No. 2 singles last year, when the Dukes won the state title. His sights are now set on goals for his senior year.
"Placing top-five is still a good goal because there are still a lot of good players like Hogan and Isaac, and then Skutt and Crete," Hammer said. "Another top-five finish for me would definitely be nice, but my hope is to really get my game going to where I can at least get runner-up."
Heiss entered the tournament as the No. 5 seed and was in a battle with Lexington sophomore Greysen Strauss, the No. 9 seed. Heiss wound up getting the 8-6 victory, though.
Heiss said he went into the match with plenty of aggressiveness, but Strauss adjusted toward the end. At one point, Heiss held just a 7-6 lead and figured his best shot to advance was to keep the points alive.
"I knew going into the next game that my ground strokes, I tried hitting them hard and it wasn't really working," Heiss said. "So I knew I just needed to keep the point in control and try to make him make the mistake."
In his fifth-place match, Heiss took on Grand Island Central Catholic junior Bowdie Fox and easily got the win, 8-1. It was the third time this season Heiss had handed Fox a loss.
The previous matches with Fox helped Heiss seal fifth.
"I learned from playing him before what I needed to do to beat him," Heiss said. "I took our last match into consideration. I wanted to control my ground strokes a little bit more, not hit it too hard and set up the point for success instead of trying to end it right away."
Final top-10 team standings: 1. Mount Michael Benedictine 50.125; 2. Omaha Skutt Catholic 49; 3. Nebraska City 30; 4. Grand Island Central Catholic 27.25; 5. McCook 25; 6. Lincoln Christian 20.75; 7. York 19.5; 8. Beatrice 19; T-9. Crete 16; T-9. Kearney Catholic 16; 10. Scottsbluff 15.25.
Be the first to know
Get local news delivered to your inbox!