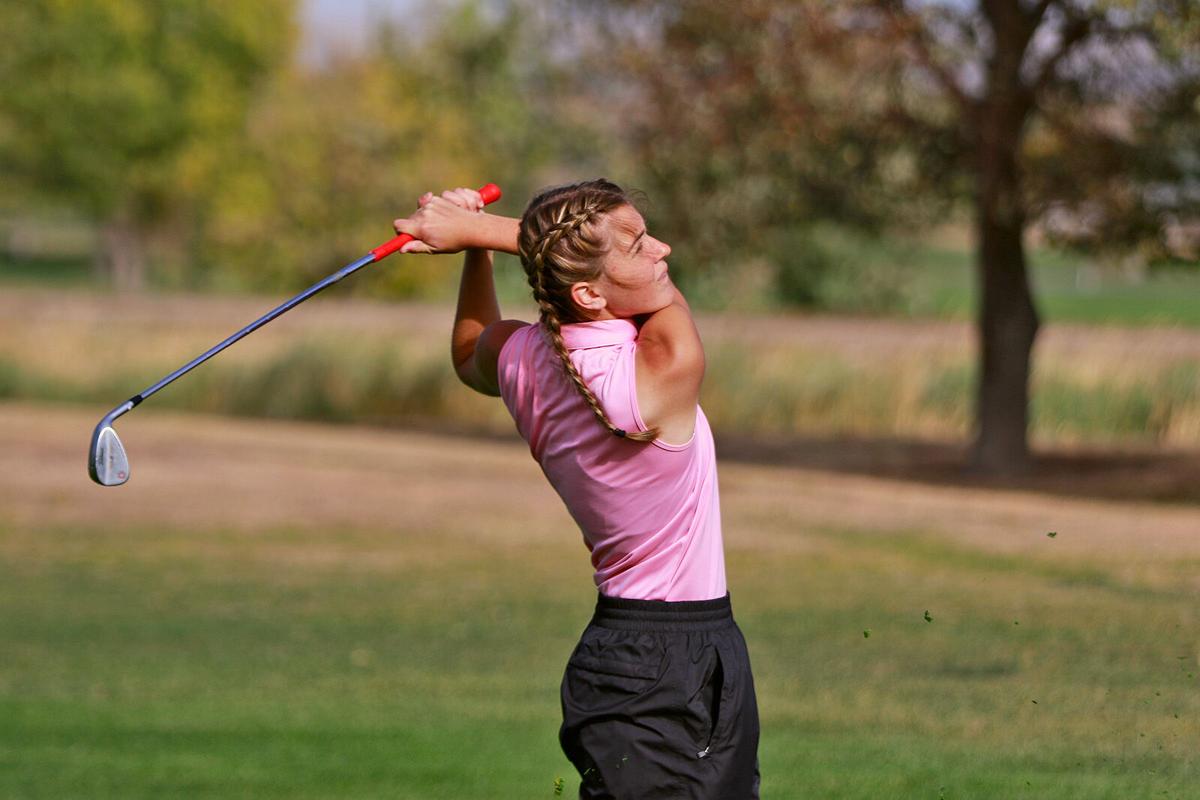 GERING — It was like playing in The Masters at Augusta.
That's how York girls golf head coach Josh Miller described Monday's brutally windy conditions for the first day of the Class B state golf tournament at Monument Shadows Golf Course in Gering.
"These poor kids couldn't judge a putt. You could chip it on and it'd come right back to you. It was like playing in The Masters at Augusta," Miller said. "They just had a hard time gauging, and you were basically guessing where to hit your putt."
After Monday's action was finished, the Dukes, who go into tournaments with the goal of shooting a sub-400 score as a team, had carded a 419.
But on Tuesday, the conditions were much more fair as the York girls finished their tournament run. The Dukes met their goal on the second day, shooing a 394, which was good for fifth in the team standings with a two-day score of +237.
Scottsbluff was the Class B state champ (+110) while Omaha Duchesne was runner-up (+161) and Elkhorn North third (+168). The Dukes were 12 strokes behind Omaha Gross Catholic, which was fourth (+225).
York senior Riley Stuhr tied for eighth overall with a +36, shooting an 89 in the first round on Monday and a 91 in the second on Tuesday.
She wasn't the only Duke to medal, however, as senior Abby York tied for 15th (+47) and carded a 99 on Monday and a 92 on Tuesday. Miller said it was the first time since 2004 where York had multiple medalists at the state tournament.
Stuhr's putt game was probably better on Monday than it was on Tuesday, Miller said. That's saying something when you consider the conditions the golfers competed in.
"I thought she putted great yesterday in those conditions. That might have been her best putting round in a while, and it (the conditions) was horrible yesterday," Miller said of Stuhr's tournament. "She was hoping to be in the low 80s, so she was disappointed."
Abby York was on her game Tuesday. That's what Miller was hoping to see.
"That was some of the best golf I've seen Abby play in a long time," Miller said. "I was hoping she would have a good day because she's always been on the cusp of it this season, but hasn't had it all working together. But she really had a nice start and had a nice string of pars in the back nine."
Miller added that, along with Stuhr, Abby York had grown into being a real leader on the team for the younger golfers.
Two more seniors — Rylie Krause and Kirsten Fike — tied for 49th (+77). Krause shot a 119 in the first round and a 102 in the second, while Fike had a 112 in the first and a 109 in the second round.
Krause's improvement from Monday to Tuesday really stood out to Miller. She had been regularly scoring around 100 the entire season, so Monday's score wasn't a good representative of her game. Miller was glad she had a solid Tuesday.
"I was happy to see her get back toward that," Miller said of Krause.
As for Fike, she gave it her all for the Dukes. The senior wasn't 100 percent healthy after suffering an injury at the tournament, but still battled through for her team and improved on her Monday score.
"I'm really proud of her. She showed guts to fight through that," Miller said.
The lone non-senior for York, junior Piper Fernau, placed 66th (+112) with a Monday score of 127 and a Tuesday mark of 129.
Fernau is a player that started to get her swing back in the middle of the season, which helped her move into the team's top five before conference and districts.
"That's important to play in a conference and district tournament as a junior so you can have that experience for your senior year," Miller said. "And it's important to play in a state tournament. You don't want to show up to the state tournament as a senior and have never played in one before. That's something I think will help her (Fernau) down the road."
---
Not since the 2004 York state championship team has the girls golf program won both the conference and district meet titles. Miller's 2020 squad did it, and he couldn't be prouder of this group of seniors.
"You've got a nice group of student-athletes that aren't just good golfers — they're good students," he said. "They're high-GPA kids. We do stuff in the community to try to teach them that lesson, and I'm going to miss this group. It'll sure be different to walk out there without them being part of it."
Stuhr, a district and conference champ who has been on the varsity since she was a freshman, has been the top golfer for the Dukes for the past two seasons. Miller said it was her teammates who helped make that possible.
"Riley would be the first to tell you that these other girls were a big reason why she did so well," he said. "She knew they would have her back if she didn't have a great day."
Abby York was another that showed up to work every outing. Krause and Fike had their moments on the course, too, helping the Dukes in key moments throughout the season.
"Abby has just fought through it and fought through it, and has been a rock for us. She's very consistent," Miller said. "Kirsten and Rylie have really come through in different situations — Kirsten at district and Rylie at conference. It's a team sport to me, and those kids understood that."
Be the first to know
Get local news delivered to your inbox!