YORK – The York Dukes boys basketball program went just 8-16 last season, but ended the year strong by winning six of its last nine games.
There was momentum down the stretch, and the Dukes are hoping it translates to the start of this season, which is scheduled to get underway Dec. 3 at home against Ralston. A good start to the upcoming campaign would be a welcomed sight after York dropped its opening five games last season.
The Dukes will need to replace some starters from last year, but the core players remain in seniors Matt Haggadone and Jake Erwin.
Haggadone showed he can score the ball as a junior and averaged 15.3 points per game. The 6-foot-3 guard was also the top 3-point shooter, making 36 percent of his long-range shots. The second-team all-conference pick's scoring won't sneak up on opposing defenses now like it may have done at times last season.
Knowing that defenses will be keying on him, Haggadone has been working on his off-the-dribble game as well as moving without the ball.
"He's worked on shooting off more screens and more back-cuts when denied," York head coach Scott Lamberty said of Haggadone's offseason work. "We're also working on being more physical on his cuts to get through defensive bumps, as well as finishing strong. He's an 80-percent free-throw shooter, so getting to the line frequently makes defenses pay for how they play him."
Erwin, a talented all-around player for Lamberty, averaged 11.5 points and had team-highs in rebounding (5.5), assists (2.9) and steals (2.4). He shot 32 percent from 3-point range (12 of 37) and made 64 percent of his free throws (74 of 114).
Lamberty wants his team to be even more unselfish offensively. Moving the ball quickly and efficiently is the name of the game.
"We need to move better without the basketball and set better screens," Lamberty said. "We have worked hard so far on our screen game offensively and defensively. We've become better at reading and reacting to when we should curl and when we should slip screens. We'll also work to be more up-tempo."
Stepping into bigger roles this season will be a pair of sophomores who saw varsity minutes as freshmen – Austin Phinney and Barrett Olson.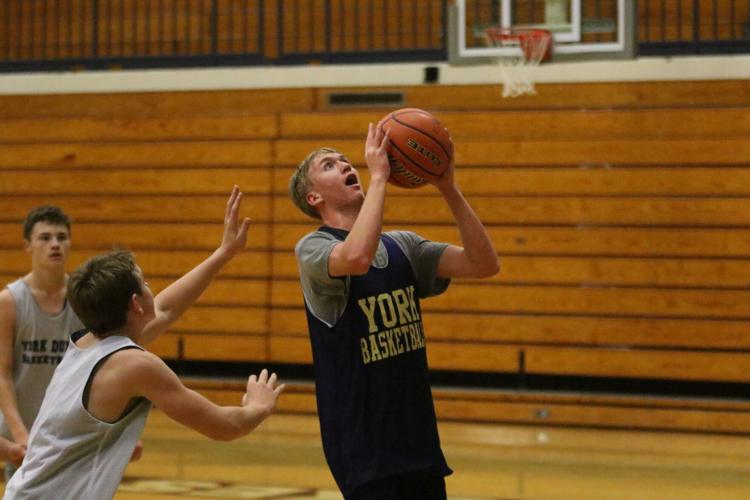 Phinney battled in the paint – often against older and stronger opponents – and hauled down 27 offensive boards on the season, which was second on the team, behind Erwin's 35. He brings an energy under the hoop, Lamberty said.
"Austin will need to be a big rebounder and athlete for us and use his ability to get to the basket more often," Lamberty said. "We also think his length defensively can cause teams problems in certain situations."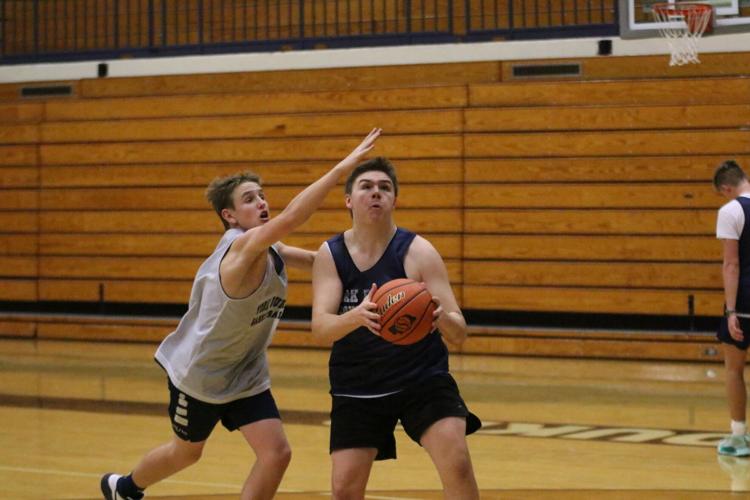 Barrett gave the Dukes solid minutes off the bench last season as a spot-up 3-point shooter. He shot 33 percent (10 of 30) from 3-point land and was a 78-percent free-throw shooter, making 14 of 18.
"Barrett needs to really be a good spot-up shooter for us, and then he can work to get to the basketball off the dribble more often," Lamberty said. "We really feel good about the game for those two players (Phinney and Olson) and the potential down the road as well."
Defensively, Lamberty wants the team to be more physical and play better defense. Senior Chase Collingham, a 6-5 big, also returns. He'll provide size in the paint and rim-protecting ability.
"We're learning more and more about who needs to rotate to an open man and when we need to rotate," he said. "We must contest the three-point shot better as teams shot way too high of a percentage against us last year."
Be the first to know
Get local news delivered to your inbox!