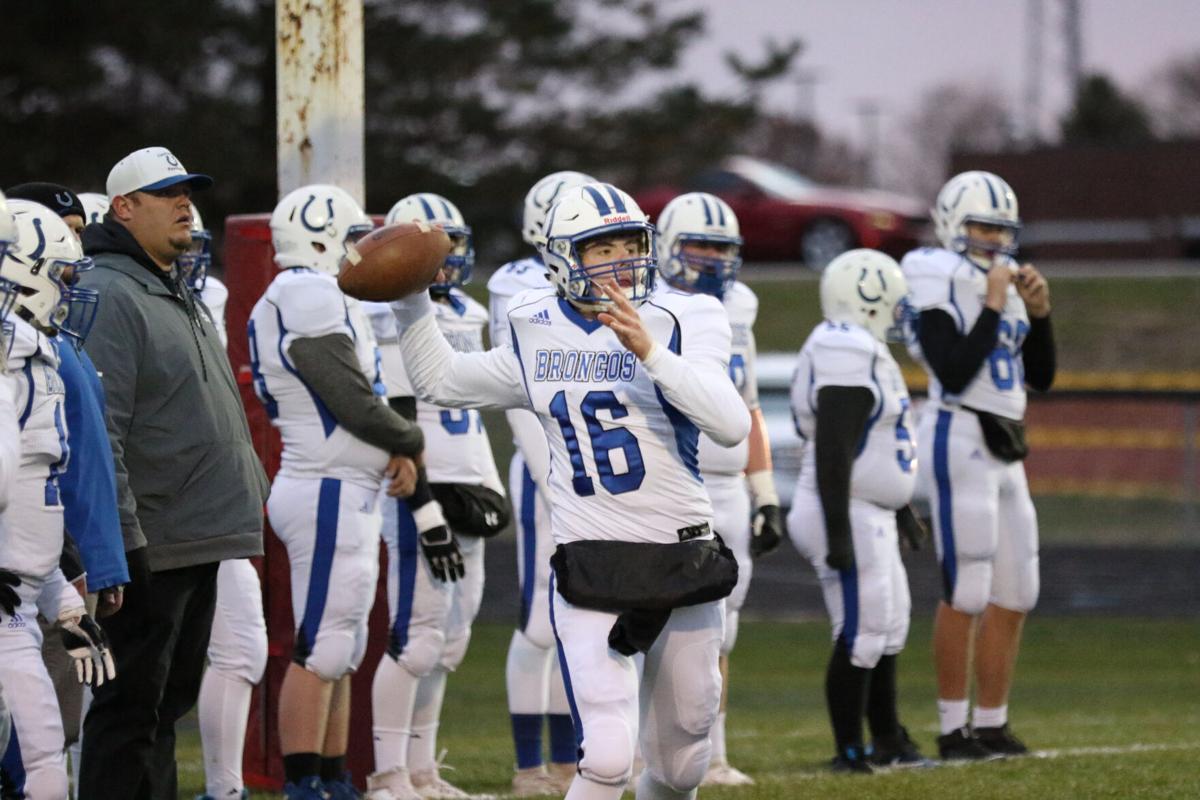 YORK – With the start of fall football camp approaching, the York News-Times takes a look at the top three returning quarterbacks in its coverage area.
The YNT covers 10 football teams, including Centennial, Cross County, Exeter-Milligan/Friend, Fillmore Central, Hampton, Heartland, High Plains, McCool Junction, Nebraska Lutheran and York.
The YNT coverage area features three 11-man teams in York (Class B), Fillmore Central (C-1) and Centennial (C-2); three Eight Man-1 teams in Exeter-Milligan/Friend, Cross County and Heartland, two Eight Man-2 teams in High Plains and Nebraska Lutheran and two Six Man teams in McCool Junction and Hampton.
Next week, the YNT will break down the top returning running backs.
*These top returning quarterback selections are based off performances from the 2019 season and are not in any particular order.*
---
Cooper Gierhan, Sr., Centennial
Whether it's on the football field, basketball court or track, Cooper Gierhan has been a staple in Centennial athletics for the past three years. Now he's set to lead the Broncos in his senior campaign after guiding them to a 6-4 record that included a C-2 playoff appearance last year as a junior.
After a foot injury kept him off the football field for his entire sophomore campaign, the 6-foot-1, 200-pound dual-threat Gierhan started at quarterback last fall and racked up 1,795 total yards with 18 touchdowns.
Gierhan completed 61 percent of his passes (89 of 146) for 1,428 yards and nine touchdowns. He threw for over 200 yards in three games, with his season-high of 257 coming in a close 15-13 loss to Battle Creek on Sept. 13.
With the graduation of leading rusher Davon Brees, Gierhan's legs may be leaned on more in the Broncos' run game this fall. Last year Gierhan was the second-leading rusher on the team with 367 yards and nine touchdowns. He chipped in with 40 or more rushing yards in six games and had a season-best 97 yards and four touchdowns come on the ground in a 40-25 win against North Bend Central on Oct. 4.
Gierhan and the Broncos will open the season at home in Utica against Superior on Aug. 28.
---
Jake Stoner, Sr., Fillmore Central
While Fillmore Central's Jake Stoner is more of a running back and will rightly get more carries than pass attempts this fall, his throwing numbers are still some of the best of the returning quarterbacks in the York News-Times' coverage area.
As a junior, Stoner shouldered a massive load for the Panthers, who finished 3-6 in C-1 ball. He had 1,450 total yards, rushing for 1,001 and eight touchdowns while throwing for a team-best 449 yards and four scores. He threw at least eight passes in six games last year before playing running back full-time.
Stoner's best game in 2019 may have been the Panthers' 28-21 win over Holdrege on Sept. 6. That night he accounted for four touchdowns and 392 total yards, passing for 145 and one score while rushing for 247 and three scores.
Gabe Eberhardt is in his first year as head coach of the Fillmore Central football program and will decide Stoner's role for his senior season once fall practice starts. But it's safe to say Stoner is one of the top athletes in the area, no matter what position he's playing.
Fillmore Central begins its season with a road game at Raymond Central on Aug. 28.
---
Christian Weber, Jr., Exeter-Milligan/Friend
The Exeter-Milligan/Friend Bobcats were in a rebuilding year last fall and finished 3-5 in D-1. While the Bobcats lose some talented players like longtime starter Max Zeleny, they do return their starting quarterback in Christian Weber.
Last year as a sophomore, Weber threw for 517 yards and seven touchdowns. Weber has one of his top targets back as well in senior Jackson Beethe, an athletic 6-3 tight end that hauled in 22 passes for 239 yards and seven scores.
In a high-scoring 68-50 loss to Thayer Central last season, Weber threw for 120 yards and one touchdown on nine completions. In a two-point win over Lourdes Central Catholic, he tossed two scores.
Weber also rushed for 123 yards and four scores last season. The Bobcats open the season at home against Conestoga on Aug. 28.
Be the first to know
Get local news delivered to your inbox!