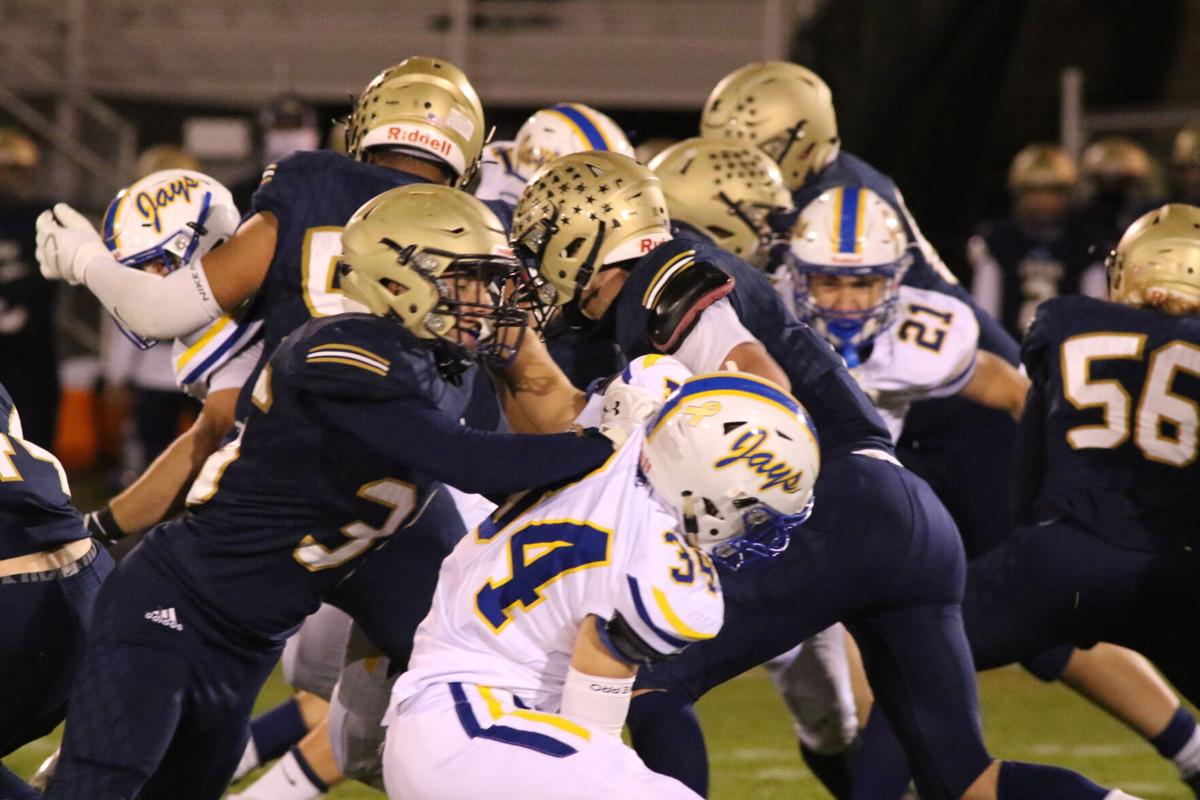 YORK – York hosts the Lexington Minutemen in the regular season finale this Friday at East Hill Stadium, and the Dukes are looking to end the year on a high note.
Even with a win on Friday, it's a longshot that the Dukes would make the Class B playoffs. But that doesn't mean the game is meaningless. There's plenty at sake for the Dukes' program.
"It would be fantastic. We talked about this yesterday – one of our kids' favorite things to do is always go in that locker room, turn the music up and celebrate a little bit just with our own team at home," York head coach Glen Snodgrass said. "These guys haven't had a chance to do that this year. I just want them to be able to experience a home win and that celebration at home. It would go a long ways with getting a little momentum going into the offseason and into next year.
"Whether or not the playoffs are still a possibility, this is still a really big game for us."
Lexington comes in with a record of 3-4 after knocking off Alliance 21-19 last week. York is looking to snap its five-game losing streak and improve from last week, when Seward held the Dukes to just 3 points.
With its offensive line taking a hit in depth with the loss of injured senior starter Zach Nienhueser, York struggled to get its ground game going against Seward, rushing for only 119 yards.
"This year we've been pretty light on the offensive line as far as depth goes, and losing Zach was a big deal because he might have been our best offensive lineman," Snodgrass said of last week's loss. "So we had an already light offensive line and that made it even more inexperienced."
On top of the depth issues, the Dukes were coming off a two-week stretch where some starters were only able to attend a handful of practices due to quarantine. The negative impact was easy to see.
"It was very obvious that the long layoff really took a toll on the timing and our energy," Snodgrass said. "It just affected us a lot more than I thought. We just didn't seem to come out with the type of fire and enthusiasm that I would've liked to see, especially when they (Seward) came out with a lot of aggression.
"I need to do a better job of getting our guys prepared, and in the end it's on me for not having them ready. I just hope that we're ready for this one because there's a decent chance this is it for us."
Lexington's offense is primarily a spread attack that will feature two-back sets at times. Its run game will use zone blocking concepts – a new new look for the Dukes' run defense, which is allowing 154.7 rushing yards per contest.
"They run a lot more zone blocking schemes. Almost all of what they do will be zone blocking, which is quite a bit different from Seward," Snodgrass said. "We would have seen a lot of that against Northwest had we played that game, but we haven't seen too many zone schemes recently."
One player to keep an eye on will be Lexington senior running back Alex Ramos, who has 641 rushing yards and six touchdowns. York's top two tacklers – junior Marley Jensen (69 stops) and senior Chase Cotton (61 with four tackles for loss and three sacks) – will have their hands full trying to corral Ramos.
"He's a pretty talented kid – he's got speed and will make you miss," Snodgrass said. "He's their best guy they have on offense in my opinion."
Defensively, it's hard to tell how Lexington will play the Dukes' offense, which comes in averaging 265 total yards. The Minutemen have used multiple looks throughout the season, like a 3-3, a 4-2, a 3-4 and a 5-2.
Kickoff is slated for 7 p.m.
Be the first to know
Get local news delivered to your inbox!