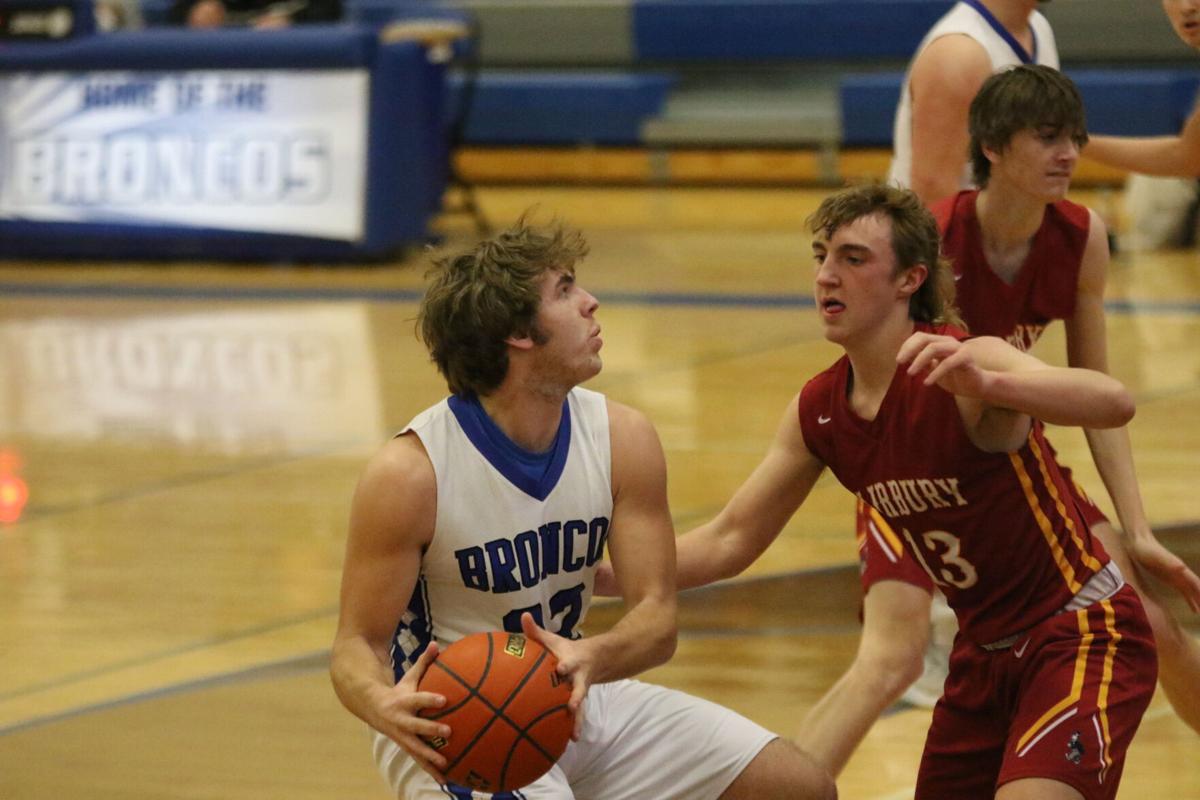 UTICA – Go back to Jan. 8, 2021. The Centennial Broncos hosted the Sutton Mustangs in an always-entertaining boys basketball matchup in Class C-2.
Sutton players had smiles on their faces after beating the Broncos 52-50 in triple overtime that night. Centennial, however, got revenge on Thursday, denying the Mustangs a spot in the Southern Nebraska Conference tournament championship with a 53-42 semifinal win.
Centennial (14-4) is on a nice roll as of late. The Broncos have rattled off eight straight wins, and their last loss was the aforementioned game against Sutton.
There's no time for celebration, though. Centennial now faces an opponent that already has a win under its belt against the Broncos – Milford.
The undefeated Class C-1 No. 5-rated Eagles (20-0) just got done blasting the C-2 No. 10 Heartland Huskies 66-39 in a semifinal on Thursday night in Utica. Milford beat Centennial 49-37 in Utica on Dec. 18 in an early-season matchup.
Centennial head coach Cam Scholl said that in order for the Broncos to get the upset win, they need to play solid defense and limit the self-inflicted mistakes.
"We have to keep them in front of us defensively, make them shoot contested shots and get back in transition," Scholl said. "The first time we played back in December we had some turnovers in the second half that led to easy baskets for them – we have to eliminate those. We were not great offensively either, we didn't attack their zone very well and that cost us."
Limiting Milford's offensive firepower is easier said than done. Jaxon Weyand and Seth Stutzman went off against Heartland, scoring 18 and 17 points, respectively. Weyand is a strong guard who can get to the hoop easier than others. The smooth-moving Stutzman has the size advantage over whoever will be guarding him on Saturday night at 6-foot-5. Milford's primary ball handler, Micah Hartwig, is a good shooter at 6-1 with a tight handle.
"They're very talented overall," Scholl said. "The Stutzman kid is as good inside as there is at this level, and they have three guards that can score the ball. The Weyand kid is a really nice player who we can't give easy baskets to like we did in the first game."
Centennial's defense will need to have success keeping Milford out of the paint and off the glass, limiting the Eagles to one shot each trip down.
"We've done a good job all year of taking away teams' inside game, so hopefully we can continue to do that," Scholl said.
Lane Zimmer, an undersized but tough and uber-competitive sophomore forward for Centennial, will likely get the job of defending Stutzman.
"Lane has been fantastic defensively for us inside, but it will take a team effort to slow down a kid like Stutzman," Scholl said.
Centennial's playmakers will need to have good games when the Broncos are on the attack. Look for Cooper Gierhan, Jake Bargen and Maj Nisly to do most of the scoring.
Gierhan is leading the Broncos in average scoring (15.5) and rebounding (5.9) and is getting hot at the right moment in the season. Over his last eight games, Gierhan is averaging 19.2 points per game while shooting 50 percent (28-55) from 3.
Bargen is averaging 14.5 points and 4.3 rebounds while Nisly has come on strong in his sophomore year, averaging 9.3 points, 3.2 boards and 2.7 assists.
The SNC championship will follow the girls' game at 6 p.m. due to incoming weather.