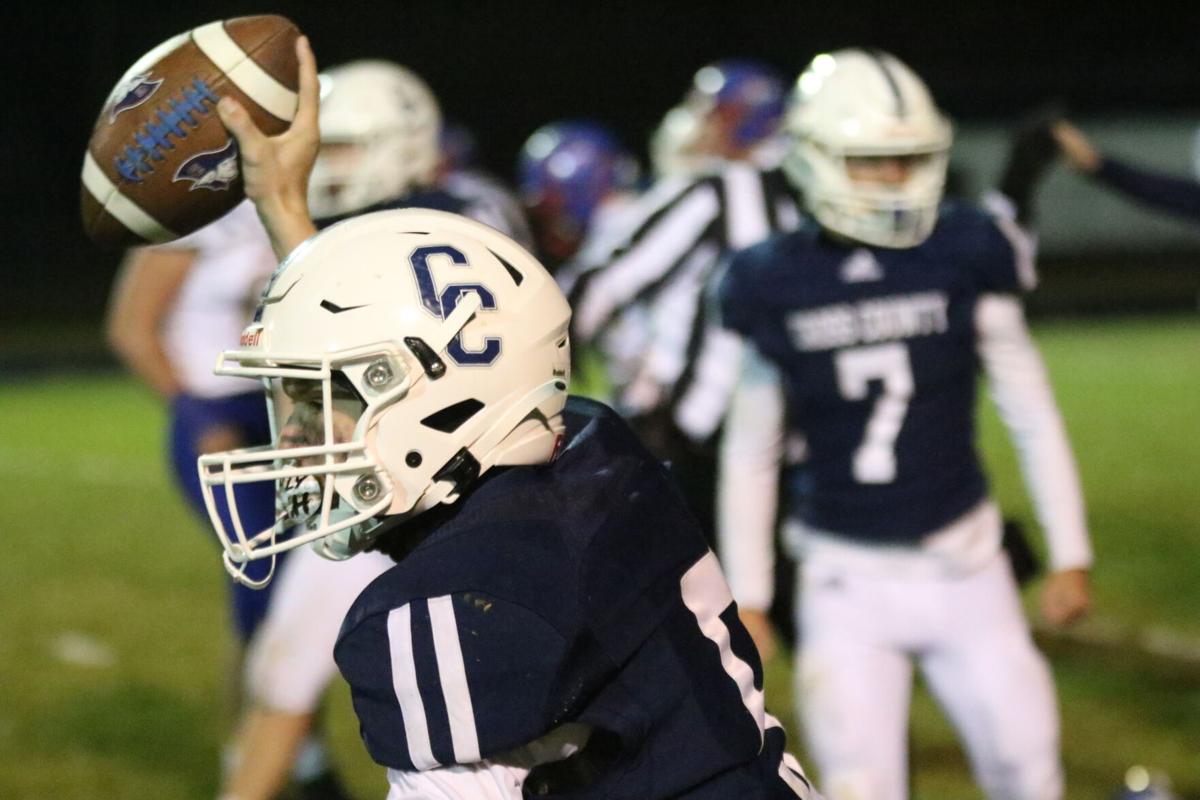 STROMSBURG – When two unbeaten football teams – the Cross County Cougars and Burwell Longhorns – step onto the grass for a Class D-1 semifinal playoff game on Friday night, two 2,000-yard rushers will be there: Cross County senior Isaac Noyd (2,065 yards/28 touchdowns) and Burwell junior Caleb Busch (2,075/43).
At some point in the game – at halftime or maybe even the end of the first quarter considering the way things have been going lately for the Cougars – there might be three, as Cross County junior Carter Seim (1,935/36) needs only 65 yards to crack 2,000. Seim missed one game in the regular season for precautionary reasons while nursing a minor injury.
Between Noyd, Busch and Seim, there are 6,075 rushing yards and 107 touchdowns. That makes Friday night's Standoff in Stromsburg one for the ages in eight-man football.
What should Cougar fans expect to see on Friday? Fourth-year Cross County head coach Hayden DeLano said Burwell will use a lot of two-tight ends sets offensively, but aren't afraid to spread things out, either. The Longhorns, a powerhouse program which has made the state championship game in five of the last six years, average 417 total yards – 301 rushing, 115 passing – and 54 points per game.
Burwell's senior quarterback, Barak Birch, has thrown for 1,035 yards and 20 touchdowns against just five interceptions. His top target might be junior Alex Gideon, who has hauled in 18 catches for 346 yards and five scores.
But make no mistake about it – the engine to the Burwell offense is the physical 6-foot, 180-pound Busch, who leads the team with 2,287 total yards (2,075 rushing, 212 receiving) and has scored a whopping 48 touchdowns (43 rushing, five receiving).
"He's the real deal," DeLano said of Busch.
Burwell head coach Luke Gideon, who's been at the helm of the Longhorn program for 20 years, had high praise for his running back.
"Caleb has great vision and a burst of speed with good size and leg drive," Coach Gideon said. "He can create big plays catching the ball as well, and takes care of the football. He's one of the better guys to ever carry the ball on a Burwell football team."
Busch, an avid outdoorsman who is working on finishing up his electrician apprenticeship, thinks it's pretty cool to play in a game with multiple 2,000-yard backs.
"It's exciting, we're making history here," Busch said. "It's been a life-long goal to reach 2,000."
Noyd, a 5-8, 145-pounder, said it was a personal goal he wanted to reach. He's looking at the bigger picture, too.
"I'm glad I could achieve it, but it's not the ultimate goal," he said. "The ultimate goal is to get a ring on our finger. It's really cool and it shows who I have blocking for me, but at the end of the day it's just a number. People will forget my name if the season ends and we don't go to Lincoln."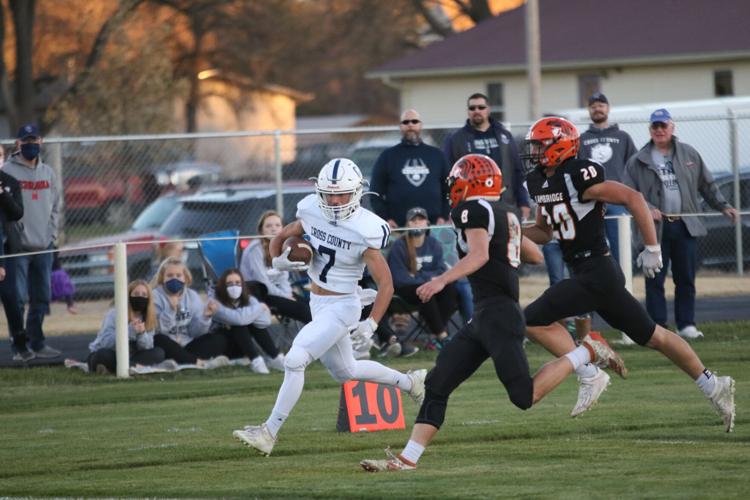 Said Seim: "It's a pretty cool accomplishment to have, but all the credit goes to the O-line. Isaac's already got 2,000, and if I get there it'd be great. It's also something that hasn't been done before. Getting to say that is pretty cool."
Burwell was in a battle last week with Neligh-Oakdale for its quarterfinal and narrowly escaped with a 49-48 win. The reason why the Longhorns got the thrilling victory? They believed in themselves. Perseverance is a staple of the football program at Burwell, Coach Gideon said.
"We went through a lot of adversity in that third quarter but survived and kept working together and finished the game," he said. "We won because we've been in tough situations before and our kids never give up. In our playoff win against Amherst in 2015 we were down 41-21 at halftime and came back to win 60-41. We held them scoreless in the second half, and there were so many people at that game you couldn't hear anything. They had also beaten us during the regular season."
Busch surpassed the 2,000-yard mark in the first quarter against Neligh-Oakdale. After the game, he received a large sign that coaches, friends and fans all signed.
"It was a really sweet and exciting moment," Busch said of the gesture.
Burwell's single-season rushing record may be the next milestone. The record is 2,265, which was set in 2016 by Tori Huffman.
Like the Cougars' is, Burwell's defense is filled with physical playmakers. Alex Gideon seems to be the leader of the unit with a team-best 87 tackles while seniors Colton Dawe, Hunter Mayfield and juniors Cash Gurney and Tyler Dawe have all racked up 60-plus stops.
Burwell's stout defense has given up just 24 points per contest. But if one takes away last week's thriller over Neligh-Oakdale, the average dips to 21.
"Their whole team is big and athletic," DeLano said. "Pound for pound we haven't seen a roster their size at this level. The quarterback (Birch) is an excellent player, a true quarterback – calm and a gamer."
Burwell knows what it's going up against. Behind the blocking of Lincoln Kelley, Colby Bolton, Damon Mickey, Cory Hollinger, Alex Noyd and Christian Rystrom, Cross County's single-wing offense is averaging 453 rushing yards per game. According to MaxPreps.com, Cross County's 4,988 rushing yards is the most in the country, regardless of class.
"Cross County is very good at what they do," Coach Gideon said. "Nobody has really stopped them all year long and they were so close to being in the championship game last year. Their offense creates a lot of big plays and it will be a great challenge for us."
Busch knows it will be a physical battle, especially in the trenches. There will be plenty of collisions between him and the Cougars' leading tacklers – that'd be Dakota Wesleyan football commit Rystrom (103 tackles), and Seim (94).
"He's a very good running back," Seim said of Busch. "He runs really hard and is a guy that gets a lot of yards after getting wrapped up. We'll have to really rally toward him."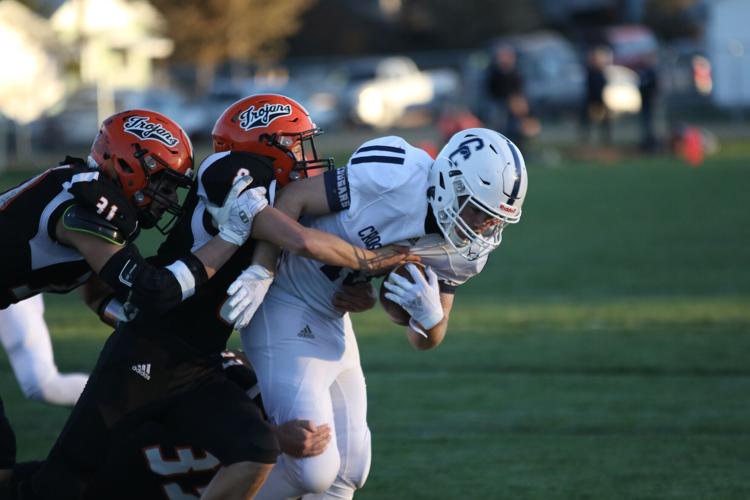 Busch believes in his own defense, too.
"They're going to run hard and run tough, but that plays right into our hands. We're a run-stopping defense and we'll be ready for it," Busch said. "If we can get them off their A-game with running the ball with their two stud running backs, they don't have very many passing yards. So if we can get them to pass the ball, I think we can really put a hurting on them."
Cross County knows it won't be easy. The Longhorns will likely put up more of a fight than Elm Creek did last week. The key to winning this game? DeLano said it'll be important to maintain drives.
"This is not a team that you score 55 points on. We have to value the ball and sustain drives," he said. "Defensively, we're going to have to be better than we've been all year. Alignment and assignment are big, but getting more than one guy to the ball is key. You aren't slowing down Busch one-on-one."
Isaac Noyd echoed his coach's thoughts on the matter. Outside of last week's game against Neligh-Oakdale, Burwell's closest game was a six-point win, 28-22, over Arcadia-Loup City on Oct. 2. Cross County's closest contests were a pair of 20-point victories over Clarkson/Leigh (56-36) on Aug. 28 and Nebraska Christian (52-32) on Sept. 18.
"We're kind of in the same boat. I know that they had a close one against Neligh, but really this year we haven't really had any other close games," Noyd said. "We both like to run the ball hard and we're both pretty physical, so it's going to be a tough one. We'll have to play good defense – I think defense will be a big factor in the game, whoever can get more stops."
The Standoff in Stromsburg is slated for a 6 p.m. kickoff.
Be the first to know
Get local news delivered to your inbox!