HASTINGS – The York Dukes girls golf team wrapped up a five-day, three-meet schedule at the Hastings Invite held at the Lochland Country Club on Tuesday.
York was in Lexington last Friday and Grand Island on Monday as it is navigating through a busy time in their schedule.
Along with the Dukes, North Platte, Kearney, Hastings, Kearney Catholic, Central City and Doniphan-Trumbull were the teams competing. Individual golfers from Adams Central were also on the course.
The North Platte Bulldogs, who won the Lexington Invite and will be one of the favorites in the Class A state meet in October, were led to the title by Baylee Steele, who shot a 70 to lead all golfers.
North Platte fired a team score of 311 while second place went to Kearney with a 358 and York was third with a 373.
The Bulldogs' Karsen Morrison and Maya Lashley completed a 1-2-3 finish by North Platte as both golfers shot 75s. Kearney's second-place finish was led by four golfers in the top 10.
York senior Riley Stuhr was fourth with an 80 as she opened with a 38 on the front nine and followed that up with a 42 on the backside.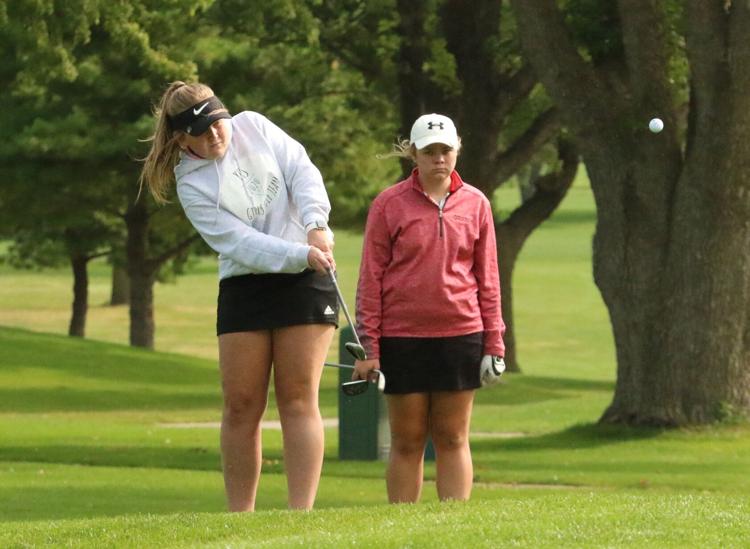 The Dukes' Abbey York was sixth with an 89 (42-47) while Riley Krause scored a 99 for 16th. Rounding out the York scoring was Kirsten Fike with a 105. York's Alyssa Alt, in just her second varsity action, turned in a 120 for 28th.
"Another tough day of competition and the course conditions were difficult with the winds picking up in the afternoon. I was really pleased with our team today as they did a nice job of playing consistent golf. Riley Stuhr carded a 38 on the front nine which included three birdies on her way to a career best round of 80," said York head coach Josh Miller. "Abby York was in the zone today and shot her best score in over a year landing in the top six with an 89! Rylie Krause put together her third good round in the last four meets breaking 100 for the first time in her career."
The Dukes will dual with the Seward Bluejays at the Seward Country Club on Monday, Sept. 21 and will travel to Holmes Golf Course in Lincoln for the Pius X Invite on the 24th.
"This crew is getting better and I hope they realize their potential after standing up to teams like North Platte, Scottsbluff, Gering, and Kearney High School," commented Miller. "We still have some work to do and if they go "all in" over the next couple days of practice we can really start to see some good results.".
On Monday the York girls traveled to Indianhead Golf Course in Grand Island for the Grand Island Central Catholic Quad.
The Central City Bison were not able to make the trip so it became a triangular between York, Grand Island Northwest and the GICC Crusaders.
York fired a team score of 198 to take the top spot, while Northwest came in with a 204 and Central Catholic totaled up with a 216.
York's Stuhr led the team with a 44, while York came in with a 47 and Fike carded a 52.
Piper Fernau posted the final York score with a 55, while Krause had a 58.
"None of the girls have played this golf course before, but I think they left thinking they could play better. Riley and Abby kept it in the 40s and Kirsten played a little better today. Piper played her first varsity meet and her score ended up helping us stay under 200 for the day," Miller said. "It was nice to get our JV players on the course again after a lackluster performance on Saturday. They played a little better and I am starting to see some confidence in a couple of them."
The 2020 Nebraska State Class B Golf Championship scheduled for Oct. 12-13 in Scottsbluff has been moved to Monument Shadows Golf Course in Gering, Neb.
The 2021 Class B Championship is scheduled to be held in Scottsbluff.
Be the first to know
Get local news delivered to your inbox!