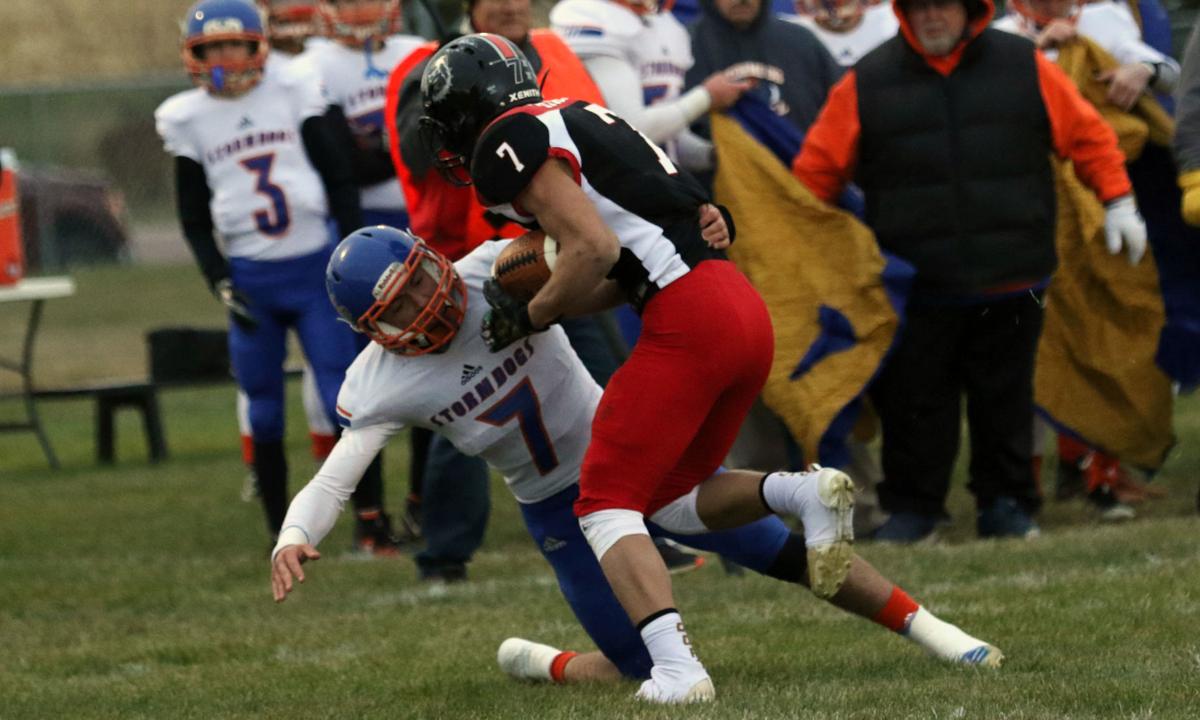 EDITOR'S NOTE: Every year the York News-Times' sports department chooses one male and female athlete from the YNT coverage area as its Athlete of the Year. Due to the current pandemic this year area athletes weren't given the opportunity to compete in three sports. Because of this, the News-Times sports department is switching things up. Instead of only announcing the winners we will be featuring profiles on each of the five male and five female athletes in contention for the award.
POLK - As is the case with most talented athletes, they possess a desire to make themselves better with hard work and dedication to the sport they are competing in at the time.
High Plains' Dylan Soule is the blueprint for that formula and this past season he excelled on the football field and on the wrestling mats in his final year.
Soule was also a cheerleader for his teammates and according to Storm head wrestling coach Martin Phillips leadership is one of his strong qualities.
"He's there, win or lose, to help support his teammates. Dylan is a natural leader who leads by example in and outside of the wrestling room," commented Phillips in his post-season assessment of the senior. "Dylan is always the last kid to finish drilling and working out."
On the football field, Soule found himself in many different roles and in the Class D1 State Championship game when teammate Keaton VanHousen suffered a deep thigh bruise in the first half, Soule took over the Osceola-High Plains Stormdogs ground game and led them to a win.
Stormdogs co-head coach Greg Wood said that Dylan answered the call wherever he was needed.
"Dylan is another kid that does it all," Osceola/High Plains co-head coach Greg Wood said last November. "He played quarterback and fullback for us depending on the formation. He was a big part of our defense's success playing linebacker. He was our long snapper on the punt team and was a great leader, great competitor and overall great person."
In the D1 final, a 40-34 win over the Burwell Longhorns, Soule carried the ball 23 times for 145 yards and three rushing touchdowns and returned a blocked punt for another score.
On the year he ran for 1,523 yards on 203 carries and he scored 27 touchdowns, averaging 7.5 yards per carry. He finished the season going over 100 yards six times.
On defense he was a D1 All-State first team selection at linebacker by the Omaha World-Herald and he ended the season with 132 tackles.
In Class D wrestling, Soule was rated No. 1 the entire season at 170 pounds and worked his way to the 170 pound D championship match before coming up short in the finals.
He posted a record of 40 wins and eight losses against some of the toughest competition in the state bar any class.
"Dylan has been a huge asset to our program from his time as a youth wrestler until now," Phillips added. "Dylan is a teammate who is right next to the mat every time someone wrestles."
Just prior to district wrestling, Soule inked his college letter of intent to attend Chadron State College and compete in track and field for the Eagles as a decathlete.
The 2020 high school track and field season however was wiped out by the COVID-19 pandemic.
Soule was hoping to get back to Omaha Burke Stadium and improve on his third place finish as a junior in the discus (145-7) and along with teammates Jarrett Parsons and Tanner Wood get another shot in the 4x100 meter relay. High Plains finished third in 2019 in the event.