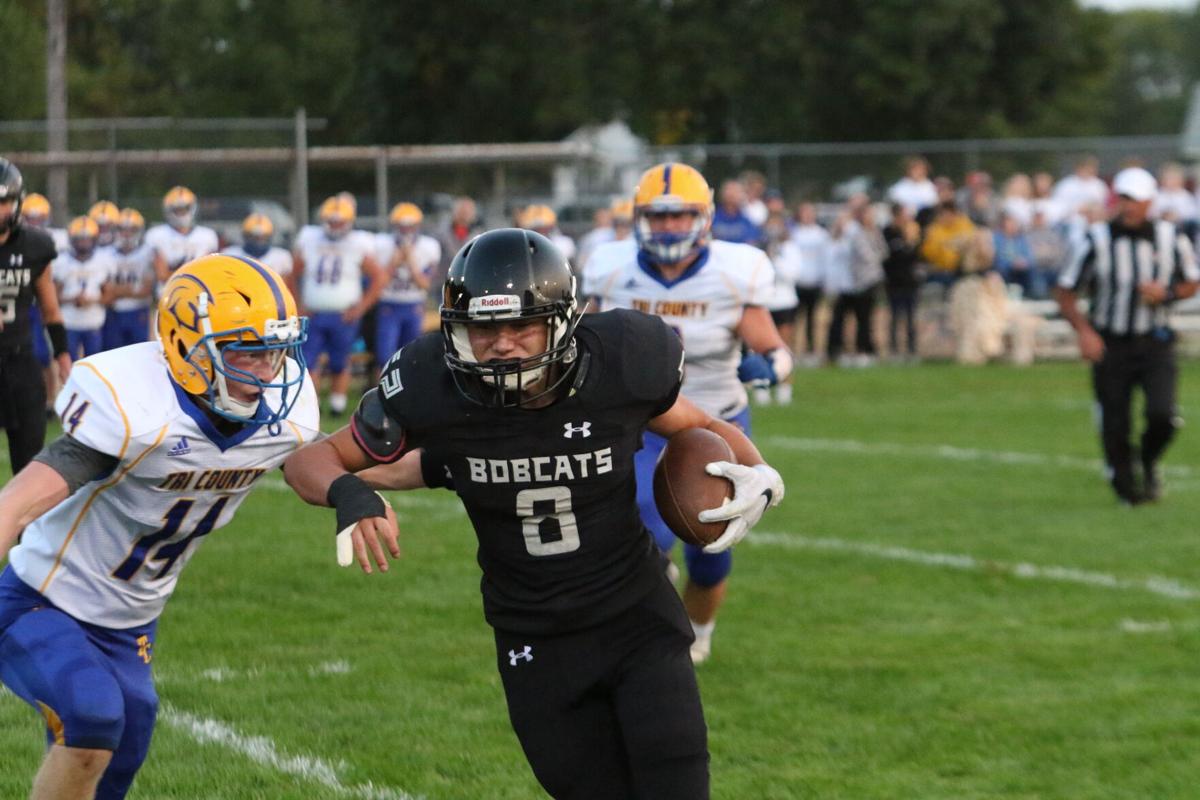 Exeter-Milligan/Friend falls on the road to Thayer Central
HEBRON – The Exeter-Milligan/Friend Bobcats football team traveled to Hebron last Friday to take on Thayer Central, but the host Titans defended their home field with a 78-34 win.
EMF drops to 3-2 on the season while Thayer Central improves to 4-1. The Bobcats will host Amherst (4-1) this Friday.
Thayer Central's offense outgained EMF's in total yards 535-391. The Titans threw for 274 yards and five touchdowns while rushing for 261 and four scores.
The Bobcats trailed 22-8 after the opening quarter and struggled to keep up with the Titans' offense in the second. EMF was outscored 38-18 in the second stanza, which gave the hosts a 60-26 edge at halftime.
EMF rushed for 278 yards and two touchdowns while starting quarterback Christian Weber went 10 of 27 for 113 yards and four scores in the passing game. Breckan Schluter caught four passes for 75 yards and three touchdowns while Chase Svehla hauled in a scoring toss, too.
Keagan Newsome led EMF on the ground with 79 yards and one score while Schluter had 74 yards on 13 carries. Weber chipped in with 64 yards on 12 touches.
Defensively, Newsome led the Bobcat defense with six tackles while Jackson Beethe had five and Jesse Duba 4 ½.
No. 4 St. Paul rushes for over 300 yards in lopsided win over Fillmore Central
ST. PAUL – The St. Paul Wildcats are rated Class C-1 No. 4 in the Lincoln Journal Star, and on Friday night they showed why in a 70-6 blowout win at home over the Fillmore Central Panthers.
St. Paul led 14-0 at the end of the opening quarter and 35-0 at halftime.
The Wildcats rushed for 373 yards and six touchdowns while Fillmore Central had just 153 total yards.
Fillmore Central senior running back Jake Stoner led the team with 95 rushing yards and one touchdown on 17 carries. Sophomore quarterback Keegan Theobald was 5-of-13 in the passing game for 46 yards and one pick. Senior Koby Head caught three of Theobald's five completions, but they went for only 10 yards.
St. Paul improves to 4-1 with the win while Fillmore Central drops to 2-3. The Panthers will host Superior (1-4) on Friday in Geneva.
Undefeated No. 4 Tri County races past Heartland
DeWITT – The Heartland Huskies football team dropped to 3-2 on the season after a 60-20 loss on the road to undefeated Class D-1 No. 4 Tri County last Friday.
Tri County (5-0), which made the D-1 state quarterfinals last year before losing to Cross County, shot out to a 14-0 lead after the first quarter and outscored Heartland 22-12 in the second to earn a 36-12 halftime edge.
Tri County ran away from the Huskies in the second half, outscoring them 24-8 to seal the victory. Heartland will try to get back in the win column this Friday against Thayer Central (4-1).
Tri County racked up 362 total yards, rushing for 253 and passing for 109. Heartland rushed for 162 but never got the pass game going, as it finished with 21.
Kale Wetjen rushed for 64 yards and one score while Nolan Boehr was held to 24 yards on nine carries – Boehr threw a 10-yard touchdown pass to Wyatt Regier.
Tri County's Cole Siems was credited with 205 rushing yards and six touchdowns.
Defensively, Boehr and Zach Quiring had the team-lead in tackles with 13 while Dawson Ohrt and Zach Wichman each had nine.
High Plains travels to Kansas for replacement game
LINN, Kan. – With its eight-man football game against Fullerton last week canceled due to COVID on Fullerton's side, the High Plains Storm wanted to find a replacement. It found one – the Onaga Buffaloes from Kansas.
The two teams agreed to play Friday night in Linn, Kansas, which is a little over a two-hour drive from High Plains Community High School in Polk.
Onaga won the game 58-22. The Buffaloes led the Storm 16-0 after the first quarter and 44-8 at halftime.
High Plains rushed for 320 yards and three touchdowns in the loss. Sophomore Mario Lesiak led the Storm with 122 rushing yards and two touchdowns while junior Javier Marino had 95 yards and one score. Junior Trevor Carlstrom chipped in with 65 yards on the ground and freshman Gavin Morris 38.
Marino and Morris led the High Plains defense with 14 and 12 tackles, respectively.
The Storm is scheduled to host Palmer (1-4) on Friday.
McDonald scores six touchdowns in No. 1 McCool's rout of Heartland Lutheran
GRAND ISLAND – The No. 1-rated McCool Junction Mustangs Six Man football team continues to steamroll through its schedule.
McCool blasted Heartland Lutheran 87-38 last Friday in Grand Island to improve to 3-0. The Mustangs will host Parkview Christian (3-1) this Friday.
McCool rushed for 303 yards and six touchdowns on the night and was led by senior Owen McDonald, who had 92 yards and three scores on seven carries. McDonald, who found the end zone a total of six times, also returned two kickoffs for a touchdown and had a pick-six on defense.
McCool led 47-6 after the first quarter and 67-12 at halftime.
Senior Jonah Barrow and sophomore John Harig both threw two touchdowns while Barrow added a rushing score to his stat line, too.
Junior Dylan Rieken and freshman Ryland Garretson each had a rushing touchdown as well. Garretson racked up 90 yards on the ground while Rieken had 47.
Kaden Kirkpatrick caught two passes for 24 yards, both of which went for touchdowns. Trenton Naber and Trenton Orlando both caught a score.
Defensively, Gage Rhodes led the team with eight tackles while Kaeden Bristol added seven. Both Trevor Vodicka and Garretson chipped in with five stops.
Heartland Lutheran drops to 2-1.
Helwig's five touchdowns help lead Nebraska Lutheran to win over Giltner
WACO – Behind 370 total yards and five touchdowns from senior quarterback Nate Helwig, the Nebraska Lutheran Knights rolled to a 32-16 come-from-behind win over the Giltner Hornets last Friday at home in Waco.
Helwig completed 32 of 42 passes for 263 yards and three touchdowns while also leading the Knights' rushing attack with 107 yards and two scores.
Lutheran trailed Giltner 16-6 at halftime, but outscored the Hornets 26-0 in the final two quarters.
After cutting its deficit to 16-12 with three minutes left in the third, Lutheran recovered a Giltner fumble. The Knights took advantage of the turnover and found the end zone to give them their first lead of the contest, 20-16, with around two minutes left in the quarter.
Lutheran held on as its defense was able to shut down the Giltner offense.
Helwig's main target on Friday was sophomore Trevor Hueske, who hauled in 15 catches for 148 yards and two touchdowns. Sophomore Alex Endorf had seven catches for 59 yards and one score while sophomore Trey Richert had five catches for 39 yards.
Senior Brennen Cross led the Lutheran defense with 10 tackles while Endorf had seven and one interception.
Lutheran improves to 2-3 while Giltner falls to 0-4. The Knights will travel to undefeated Osceola (4-0) this Friday, which is No. 2 in the Lincoln Journal Star's Class D-2 ratings.
Hampton starts strong, but falls to undefeated Dorchester
DORCHESTER – The Hampton football team took a 6-0 lead into the second quarter on the road at Dorchester last Friday, but the Hawks couldn't finish.
The undefeated host Longhorns wound up outscoring Hampton 56-0 in the final three quarters to seal the come-from-behind win, their fourth of the season. The Hawks drop to 1-3 with the loss and will host Heartland Lutheran (2-1) on Friday.
Statistics were not available for last Friday's game.
Polk County softball goes 1-2 at Adams Central Invite
HASTINGS – The Polk County Slammers went 1-2 at the Adams Central Invite at Smith Softball Complex in Hastings over the weekend.
Polk County picked up a big 11-3 win over Ord but lost to Cozad 12-7 and Wayne 12-0.
The Slammers now sit at 11-15 on the season and will host David City Aquinas (8-10) on Tuesday.
Heartland's slide continues with three losses at Southern Invite
WYMORE – The Heartland Huskies volleyball team traveled to Wymore on Saturday looking to end its losing streak at the Southern Invite. But the Huskies left with three losses, extending the streak to seven matches.
Heartland faced ultra-tough opponents at the Invite, including Thayer Central, Malcolm and Southen – those three teams have a combined record of 37-13.
The Huskies lost 2-0 to Thayer Central (25-15, 25-15) and Malcolm (25-18, 25-10) while falling 2-1 to Southern (scores were not available).
Heartland (4-9) will try to get back in the win column on Tuesday at the two-day Hastings St. Cecilia Invite.
Gabby Siebert led the Huskies in kills with three while two others – Cassidy Siebert and Cynthia Cerveny – chipped in with two. Thayer Central's Chloe Souerdyke nailed 10 kills to lead the Titans.
Ashley Brown got under a team-high eight digs for Heartland
The Huskies netted just four kills in their match with Malcolm – Cassidy Siebert had two of them. She also led the defense with eight digs.
Cassidy Siebert notched a team-best eight kills in the match with Southern while Cerveny had three. Cerveny connected on two ace serves, too.
Defensively, Brown had 15 digs while Cassidy Siebert got under 11 and Gabby Siebert 10.
Be the first to know
Get local news delivered to your inbox!