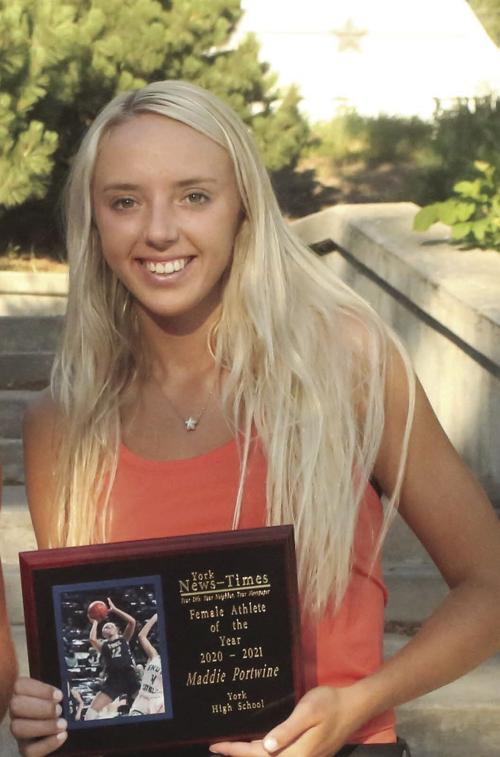 YORK - On May 5, 2021 York senior Maddie Portwine signed to run Cross Country and Track at the University of Nebraska.
On Monday, June 21 she was named the York News-Times Female Athlete of the Year to go along with her Female Athlete of the Year award at York High School back in May.
Maddie said her mom told her they were going to spend some family time, but when they got to the park she knew something was up.
"My mom said we were going to spend a little family time so I went out on my run early and got told to basically get back now," Maddie stated. "I was very surprised, but I was also very confused when we came to a park because we don't normally spend family time at the park."
Maddie is the daughter of Greg and Stacy Portwine.
Basketball has always been in Maddie's blood and always will be, but her path as far as college goes, turned when COVID-19 hit last spring and running became a way to deal with the disappointments and not being able to compete.
"I have always complained about running and always cried through every two-miles I had to run. I think over COVID when I was always running with my teammates and coaches, I just started having fun," Portwine said. "We would always meet up at different cemetery's and different places and started running and I really started to like running and it became just about the sport itself."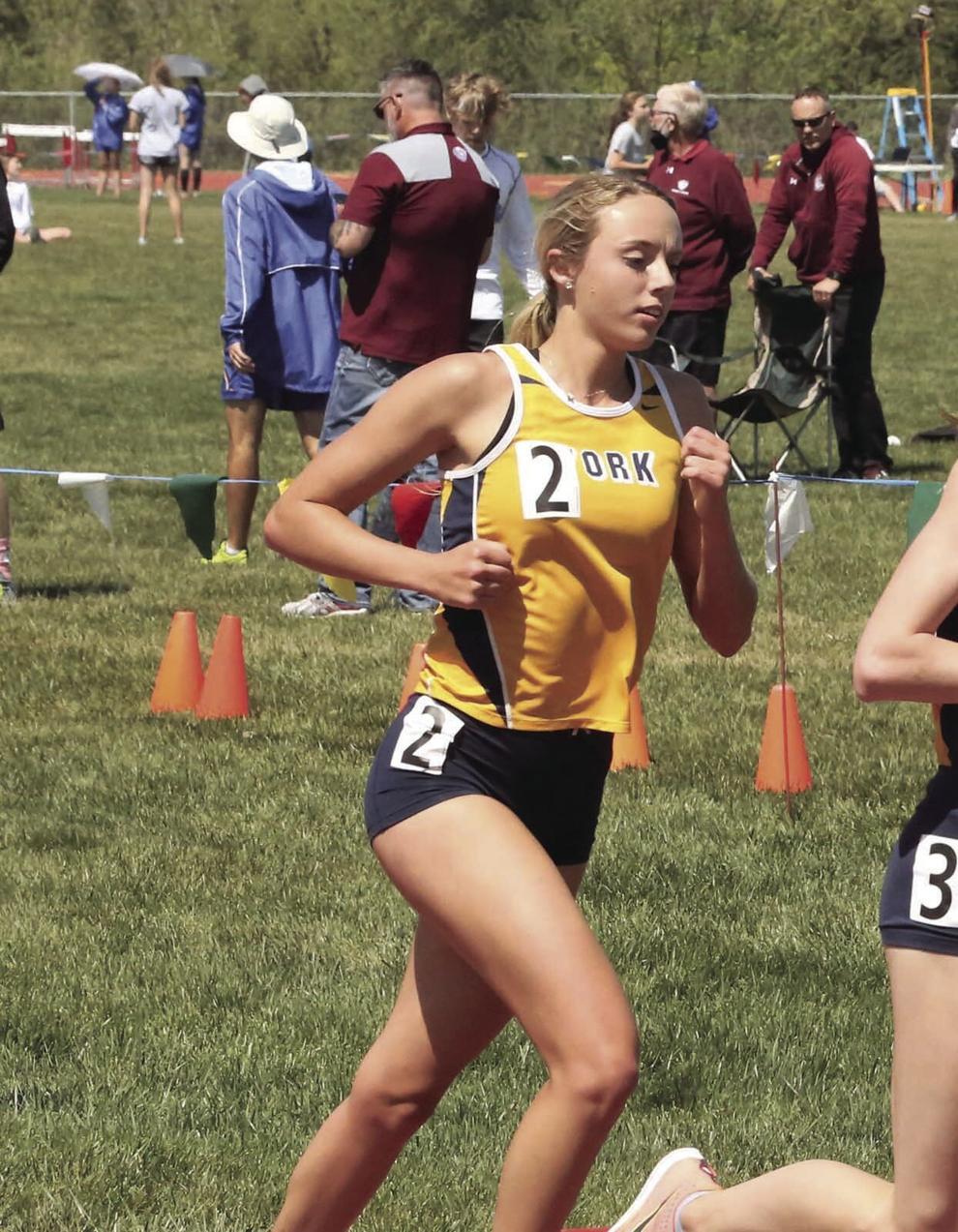 In 2019 Maddie was the state runner-up in the 1600 meters behind teammate Brynn Hirschfeld at the Nebraska State Track and Field Meet. She repeated that finish this year and also took fourth in the 3200 as the Dukes were crowned Class B team Champions.
Her success did not come without sacrifices as being a three-sport athlete took a lot of time and work.
"It's hard. It is a big time commitment. You go to school sometimes at 6 a.m. to get extra workouts in or runs in and you have a workout after school and you don't get home till after 5:30- 6 o'clock and then you have homework and college classes on top of all that," Portwine explained. "You are just smooshing all that together and it's a big time commitment and a sacrifice."
Portwine was also quick to recognize her teammates. She said that without them none of what she has achieved would have been possible.
"It sometimes takes sacrifices and not being able to do what you want to do and putting in the hard work to reach your goals. You have to keep your priorities in check all throughout high school. You have to keep academics first, sports second and your family needs to be a huge part of your success. As well as keeping a rounded circle of friends," Portwine said. "It feels really good because it took a lot of work and it gets recognized. But it also shows the great teammates I had at York who surrounded me, because an award like this you don't get by yourself, it also recognizes the great team that I had around me."
"I hope I am recognized that I like to be a good teammate and I put my team first. It's really not about my accomplishments because I wouldn't be here without the support and help that I have gotten from teammates. They push me, they are there with me and they workout with me."
This past high school season Maddie was Third Team Super State and Class B First Team in both the Omaha World-Herald and the Lincoln Journal Star in basketball.
While basketball will not be a priority any longer, Maddie says she will not put the basketball down.
"I am going to remember the connections that I have made. I still get together to shoot hoops with some of my teammates and we run together still. I see them at the pool where I work and I see them around in just local places," Portwine added. "I still pick up the basketball playing in all-star games and I don't plan to put to put down the basketball. I plan to keep my other sports going too."
Portwine said that high school went by too fast, but she is prepared for the next step in her life.
"It was too fast, but it also prepared me for my next step in life. It was a hard four years to let go of, but it also opened up the next four years of my life and I am looking forward to that and what lies ahead," Portwine said. "I will try to get back for some of York's games, but I already have seen my schedule fill up pretty fast. I'd like to make it back a few times to watch my sisters battle it out because there is still a lot of competition in the house."