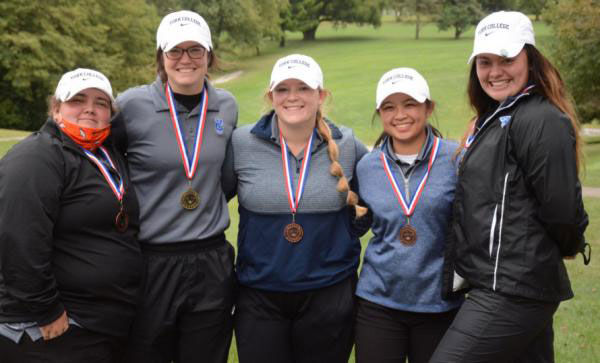 CRETE – On a cold, drizzly day in Crete, Neb., the York women's golf team defeated Doane College in dual action at College Heights Country Club, marking the third year in a row the team has won their opening event.
Bailee Bastin, (SR/Choctaw, Okla) was the medalist for the meet with her score of 90. Jess Li (JR/ Reading, England) and Jessica Simants (SR/Azle, Texas) finished in a four-way tie for second with 92's. Jessica Salazar (SR/Arvada, Colo) tied for sixth with a 98 and Makayla Rowan (JR/Three Forks, Mont) rounded out the team scoring for the Panthers with her 101, good enough for ninth place. York defeated the Tigers of Doane by 24 strokes.
"The conditions weren't optimal for the first event of the year, but it was good to get the season's competition underway," said Head Coach Tim Lewis. "After losing the spring season to the pandemic, the ladies were anxious to play again."
The team has a couple of weeks before going on the road to play in the Kansas Wesleyan Coyote Invitational at the end of the month.
"We have several things we need to work on in preparation for conference play," said Lewis. "I'm excited for the way the ladies battled for this win but have high expectations for them to improve their game individually."
Be the first to know
Get local news delivered to your inbox!