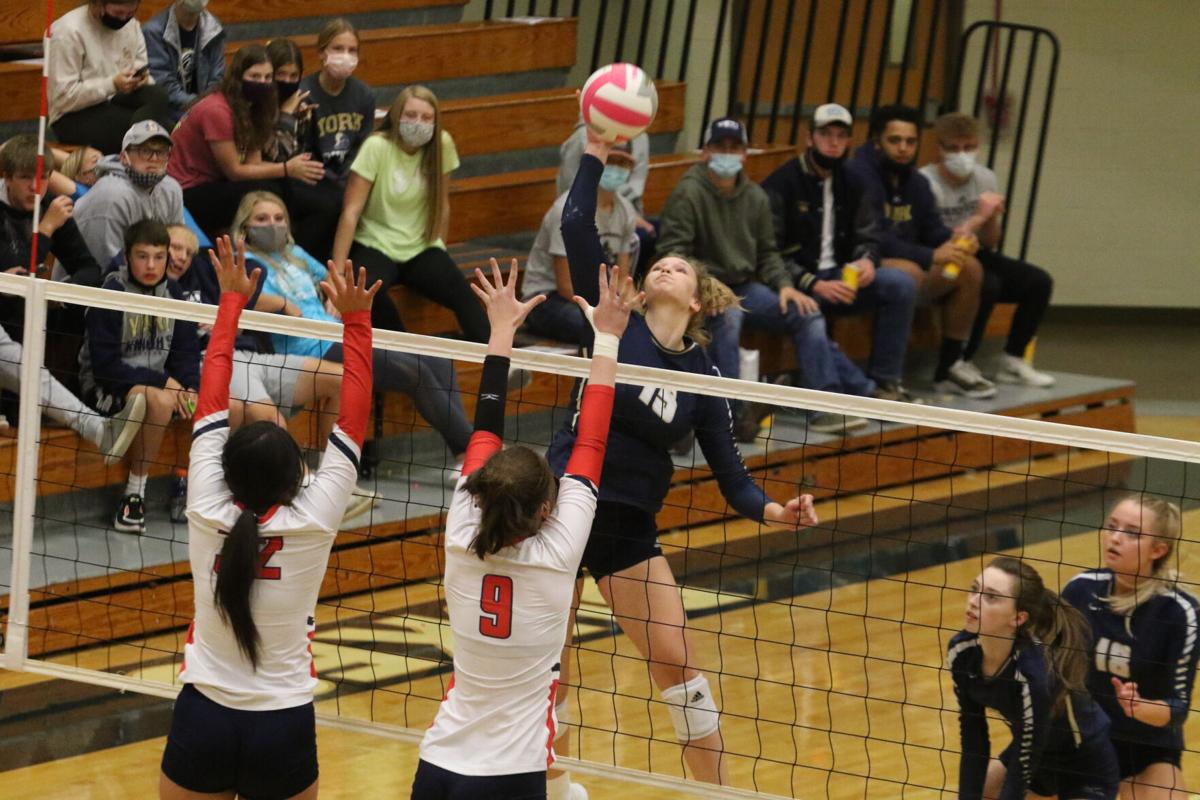 YORK-The York Dukes came into Thursday night's first round of the Central Conference Tournament with two tough tasks lying in front of them on their home court.
York was matched up with No. 10 Seward in their first game and then they had to play Adams Central a team they lost to a few weeks ago in York 2-0.
The Dukes completed phase one of their plan sweeping Seward 25-17 and 25-23, then battling to the wire with the Patriots as they came away with the 2-1 win.
York won the first set 25-23, but then Adams Central ramped up their defense and on the second set 25-16.
York went back to their bread and butter and defeated the Patriots 25-21 in the third set.
York will play both Schuyler and Northwest on Saturday in Crete to complete pool play.
After the two teams split the first two games, Adams Central took a 10-7 lead over the Dukes.
York responded with an unforced Patriots error and a net serve to pull within 10-9.
The Patriots opened the lead back top 12-10, but the Dukes tied it up as the Adams Central girls were making it easy on the Dukes with two more mistakes.
With the score tied at 15-15, York got called in the net, and a double block by Camille Wellensiek and Lauryn Scott put the Patriots on top 17-15.
A kill from Destiny Shepherd and another from Erin Case tied the score once again at 171-7.
York went on top for good when Case recorded her third stuff block and Natalie Rockenbach found the open court on serve to make it 19-17.
Adams Central pulled to within 20-19, 21-20, before Masa Scheierman delivered a kill that put her at 1000 for the season.
York opened the lead to 23-20 and a net call on the Patriots ended the match.
York had 34 team kills with Scheierman unofficially charted with 17 of those. Case finished with six kills and four blocks.
York had six ace serves with Brynn Hirschfeld picking up two of them.
Adams Central put down 43 kills as a team and they were led by Jessica Babcock with 15 and Caitlyn Scott with 13.
"We talked about this importance of this week and how it would go a long ways in getting us to where we want to be as the season winds down," said York head coach Chris Ericson. "This would set us up for subdistricts and also set us up with a chance to host a district final. In this tournament we have a chance to play four teams that could win their subdistricts and make the district field."
York's play at the net in the first of two games on Thursday night was a huge factor in the Dukes 2-0 win over the Seward Lady Jays.
The Dukes recorded six blocks with senior Case picking up three on two solos and two assists, while junior Scheierman had two solo stuff blocks against the Seward attack.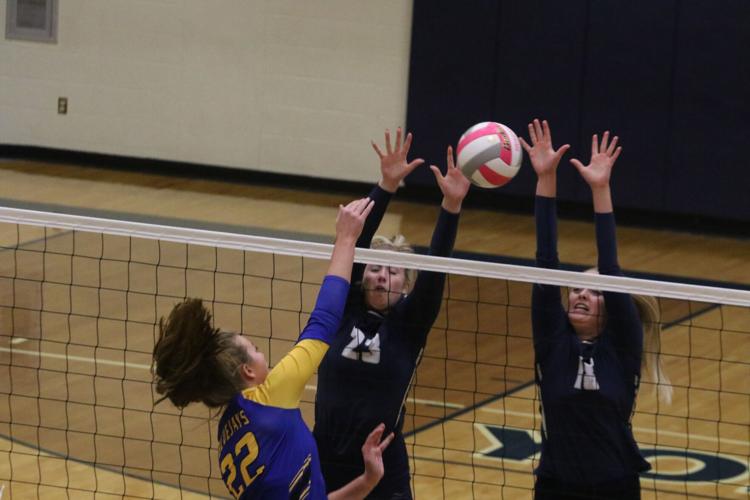 Along with her blocking, Scheierman led the Dukes with 15 kills and as a team the Dukes hammered 31 in just two sets.
Senior Addison Legg was second in kills with eight, while Case had four.
The two teams were almost dead even at the halfway point of the first and second set, as York led 15-13 in the first set and 15-14 in the second.
Scheierman proved to be the deciding factor in the second set as she had 11 of her 15 kills in the second game.
Seward's Abbey Ringler, a 6-foot senior tried to keep the Lady Jays in the match as she had 10 kills and 5-foot 11-inch senior Anna Hughes finished with seven. As a team the Seward girl's had 19 kills.
With the score tied 16-16 in the second set, any chance the Lady Jays had of forcing a third game took a huge hit as Scheierman had four kills and Case an ace block and serve to open a 22-17 York lead.
Seward fought back to make it 24-23, but Case got the tip winner for set and match.
The Lady Jays had four blocks with three of those solos by Ringler and their two ace serves were credited to Hughes.
Case led the Dukes with two ace serves and as a team York had four.
Be the first to know
Get local news delivered to your inbox!