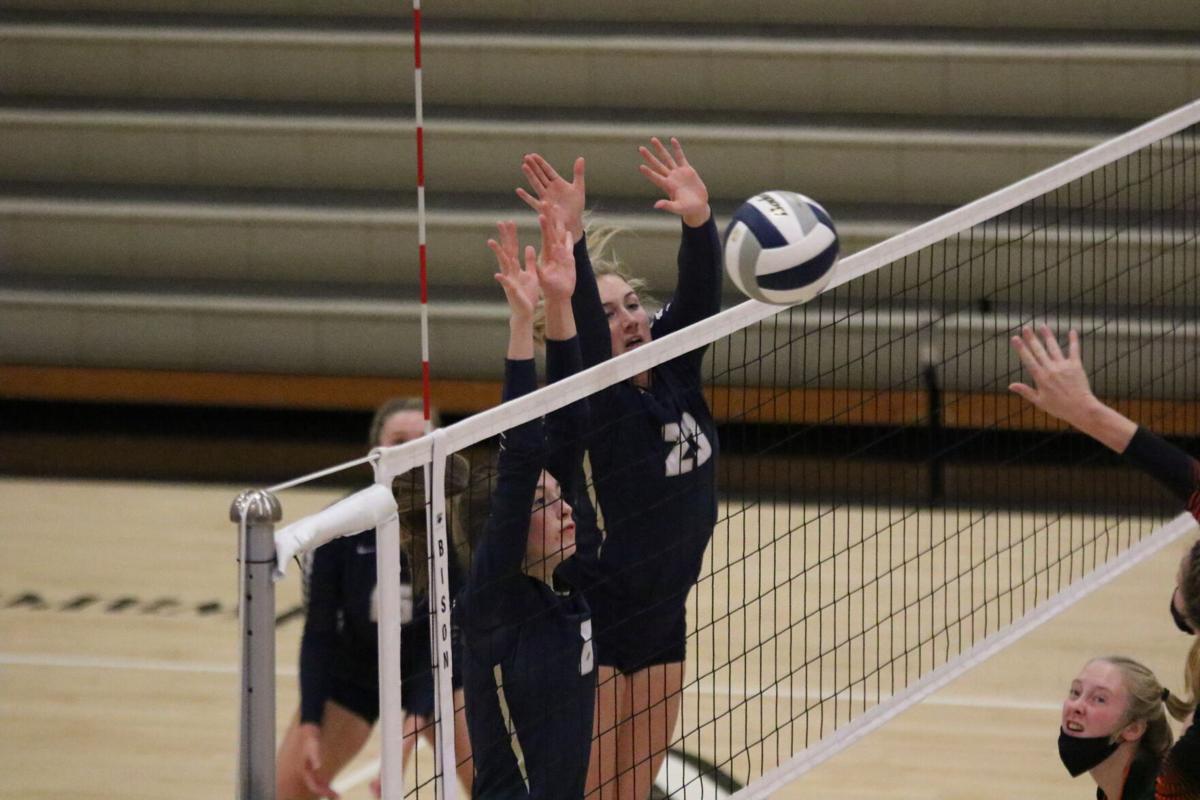 BEATRICE — On Tuesday night the York Dukes shook the rust off from an eight-day layoff by sweeping Crete on the road.
Crete, however, is struggling this season and has just two wins. Much tougher competition awaited Thursday at a triangular in Beatrice. Along with the host Lady Orange, who came into the day No. 5 in the Omaha World-Herald's Class B ratings, the the No. 7 Dukes battled the Seward Bluejays, who had double-digit wins to their name, just like York did.
York wound up leaving with two wins to push its season record to 14-5. The Dukes, who have won five straight matches following the Harvest Festival Invite in Gothenburg, will compete at the Raymond Central Invite on Saturday morning, bright and early with an 8 a.m. opening match against Crete.
These two teams tangled at the Bishop Neumann Invite back on Sept. 12, and the Lady Orange got the 2-0 win by scores of 25-15, 26-24.
York, however, got its revenge.
Led by an unofficial 22 kills from 6-foot junior Masa Scheierman, the Dukes earned the win while going back and forth with the hosts. Senior Maddie Portwine added six kills and four blocks. Senior Erin Case chipped in with five kills.
"We knew both games tonight were going to be district finals competition and it didn't disappoint," York head coach Chris Ericson said. "Being able to lean on our defense at the end of some of those sets was a huge confidence boost."
After dropping the first set, York trailed 8-5 early in the second which forced Ericson to call a timeout. The stoppage in play worked as the Dukes regrouped and went on a 7-6 run that cut their deficit to just 14-12 and made the Beatrice head coach call time. During that run for York, senior Addison Legg recorded a kill and an ace serve while Case smacked two kills.
A Portwine kill gave the Dukes a 17-16 lead, but the edge quickly disappeared as the Lady O went on a 3-0 run to force another timeout from Ericson.
York responded well out of the timeout and ended the set by outscoring Beatrice 8-3. Scheierman had three kills and an ace during that final stretch while the lengthy Portwine had a kill and a block.
The third set saw a 17-all tie, but the Dukes finished strong yet again and outscored the Lady O 8-3. Scheierman notched three kills while both Case and junior Brynn Hirschfeld got one to fall, too. Hirschfeld, a setter, faked out the Beatrice defense with her tip kill.
at Beatrice (10-5) 26 21 20 — 1
Case came to play early and carried the York attack in the first set with a team-high eight kills.
"I thought all of our hitters did a nice job tonight and I'm especially happy to see Erin (Case) come out and light the place up," Ericson said. "She has so much potential to blow the roof off the place with big swings."
The two teams tied 13 times in the closely-contested opening set. A Seward ace gave the Bluejays a 20-19 lead, but York responded with a 4-1 run to take a 23-21 edge. Scheierman had a kill and an ace during that run while Portwine added a kill.
Seward didn't go away, though. The Bluejays fought back to tie at scores of 23, 24 and 25 before Case connected on a kill and Scheierman downed her own.
The Dukes tied the second set at 17-all again, then went up 18-17 thanks to a Case block. The Dukes never looked back after that and outscored the Bluejays 7-4. York's winning point came on a combo block at the net by Case and Scheierman, who unofficially had five kills in the set.
at Seward (10-7) 25 21 — 0
Be the first to know
Get local news delivered to your inbox!