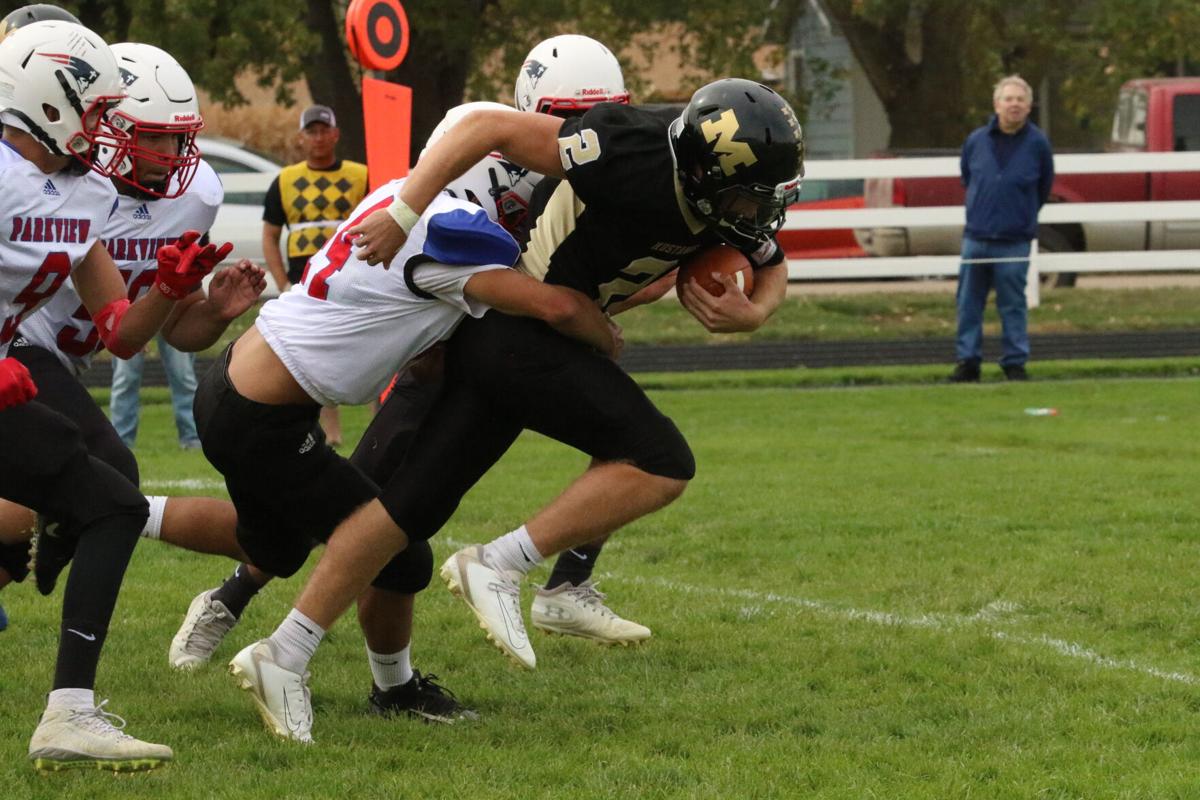 MCCOOL JUNCTION-A mid-afternoon Friday football game between two teams with a combined 8-1 record turned into a rout almost from the start as the Six-Man No. 1 McCool Junction Mustangs rolled to the 78-12 win over the Parkview Christian Patriots.
The first play of the game may have been a sign of things to come as the kick-off return man for Parkview Christian slipped down at the two yard line and that is where the Patriots started their first possession.
McCool Junction' defense stopped the Patriots cold, and the PVC team punted out to just the Patriots 13 yard line.
On the Mustangs first play from scrimmage on offense senior running back Owen McDonald slipped through the middle of the Patriots defense and scored just a little over a minute into the game. McDonald finished with 154 yards on 15 carries to lead the Mustangs ground game.
The PAT failed leaving the score 6-0 with 8:58 on the clock.
Parkview Christian (3-2) did answer the McCool Junction score as a long run by KeShawn Moore inside the Mustangs 5 yard line set up a six yard pass play from quarterback to Tevin Godwin Chandler Page to tie the score at 6-6.
On the long catch and run by Moore he was caught from behind and stripped by McDonald and McCool appeared to recover the fumble, but the referees did not see it that way.
McCool Junction would then score 64 unanswered points as McDonald scored five more times on runs of 5, 10, 21, 2 and 13 yards, while Chase Wilkinson went in from 15 yards out; Kaeden Bristol scored on a 36 yard run; Gage Rhodes picked off a pass and took it in for the pic-six from 27 yards out and Ryland Garretson picked up scoring runs of 49 and 28 yards.
The Mustangs pounded the Patriots defense for 421 yards rushing on 42 carries and added another 38 yards through the air for 459 yards of total offense. Freshman Garretson ran for 88 yards on eight carries; Bristol had three carries for 87 yards and Wilkinson had 10 rushed for 76 yards.
The final Parkview Christian score came on an Alex Rohrbaugh run covering 40 yards.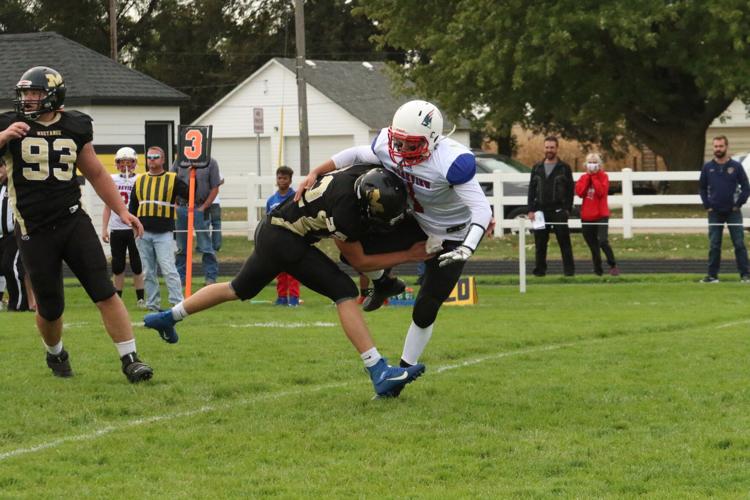 The Mustangs defense forced seven Patriots turnovers as McDonald recorded two interceptions and a fumble recovery; both Rhodes and Garretson each had a pick and Kaden Kirkpatrick and Wilkinson each had a fumble recovery.
After the game, McCool Junction head coach Jarrod Weiss was not too happy about some mistakes his team made in the early part of the game.
"I didn't think we started out very well. I thought we were sluggish out of the gates and they took advantage of that and as the game went a long we kind of figured things out," said Weiss. "For the most part we played all right, but we still have things to work on."
On defense the Mustangs were led by Garretson with seven tackles and Wilkinson added five.
The Mustangs schedule the rest of the way includes their Homecoming game next Friday with Meridian; at Hampton the following week and they close out the season at home with Dorchester who went into the Friday night game with No. 2 Sterling at 4-0.
When asked if he would like to see his team challenged, Weiss said this.
"All we can do is play our schedule and to be honest with you, in practice we get a lot of good work from our second team guys who really help us out preparing for games," Weiss stated. "We just play who we can play. I don't know if I am ever happy, because we still have things to work on. I am happy we are 5-0 and we do have a lot of things to improve on before we get down the road and hopefully get into the playoffs."
Parkview Christian (3-2) 6 0 0 6-12
McCool Junction (5-0) 18 30 16 14- 78
MCJ Owen McDonald 13 yard run. PAT kick failed 0 6
PVC Tevin Godwin to Chandler Page 6 yards. PAT pass failed. 6 6
MCJ Chase Wilkinson 10 yard run. PAT run failed. 6 12
MCJ McDonald 5 yard run. PAT kick failed. 6 18
MCJ McDonald 10 yard run. McDonald PAT kick. 6 26
MCJ McDonald 21 yard run. PAT kick failed. 6 32
MCJ McDonald 2 yard run. McDonald PAT kick. 6 40
MCJ Kaeden Bristol 36 yard run. McDonald PAT kick. 6 48
MCJ McDonald 13 yard run. McDonald PAT kick. 6 56
MCJ Gage Rhodes 27 yard INT return. McDonald PAT kick. 6 64
MCJ Ryland Garretson 49 yard run. PAT kick failed. 6 70
PVC Alex Rohrbaugh 40 yard run. PAT pass failed. 12 70
MCJ Garretson 28 yard run. Garretson PAT kick. 12 78
Be the first to know
Get local news delivered to your inbox!