MCCOOL JUNCTION-Course records, personal best times and a third straight District Cross Country championship were all part of the Class D-1XC District Meet at Camp Kateri on Thursday.
The McCool Junction Mustang girl's XC team won their third district meet in a row and fourth of their last five as they advanced to the Class D State Championships next Friday at the Kearney Country Club.
The Mustangs boys slipped into third place late in the race as they also punched their ticket to the state meet in Kearney.
Aquinas senior Payton Davis set a new Camp Kateri course record by better than 17 seconds with a time of 16 minutes, 27.5 seconds beating the old record set in 2015 by Lincoln Pius X's Jared Yost.
While the girls won the meet by 12 points over Tri-County and third place Palmyra by 15 points, it was a different story for the Mustang boys.
"For our boys, the district was an absolute buzz saw as we knew it would be. We are so excited that we were able to eke out a one point victory over fourth place to secure our top three finish and earn a berth to state," McCool Junction head coach Ryan Underwood commented. "There were a couple of huge place changes that allowed us to secure our state qualification. First, senior Tyler Neville was able to catch Garrett Nichols of Fillmore Central over the last half of the race. Neville doing so was a huge two point swing for us whereas if it hadn't happened, we would have lost a point and Fillmore would have gained one, giving them the one point victory."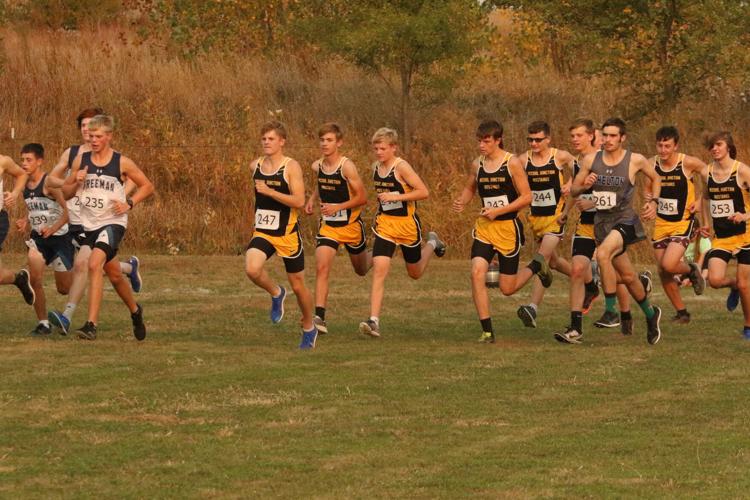 Aquinas won the team title with 10 points, Freeman was second with 30 and the Mustangs finished with 33 and Fillmore Central 34.
On the girls side it was a two-person race for the individual championship as McCool Junction sophomore Payton Gerken and Palmyra's Emily Frey went head-to-head with Gerken winning the race by less than a second.
"I really love the way she competed today. Emily Frey from Palmyra is a very strong runner and at about the first mile marker those two had emerged at the front of the pack as they had separated themselves from the competition. I thought Payton did an outstanding job of keeping pressure on Frey. When two people are running so close together it is easy to settle for running together and save for a kick at the end. I thought that Payton did a fantastic job of just continuing to push the pace. That is tough to do because there is a lot more pressure when someone is always on your heels. Yet, I thought Payton handled it very well. Her doing so caused the Frey girl to try and kick a little earlier to win the race because Payton was out in front of her. The Frey girl did make her move with about 250 meters to go. She opened up a few meter lead on Payton until about 50 meters left when Payton made her final surge and was able to bring home the gold medal. Payton just ran an extremely smart, tactical race and I couldn't be more excited for her. Her time today was a 41.6 second career 5k personal best and was a Camp Kateri course best by 47.7 seconds. Her 5k time was also the third fastest 5k in McCool Junction girls cross country history."
Brining home fourth place was Aly Plock with a time of 20:39.4; and the final points of the day came from freshman McKenna Yates who finished in eighth place overall with a time of 21:13.4. Sara Vodicka was 24th with a time of 23:28.3 and Sara Weisheit finished 39th with a clocking of 25:36.7.
Fillmore Central's Hallie Verhage was 20th with a time of 23:02 and Teneal Barbur ran 37th with her time of 25:25.0.
Centennial's Madison Brandenburgh also qualified for the Class D championships with a 14th place finish and a time of 21:58.0
McCool Junction senior Tyler Neville was clocked at 17:25.9 for second place; Jake Brugger finished 14th with a clocking of 18:04.7 and in 19th was Luke Brugger with a time of 18:45.7.
Also qualifying for the Class D State championship race next Friday was; Fillmore Central's Garrett Nichols with a time of 17:31.6; his teammate Connor Nun ran a 17:53.8 for eighth place and Centennial's Clinton Turnbull was ninth with a time of 18:01.10.
McCool Junction's Trent Neville was 20th (18:48 and Ian Stahr ran a time of 19:34 for 32nd.
Along with Nichols and NUN, Austin Wurtz (24th) was clocked at 19:11 for the Panthers, while Hunter Verhage was 25th (19:20) and Eli Meyers finished 54th with a time of 21:50.
The only other competitor for the Bronco boys was Garrison Schernikau who was 33rd with a time of 19:38.
"It was an amazing day for both our boys and girls today at districts on our home course at Camp Kateri. We are so excited to get both of our teams qualified for the state meet next Friday. Overall, I thought our girls executed their race strategy much better this week. We had been working on some tactical aspects of our races and I thought their execution of those tactics was very strong," Underwood said. "Overall our boys are really excited to get our boys squad back down to state for the first time since 2016. We will enjoy this qualification tonight and get back to work tomorrow to see what we can do to go after a top five team finish at the state meet.
The Class D Girls will run at 12 noon and that will be followed by the Class D Boys at 12:30 p.m. The Class D awards will be presented at 1 p.m. This is a new format from years past.
Girls scoring-1.McCool Junction 13; 2.Tri-County 25; 3.Palmyra 28; 4.Thayer Central 46; 5.Cornerstone Christian 56; 6.Archbishop Bergan 57; 7.Johnson County Central 66; 8.Pawnee City 66; 9.Aquinas 76; 10.East Butler 96.
Boys scoring-1.Aquinas 10; 2.Freeman 30; 3.McCool Junction 33; 4.Fillmore Central 34; 5.Cornerstone Christian 44; 6.Palmyra 65; 7.Yutan 81; 8.Tri-County 93; 9.Deshler 93; 10.Archbishop Bergan 106; 11.East Butler 110; 12.Johnson County Central 126.
Be the first to know
Get local news delivered to your inbox!