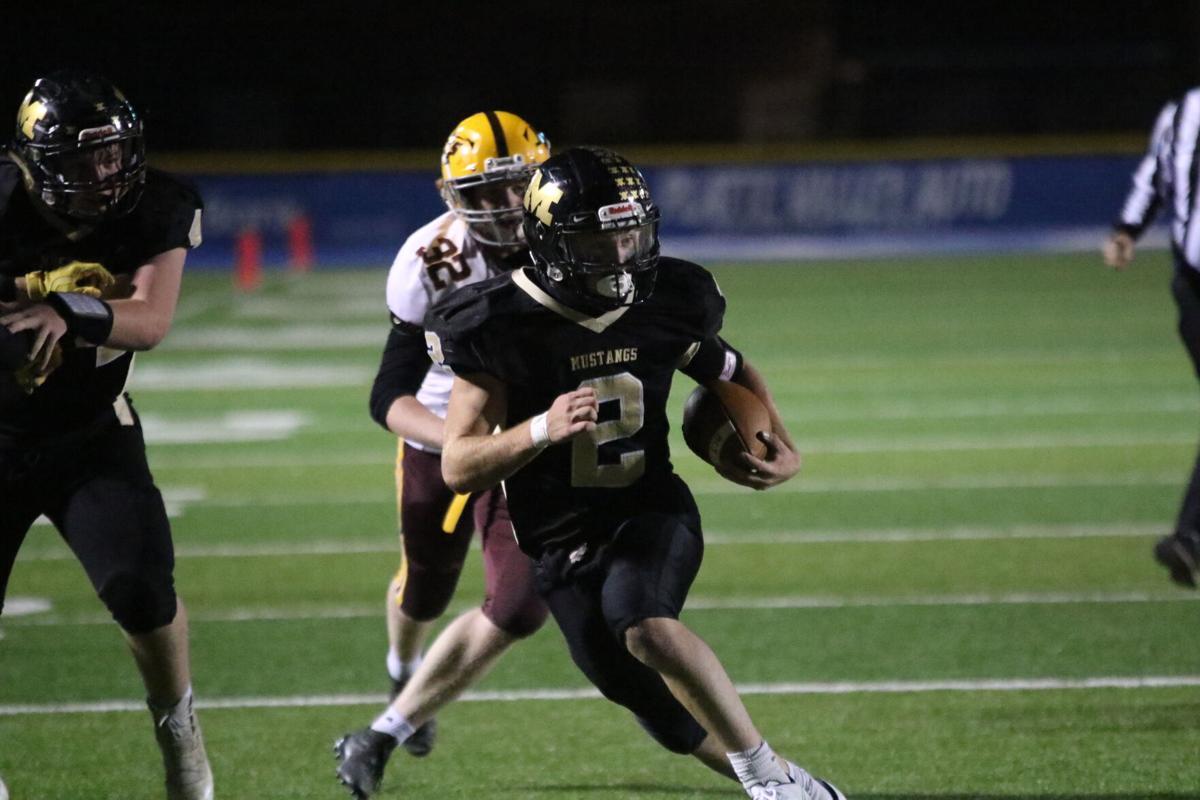 KEARNEY, Neb. — The Sterling Jets led the McCool Junction Mustangs 8-0 just 45 seconds into the six-man state championship Friday night at Ron and Carol Cope Stadium in Kearney.
But then the Owen McDonald effect happened.
Behind a six-man single-game playoff-record 393 rushing yards and eight touchdowns, McDonald led McCool Junction to its first state football title in school history with a 70-20 win.
After McCool Junction led 30-14 at the end of the opening quarter and 62-14 at halftime, the ultra elusive McDonald tied the six-man record for most touchdowns in a playoff game with eight on the first play of the second half, a 59-yard run. That sprint gave McDonald 393 yards on 22 carries, which broke the record for most rushing yards in a playoff game by 3.
McDonald got to rest his legs the rest of the game.
"I was nervous beyond all get out and just ready to get on that field," McDonald said of his pregame jitters. "My teammates are the best blockers in D-6, there's no doubt about that. All the credit should go to them."
McDonald, as well as all of his six senior classmates — Kaeden Bristol, Jonah Barrow, Corbin Brown, Brad Lewis, Kaden Kirkpatrick and Patrick Dietz — were on the field for a play late in the fourth quarter. That was flagged for a penalty, but it was one head coach Jarrod Weiss gladly took. He wanted all seven seniors on the field at the same time.
"It was a fitting end to what they started when they were freshmen," Weiss said of the tribute. "They took their lumps as freshmen, then in their sophomore year made the playoffs and got to the quarterfinals. Then junior year, obviously, they got here last year and got beat by a good football team.
"But what a fitting end for such a great group of gentlemen. They're not only great football players but they're just great kids to be around."
McCool Junction ended the night with 574 total yards and rushed for a whopping 508, which also broke the six-man single-game playoff record by 5 yards. The Mustangs' defense held Sterling to 227 total yards and forced four turnovers.
The first takeaway the defense had came on Sterling's second drive of the game. Kirkpatrick, the Mustangs' 6-foot-4, 280-pound mammoth on the D-line, shot through the backfield and wrangled in Jets' ball carrier Sam Bolte. Kirkpatrick wound up stripping Bolte for a fumble during the sack, which Bristol quickly scooped up and sprinted 49 yards to the end zone for a touchdown.
The other three takeaways were interceptions from Chase Wilkinson, McDonald and Ryland Garretson.
McCool Junction ends its perfect season at 11-0 and gets redemption in Kearney after finishing runner-up last year in the title game.
Sterling (10-1) 14 0 6 0 — 20
McCool Junction (11-0) 30 32 8 0 — 70
S: Derek Buss 30 pass from Sam Bolte (Carson McAuliffe PAT)
M: Owen McDonald 2 run (McDonald PAT)
M: Kaeden Bristol 49 scoop-and-score (McDonald PAT)
M: McDonald 11 run (McDonald PAT missed)
M: McDonald 64 run (McDonald PAT)
S: Bolte 46 run (McAuliffe PAT)
M: McDonald 28 run (McDonald PAT)
M: McDonald 5 run (McDonald PAT)
M: McDonald 33 run (McDonald PAT)
M: McDonald 62 run (McDonald PAT)
M: McDonald 59 run (McDonald PAT)
S: Bolte 18 pass from Garrett Hier (McAuliffe PAT missed)
Be the first to know
Get local news delivered to your inbox!