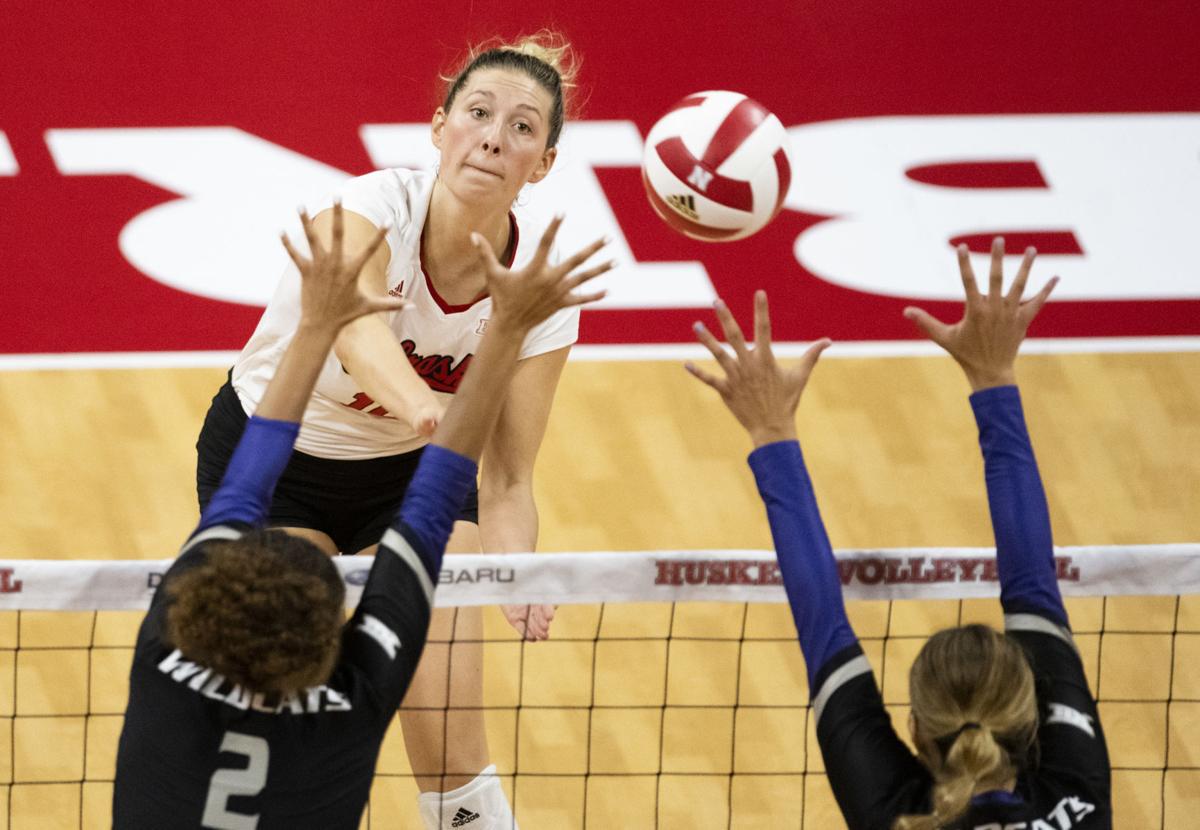 The college volleyball season is a 17-week marathon more than it is a sprint, especially for the teams that make the NCAA Tournament.
That sentiment is especially true for Nebraska this season. The Huskers have been playing four freshmen who are still learning what they can (and can't) do in a college match. Also, the Huskers may look very different later in the season if All-America middle blocker Lauren Stivrins is able to return from a back injury.
But heading into the weekend, the Huskers are coming off back-to-back losses — No. 20 Utah on Saturday and No. 16 Stanford on Tuesday — and that's caused a little bit of a stir around here. Nebraska (6-2) didn't lose consecutive matches in either of the past two seasons.
And now Nebraska faces another major challenge when it hosts No. 5 Louisville on Saturday (7 p.m., Big Ten Network). Louisville has never been ranked higher in volleyball than it is now.
Husker coach John Cook doesn't like losing, but he's more concerned with Nebraska's performances in the Big Ten season and the NCAA Tournament than he is with the first four weeks of the season.
In 2017, Nebraska lost its first two matches of the year when setter Kelly Hunter was injured. Then the Huskers lost again to Northern Iowa. How'd that season turn out? Nebraska won the national championship, including a win against No. 1 Penn State in the NCAA semifinals.
Against Stanford, Cook rolled with four freshman starters — outside hitters Lindsay Krause and Ally Batenhorst, right-side hitter Whitney Lauenstein, and libero Lexi Rodriguez. That meant Lexi Sun and Madi Kubik didn't play much after both failed to hit better than .050 in the previous match.
"I'm just trying to find out who is going to get it done, and that was a great test to put those guys out there and see," Cook said. "I probably know a little bit more about Lexi and Madi over the last couple of years. So I thought it was a good test, and those guys have been training really well."
This season Nebraska's defense has been good in several matches.
But everybody — the head coach, the setter, the outside hitters and the team's sports psychologist — knows that the Huskers need to start killing more balls, especially at the hitter positions.
"The bottom line is we got to find a way to kill more balls," Cook said.
Among Big Ten teams, Nebraska is 11th in hitting percentage (.222) and 12th in kills per set (12.52).
For Utah, outside hitter Dani Drew had 27 kills against Nebraska (NU's starting outside hitters combined for 14). Stanford outside hitter Caitie Baird had 21.
"We have to be able to match those guys, and we're just not there yet," Cook said. "But we're going to get there."
In the Big Ten, a good hitting percentage for an outside hitter is .250, Cook said. If you can do that, you'll be all-conference, and it sure helps a team be at the top of the Big Ten when you have an all-conference outside hitter.
Right now Kubik has the best hitting percentage for a Nebraska outside hitter at .203.
Playing outside hitter isn't easy. You get a lot of out-of-system sets that are hard to get kills on because you're going against two blockers.
But Nebraska needs more consistency from its outside hitters, and that process has been slowed some because Nebraska is still catching up after setter Nicklin Hames was injured.
"We're getting there, and doing some good things," Cook said. "And if we don't get a good set, we got to be able to manage better. That's what the young ones need to learn. Because in high school and club they can get away with more stuff. Against teams like Stanford and Utah, you can't just error out of it. You got to find a way to keep it in play and be creative."
The match against Louisville may be the first time Cook has coached against one of his former Nebraska players as a head coach. Louisville coach Dani Busboom Kelly played for Nebraska from 2003-06. Then she was an assistant coach for Cook when she was hired at Louisville before the 2017 season.
Cook isn't surprised to see that Busboom Kelly is a successful head coach. In 2019, the unranked Cardinal upset No. 4 Texas in the NCAA Sweet 16.
"She's a great recruiter," Cook said. "She's not afraid to get on people and push them. Dani played libero here and played setter here and just has a really good feel for the game. Her team plays really hard, just like she did."
Dan Meske, who was on Nebraska's staff for eight years in various roles, is Busboom Kelly's top assistant.
Louisville is 9-0 — including wins against top-10 Kentucky and Purdue — with seven sweeps. The Cardinals rank No. 3 in the NCAA in defense and No. 9 in blocking. Many of the starters are seniors.
"They're one of the hottest teams in the country right now," Cook said.
Briefly
* The last time Nebraska and Louisville played was Sept. 8, 2006, during the Ameritas Players Challenge at the NU Coliseum, with No. 1 Nebraska winning 3-0. Nebraska's libero that day was Busboom (14 digs, three ace serves).
* Another person from Cook's coaching tree is Kayla Banwarth, and next year the second-year head coach at Mississippi is scheduled to bring the Rebels to Lincoln for a match, according to Cook.