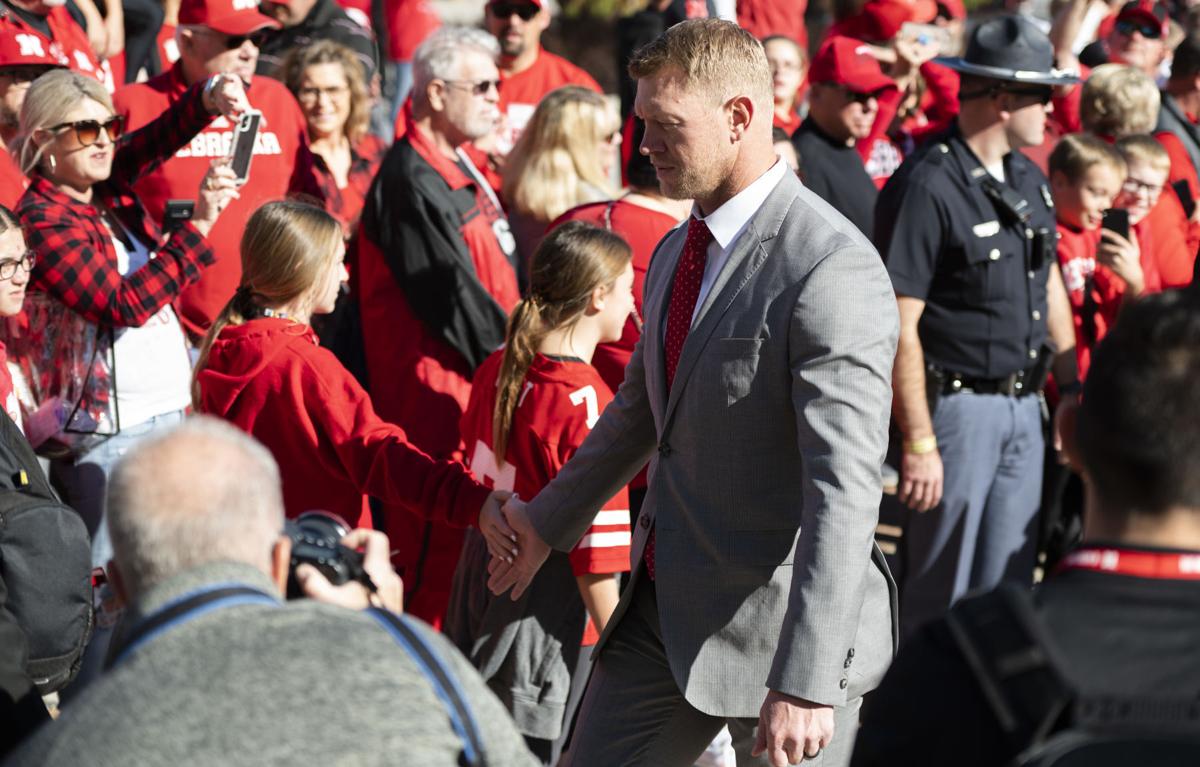 Things I know, and things I think I know: 
Scott Frost made a telling comment Saturday that seemingly shined a light on his approach to leadership. 
I definitely know it got the attention of other people in leadership positions when the embattled Nebraska coach told reporters, "A team shouldn't need the head coach to motivate them all the time." 
"That's my job. That's what I do," he added. "But a great team doesn't need a coach to motivate it all the time." 
The comment drew attention for at least one obvious reason. That is, Nebraska isn't a great team. It's far from it. In the process of trying to push his program toward greatness, one would think Frost would try to motivate, lead and teach at every step of the way. If you're a Husker fan, you hope that's what he's doing.
If greatness is ultimately achieved, perhaps he could pull back a bit. 
This isn't an X's and O's discussion. This isn't about overseeing practice drills. It isn't about judging physical talent. Frost can handle all that. It's about something more important and complex, especially at this moment in time as Nebraska struggles mightily under his watch.
When times are tough in a program, it seems incumbent for the leader to step up and fill the void of motivation or training or whatever is required to get the job done — to push the program to where it needs to get. It's definitely his job. Again, when leading a major-college program, it's about more than just X's and O's and out-scheming foes. 
Frost told reporters that he turned the locker room over to team captains following Saturday's 28-23 home loss to Purdue, Nebraska's third straight setback and fifth in six games. That's a common coaching tactic. I have no problem with that, especially considering the character of the Huskers' captains. 
Man, this team has been through a lot. It needs strong leadership every step of the way — yes, all the time.
That's my layman's read, anyway.
I often think back to 2017 as people discussed why Frost made so much sense as Nebraska's head coach. Part of it was his parents' deep coaching background. Plus, he learned the game (and coaching) from the likes of Tom Osborne, Bill Walsh, Bill Parcells, Bill Belichick, Chip Kelly and Mike Tomlin, among others.
In fact, many intelligent folks actually felt Frost was ready for the Husker job in late 2014 after Bo Pelini was fired. After all, Frost had expertise in a cutting-edge offense and seemingly had an ability to get through to players.
But leading a large group can be an intense and complicated endeavor, especially when times are tough. 
In high-profile programs such as Nebraska's, it can feel like the world is caving in.
The good news? I've talked to enough leaders over the years to know leaders are made, not born.  
If Frost is willing, he can keep learning. That never has to stop.  
* The fact Frost acknowledged he considered turning to Logan Smothers at quarterback Saturday in a close game seems to be something of a vote of confidence for the 6-foot-2, 195-pound freshman. Granted, it wasn't a strong vote of confidence, but you take what you can get, right? Although Frost said making a change crossed his mind, he noted he didn't discuss it with anyone else on the staff. Seems sort of odd. 
Keep in mind, media doesn't see Nebraska's practices. Consequently, Smothers remains something of a mystery, although he has shown solid command of the offense and generally played well in four appearances this season. He's 7-for-11 passing for 119 yards, with no interceptions, and has rushed 12 times for 69 yards (5.8 ypc). 
I'm guessing we'll see him play Saturday at some point. Maybe because it's a blowout — sixth-ranked Ohio State opened as a 15.5-point favorite — or maybe for other reasons. 
* Nebraska could really benefit from a sleet storm commencing at, say, at 11 a.m. Saturday. Just saying.
* The Nebraska men's basketball coaching staff is obviously mindful of the expectations attached to five-star freshman sharp-shooter Bryce McGowens, who scored 15 points in Sunday's 82-67 exhibition win against Colorado.  
In fact, handling those expectations may be the 6-foot-7 McGowens' foremost challenge this season, Husker assistant Doc Sadler said Friday on "Early Break" (93.7 FM). 
"I think the expectations put on Bryce are crazy," Sadler said. "It's not even fair to him. If he didn't have such a strong family support system, I could see that he maybe would've gone a different way. But he has such strong family support with his mom and dad and Trey (McGowens) being here with him." 
Plus, "He's just a phenomenal kid," Doc said. "And I ain't talking about just a good kid; I'm talking about a phenomenal kid." 
Even so, Sadler said, McGowens needs time to adjust to the Big Ten's high level of play.  
"I think people who think that a player like him is going to come into this league and all of a sudden be a 15-point (per game) scorer, they're nuts. It isn't going to happen. He's going to be a good player. For us to be good, he's got to get better each and every game." 
That evidently happened Sunday against the Buffaloes. 
* Put yourself in all-time Husker football great Dominic Raiola's shoes. He watches his alma mater's struggles from afar, discouraged in part because he badly wants NU to be a major player in the recruiting race for his son, Dylan Raiola, considered one of the best quarterbacks in the 2024 recruiting cycle. 
The Raiola family spent the weekend in Columbus, Ohio, where Dylan picked up a scholarship offer from Ohio State. USC and Alabama offered last week. Georgia is a major factor in the race, as is Texas. Big quarterback schools. You get the idea. If you're a Husker fan, you might get a sinking feeling.