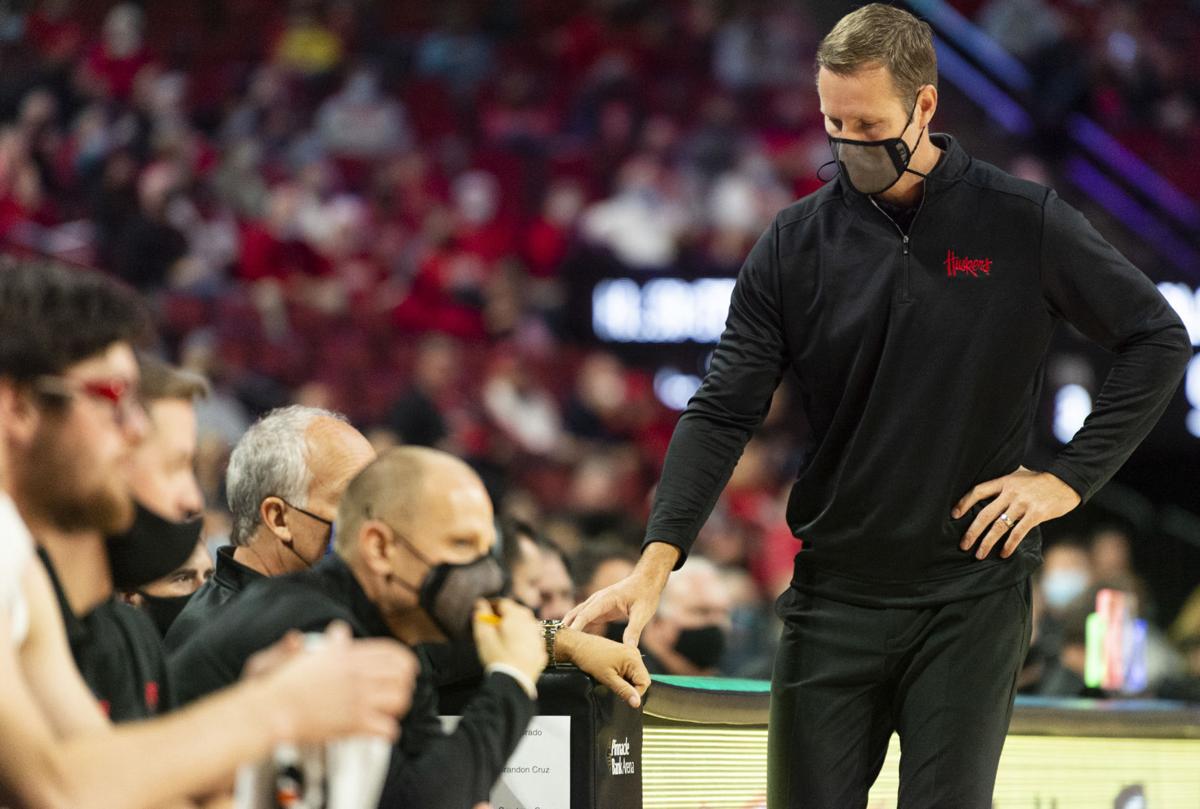 The Nebraska men's basketball team already has one big win coming out of the holiday break.
No Huskers have tested positive for COVID-19 since returning to campus after being allowed to scatter around the country and head home for four days over Christmas.
That the danger of that happening is still a concern nearly three years into the pandemic is another discussion entirely, but it's the reality NU and the rest of the schools trying to get through this season have to deal with as the omicron variant of COVID-19 has already ripped through several locker rooms.
"Yeah, it's scary. I mean, any day at any time, this thing could completely shut down," NU coach Fred Hoiberg said Friday. "But you can't worry about that. All we can do is worry about what we can control, and that's try to go out and put a game plan together and compete, and try to give ourselves a chance to win."
Nebraska will try for its first Big Ten win Sunday, when the Huskers host Ohio State at 7 p.m. at Pinnacle Bank Arena. The Buckeyes are coming off their own COVID pause, one that began Dec. 11.
The basketball is important, of course, as NU tries to right the ship after a disappointing nonconference run that saw the Huskers go 6-5 in addition to losing a pair of early Big Ten games.
Now, in addition to coming up with game plans, Nebraska's coaches and staff must concern themselves daily with whether they will even be able to play their games.
Nebraska's players are not tested weekly. Because the entire team has been vaccinated and is a part of the university's vaccine registry, it is exempt from weekly testing. Several players have also received a booster shot, Hoiberg said, but not all.
That won't change going forward, Hoiberg said. In talking with Nebraska's medical staff and with the Big Ten office, Nebraska will test any player showing any types of illness symptoms, and will keep those players away from its facilities until a negative test is returned.
Several players already this fall and winter have missed practices while dealing with various ailments, but no Huskers have tested positive. That has included a couple players early this week. Friday marked the first time since the holiday break that NU had its entire roster (minus injured players Trey McGowens and Wilhelm Breidenbach) on the floor while waiting for those tests to come back negative.
"It's obviously a crazy time that everybody is going through," Hoiberg said.
At least five Big Ten programs have already dealt with COVID issues in their locker rooms: Ohio State, Illinois, Minnesota, Wisconsin and Penn State.
"I don't think (college basketball) will ever be the same. I really don't," Hoiberg said in October at Big Ten media days. "Now you're dealing with allergies, now you're dealing with colds, now you're dealing with strep throat going around. We've had guys that have had that. But we're taking a cautious approach. We don't want to go through what we did a year ago, experiencing that."
That "experience" was Nebraska's program getting shut down for a month as COVID-19 ripped through the team last season, infecting 10 players and four staffers, including Hoiberg. When the Huskers returned, they essentially played 15 games in a month's time with no time to get in shape — an unusually brutal schedule by any stretch.
The hope is to avoid such a mess this season. It remains to be seen if hope will be enough.
Dawson makes quick impression: Mid-year enrollee Denim Dawson has only been with the Huskers for a few days, but he's already made an impression on his coach.
"I have absolutely loved what I've seen," Hoiberg said. "He's dived on the floor in two days, probably more than we've had as a team combined. He's just got a toughness and a throwback personality to him; he talks; he's got great feet on the perimeter.
A 6-foot-6, 185-pound guard, Dawson will redshirt the remainder of this season, giving him four full seasons to play beginning in 2022-23. 
A 2021 high school graduate, he originally planned to do a post-graduate season in California to raise his recruiting profile before accepting an offer from Nebraska and signing in November. He arrived on campus at the beginning of this week.
"Can't wait to see what we have in Denim for the future," Hoiberg said. "But just a really, really tough kid."