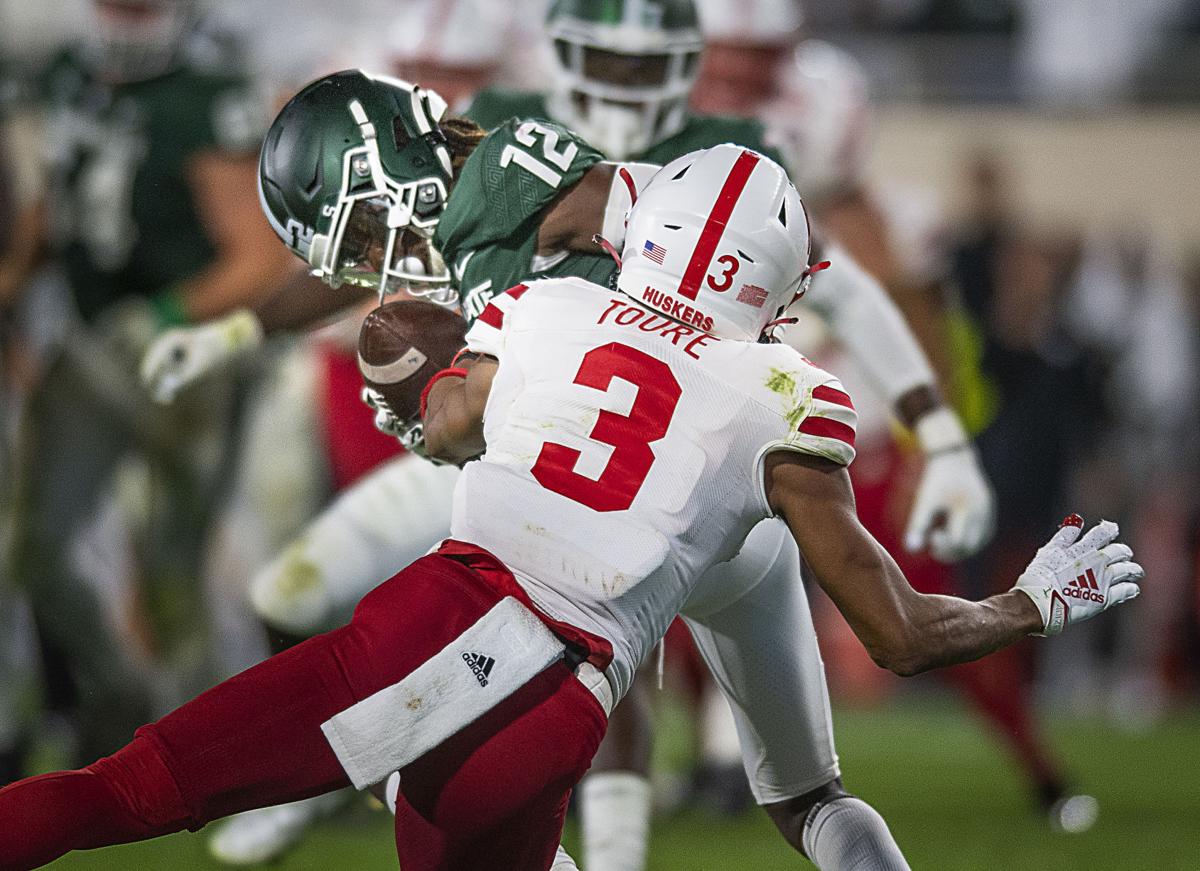 A look at some talking points after the Huskers' game against Michigan State on Saturday night.
Behind enemy lines
What those in the opposing locker room said:
Coach Mel Tucker on Spartan fans: "That's what you call home-field advantage."
Tucker: "Our guys were very, very poised in the game, and we talked about never flinching. Just don't flinch no matter what, just stand in there and just take it and just keep going. We talk about that pendulum swinging back and forth, that pendulum of momentum in games. This game was no different."
CB Chester Kimbrough: "I didn't really see (Jayden Reed's punt return TD) until I heard the crowd. I said, 'Oh, yeah, we in this.'"
S Xavier Henderson: "The whole team felt like this was a big-time game. … I knew if we got this one, we'd put ourselves in a pretty good spot."
Henderson: "We never really felt like we didn't have a chance. Coach Tucker always says, 'Don't flinch.'"
QB Payton Thorne: "I honestly think that might have been the first overtime game I've played in."
Scanning the wires
What other media outlets are saying:
EAST LANSING — Jayden Reed's punt return gave Michigan State football life and, eventually, overtime.
Once past regulation, Chester Kimbrough picked off Adrian Martinez on Nebraska's opening possession of OT. Kenneth Walker III then took the Spartans down to the 2 on the first play of their possession — MSU's first first down after halftime.
And Matt Coghlin's 21-yard field goal on third down kept the Spartans' improbable unbeaten start to the season alive with a 23-20 victory Saturday night, in a game in which their high-powered offense finally vanished.
MSU won the toss in overtime and elected to play defense first. On third-and-3, Martinez threw toward Omar Manning, but Kimbrough, an offseason transfer from Florida, jumped the route for his first interception as a Spartan.
Walker, shut down all night, took a wildcat snap 23 yards on the next play. After a pair of stops, Coghlin sealed the victory, getting mobbed by his teammates and stunning the defensively dominant performance by the Cornhuskers (2-3, 0-2 Big Ten)
It was MSU's first overtime win since a 16-13 win at Wisconsin in 2012.
— Chris Solari, Detroit Free Press
They Tweeted it 
What the fans and others are saying on Twitter:
Will Compton (@_willcompton): We should've won that game
Chris Fallica (@chrisfallica): If it wasn't so sad, it would be hysterical
Ryan Howard (@BigHowie8): It's incredible how good of a team #Nebraska actually is. In a slightly alternate universe they are 4-1 right now. But in our universe, their own foot is their favorite target. Honestly, they could be elite. Not sure what's stopping them.
Adam Rittenberg (@ESPNRittenberg): Another brutal loss for Nebraska, which just can't win close games under Scott Frost. Effort is there, but Huskers always seem to make a few too many mistakes.
Alec Rome (@RomeForReal): Anyone says that Adrian Martinez cost this team the game because of that throw is dumb. AM2 is the reason why this team stays in games period.
Ameer Abdullah (@ameerguapo): Smh
Jim (@HuskersMN): They did everything they needed to do to win. Incredible gameplan and pretty good execution despite the bad OL. Frost was even calling a great gm. Even held the best RB country to 61 yards & 3.2 carry. But they couldn't finish it when it was finishing time. That's on all of them.