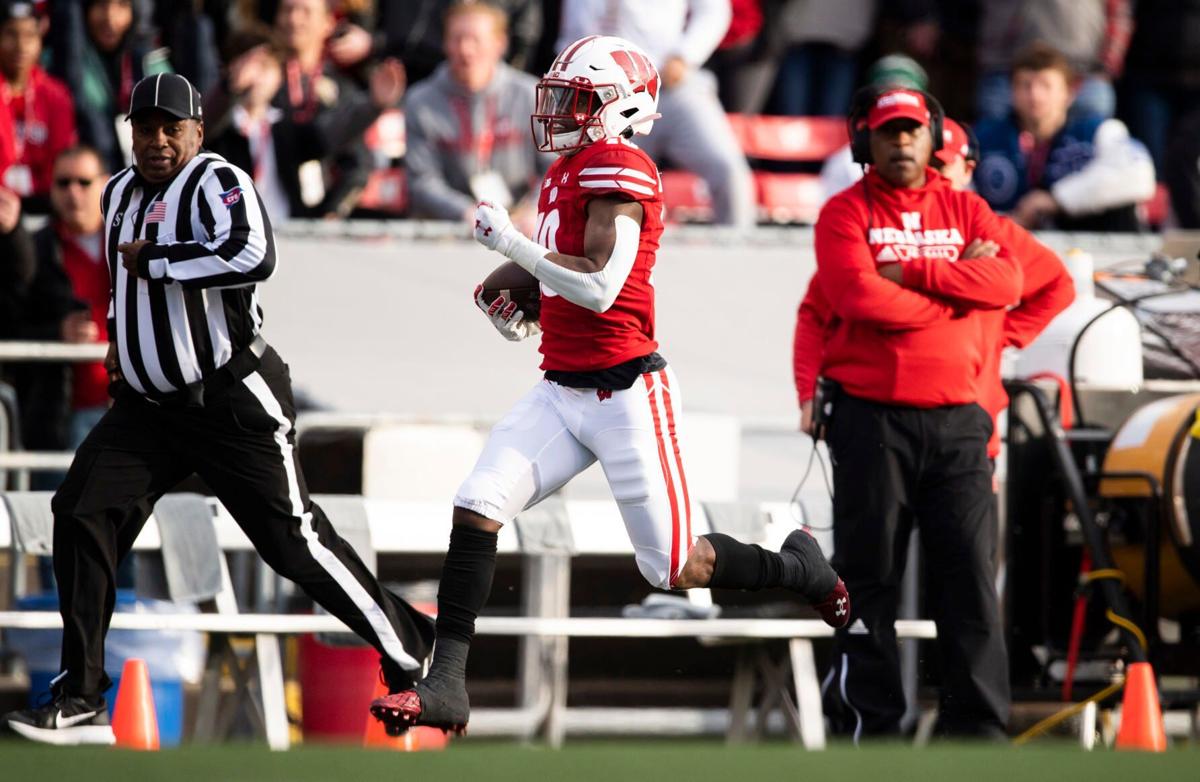 MADISON, Wis. — Nebraska in 2021 had seen just about every kind of special teams error in the books and maybe even added a few new entries along the way.
The Huskers over the course of the first 10 games had a punt return attempt that turned into a safety against Illinois. They've had missed field goals and a blocked extra point that was returned for two points against Oklahoma. A backbreaking punt return touchdown? Yes, that too, in the waning minutes against Michigan State. NU saw a flurry of opposing punters boom the ball and saw their guy hit some really good ones, too, but also a 13-yarder here and a 7-yarder there.
The one domain of special teams where Nebraska hadn't made a big mistake was on kickoff. Freshman walk-on Brendan Franke arrived this summer, won the kickoff specialist job with a big leg and helped the Huskers jump from a 30% touchback rate to a 64.2% rate entering Saturday's game against Wisconsin. That alone cut opponents' chances at returns from 4.2 per game in 2019 and 3.5 in 2020 to 2.0 so far in 2021. 
Then the Huskers won the toss at Camp Randall Stadium and deferred, a practice that coach Scott Frost has made the norm this year because of the trust he has in his defense and, yes, his kickoff team.
Wisconsin reserve wide receiver Stephan Bracey picked up a low, bouncing ball — an apparent mishit from Franke — and started up the middle from his 9-yard line. Isaac Gifford had a chance at him and might have been blocked in the back, but ultimately missed. Phalen Sanford and Chris Kolarevic both were blocked to the ground. Bracey made a cut past Wyatt Liewer, got outside past John Bullock and Cooper Jewett, hit the right sideline and raced 91 yards for a touchdown.
Just like that, the Huskers were playing from behind. They never led against the Badgers in a 35-28 loss. Each of Nebraska's four touchdowns tied the game, but they could never claw ahead after falling behind in the first 13 seconds.
It was NU's most glaring special teams miscue against UW, but it wasn't the only one. Alante Brown returned one kickoff 19 yards to the NU 26, but also was stopped at the 19 on another and fumbled a fair catch attempt that cost 19 yards and set the Huskers up buried at their own 6.
Punter William Przystup hit one short, 34-yard punt and wasn't rewarded for a good one from the UW 42 when the Huskers' gunners allowed the punt to roll into the end zone after it partially checked up.
That's the third time it's happened to him this year after similar instances against Michigan and Minnesota.
As it just so happens, Frost is in the process of hiring four new assistant coaches for his staff. He could elect to hire a full-time special teams coordinator, or perhaps he won't.
When asked about the possibility last week, Frost said, "Potentially. I'll tell you what, Mike Dawson has done a great job running the special teams. Obviously he has people in the building that are helping him in the office with that. Our special teams have vastly improved. Our specialists, we need to continue to get better in those roles, but our coverage units, when you watch the tape and compare to where we've been, I'm really happy with the progress we've made there. I think that's just, when we put the puzzle together, if that's a possibility or not.
Dawson is a very good coach who oversees — but does not entirely run — the Huskers' special teams units in addition to NU's outside linebackers, which have improved dramatically under his tutelage. Tight ends coach Sean Beckton, also considered one of the Huskers' best, works with the return men and other coaches pitch in in various ways. Reporters, of course, are not allowed at practice and don't have a full view of how those duties break out.
So what is Frost to do? Dawson and Beckton are clearly two of the best coaches on the staff and yet, even if the specialists (including return men) are the biggest issue, the struggles are not exclusively on them.
According to two different metrics, ESPN's SP+ (No. 126 out of 130 teams) and the Fremeau Efficiency Index (No. 127), the Huskers entered Saturday among the very worst in the country in special teams.
The Huskers entered No. 109 in kick return, No. 128 in punt return, No. 116 in punting, and No. 124 in field goals. The only areas that looked rosy: Opponent field goals (No. 31), where Michigan's Jake Moody and Ohio State's Noah Ruggles were perfect on eight tries and everybody else was 4-of-14, and kickoff (No. 26). That number is going to plummet after Bracey's touchdown.
Not only that, but Football Outsiders has Nebraska No. 93 in net field position and No. 115 in offensive field position this year. For a team that's moved the ball but struggled to score, that's not making life any easier.
Dawson in three seasons with Nebraska (he spent 2019 in the NFL) and Beckton in four have left little doubt about their coaching acumen overall, but the question in front of Frost is whether to shuffle the duties and put one person — likely a new hire — in charge of special teams and special teams alone.
Hiring a special teams coordinator who also coaches a position would be Frost saying he thinks somebody can do the split job better than Dawson, which seems like an unlikely outcome. Hiring a special teams coordinator who coaches only special teams would be a new track entirely for Frost, and may be something he simply cannot avoid, even if he'd prefer to. 
The interesting thing is, maybe as much as any other potential staffing addition, Frost has natural fits for the job in his network. Four of them, in fact, without even going too deep into the bag. Here they are:
Bill Busch, analyst, Nebraska
Busch is already on staff as an analyst and he's been helping behind the scenes with special teams this year. A Pender native, Busch joined the Huskers this spring after spending the past three at LSU. He's coached special teams and had position groups in the past.
The main question, though, is whether he's interested in staying or more likely to take a job somewhere else after stopping through his home state. The latter seems more likely with a week left in the regular season.
Sean Snyder, special teams coordinator, USC
Snyder, the son of legendary Kansas State coach Bill Snyder, was one of the people Frost talked to about being a senior special teams analyst for the 2020 season. When USC came along and offered him a full-time job, though, he jumped at the chance.
Now, the Trojan staff is on the way out (or at least in store for a major overhaul) once the season is over as Clay Helton has already been fired.
USC is ranked No. 43 per ESPN and No. 80 per the FEI in a transition year. Last year, the Trojans were ranked No. 1 by FEI. Snyder spent 2011-18 running special teams at Kansas State, as well, and checked into the top 25 by FEI six times in his tenure.
Ricky Brumfield, special teams coordinator, Virginia
Brumfield is a little bit more out of left field, but his son, Kyan, is a junior walk-on for the Huskers and two sources have told the Journal Star that NU has at least checked on his interest.
Brumfield, like Jackson, also coaches cornerbacks at Virginia, a duty he picked up this offseason. He's been in charge of Virginia's special teams for the past four years.
The Cavaliers' special teams don't rank particularly high this year — No. 78 in the SP+ and No. 103 per FEI — but they've been in the top 10 as recently as 2019, when they were No 7 in the FEI.
Dan Jackson, co-special teams coordinator, Northern Illinois
Jackson is an Omaha Burke graduate and another guy Frost had conversations with about the special teams analyst job before the 2020 season. He ended up instead at NIU, where he's built on his success at South Dakota State both in coaching and recruiting in Nebraska.
Jackson coaches cornerbacks at NIU and is the pass defense coordinator, so he's handling more than just special teams currently. Northern Illinois is No. 66 per FEI and No. 72 per SP+.