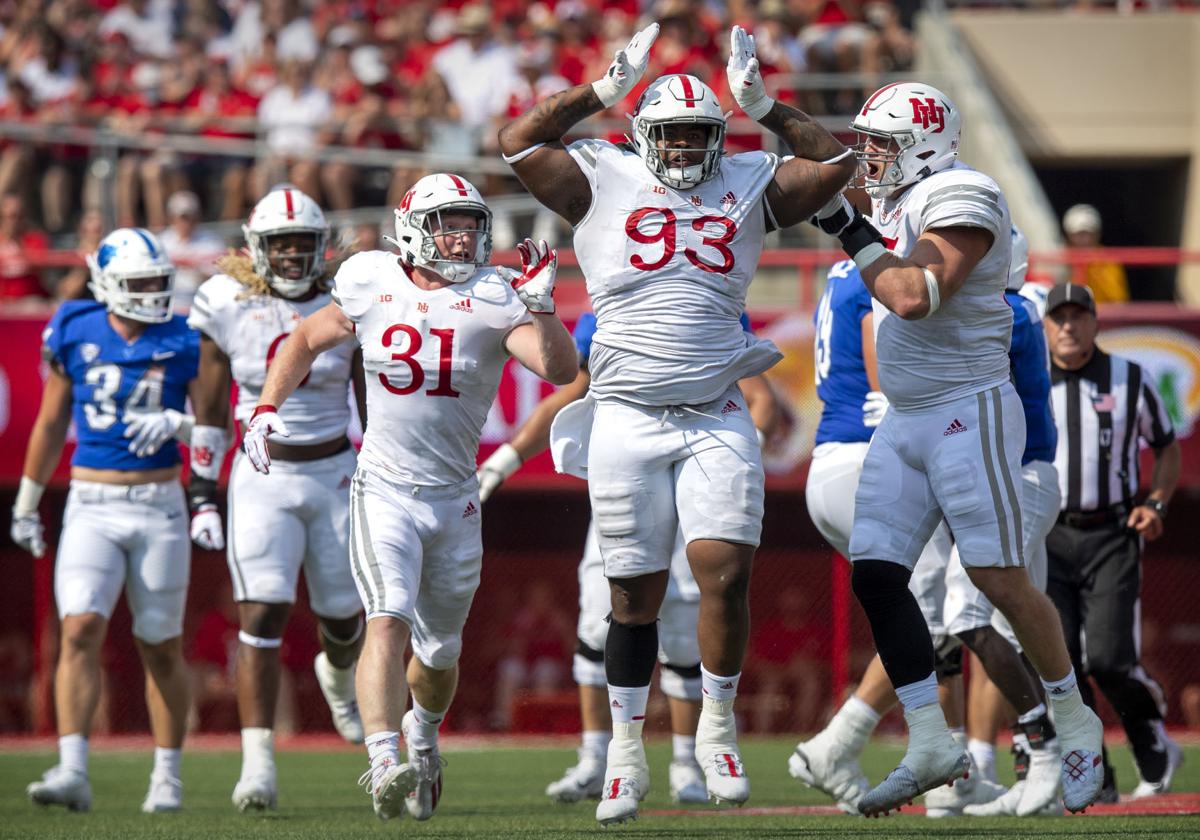 Nebraska returns to Big Ten play on Saturday night and plays on the road for the second straight week, this time against No. 20 Michigan State, which is off to a 3-0 start. Here's a closer look at how the Huskers and the Spartans match up.
How the Huskers light up the scoreboard
1. Finish. There's nothing complicated about it. Nebraska needs touchdowns (and at the very least, points) when it generates scoring chances. Getting in position to score hasn't been the problem. Finishing drives? It hasn't been pretty the past two weeks.
2. Hit the big one. NU has shown a better capability of scoring from a long way away this year, and that would certainly help against MSU. Samori Toure and that receiver corps will look to take the top off the Spartan defense.
3. Secret Service. The Huskers have to protect Adrian Martinez. Too often, passing plays are sent into scramble mode before they have a chance to work. As just one example, Martinez had Omar Manning for a potential touchdown and couldn't get to him because of pressure against Oklahoma.
4. Protect the rock. Nebraska's only turned the ball over one time in the past two games, while MSU has forced five in its three victories. Can Martinez keep playing turnover-free ball? If he does, the Huskers will have a great chance.
How the Blackshirts shut 'em down
1. Gang up. It's going to take more than one defender to tackle Kenneth Walker. The Huskers will have to rally to the ball consistently. But they've got to do it in a smart way, lest Walker find cutback lanes he likes.
2. A Thorne-y challenge. Payton Thorne hasn't thrown an interception yet and has largely kept the MSU offense on schedule. The Huskers have to find a way to get to him, whether it's intercepting the ball, pressuring him or just making him uncomfortable.
3. Mind your position. NU's offense and special teams have done a nice job recently of helping ensure that teams have to drive the length of the field against the Blackshirts. That makes life a lot easier when you're winning the field position battle.
4. Game of thirds. Nebraska is allowing 42.4% conversions on third downs to its opponents (25 out of 59 chances). Against three FBS teams so far, the rate jumps to 50%. That'll have to get better going forward for the Huskers to get rolling.
50: As it so happens, Nebraska is converting 50% of its own third-down chances (31-of-62) this year, the second-best mark in the Big Ten. Martinez's ability to run certainly helps that figure.
3: Runs of 30-plus yards for Walker in his first outing against Northwestern. Since then, his longest run is 26 yards. NU will try to keep him from getting loose.
75: The Spartans have hit a 75-yard touchdown on their first play from scrimmage in two of their three games so far. So, yeah, watch that.
WR | No. 3| Sr.: With all the talk about the weapons that returned to the field last week for Nebraska — receivers Zavier Betts and Omar Manning and tight end Austin Allen and Travis Vokolek — attention shifted away from Toure some. He had a modest day against the Sooners (three catches for 27 yards) but will continue to be a focal point. Perhaps he breaks out again on Saturday.
DT | No. 93 | Jr.: Daniels is never going to get a ton of credit for the work he does in the middle of the NU defensive line, but this is his type of game. The junior captain will be aiming to hold the fort in the middle and collapse the amount of space Walker and MSU have to work with.
MSU running back Kenneth Walker vs. the Nebraska front seven: It's the showdown everybody is interested in seeing. Walker and a much-improved Spartan offensive front against the veteran Nebraska defense. The Huskers have given up some yards on the ground (4.34 per carry is actually No. 12 in the Big Ten), but they've got the ability to be stingy up front. Can they keep Walker down? Or at least from busting the game open?
Clarity among the specialists: Nebraska's place-kicker, senior Connor Culp, has missed five of his past six field-goal attempts and has also missed two extra points. NU used sophomore punter William Przystup last week and got good results, but could potentially go back to freshman Daniel Cerni, who has been up and down. The Spartans, meanwhile, have one of the best place-kickers in school history in Matt Coughlin, who is actually just 2-of-5 on field goals this season, but he's among MSU's career leaders in the department and has made all 118 of his career extra points. Punter Bryce Baringer boomed 14 50-plus-yard punts in 2020 and put 13 punts inside the 20.
Nebraska 23, Michigan State 21
Strictly a hunch pick here, and Nebraska has been a little bit difficult to read so far in 2021.
The conventional wisdom would lean toward the Spartans in a close game. They've got momentum on their side after hammering Miami in the fourth quarter, whereas Nebraska lost a close one at Oklahoma. They've got home-field advantage and they've got a better offensive line and more consistent rushing attack.
It's a big one for both teams, but perhaps slightly more for Nebraska. A win helps build on some progress found against Oklahoma. It keeps NU from dropping to 0-2 in the Big Ten and it would give the program a feeling that it can still get done what it wants to this fall. A loss takes almost all of that away.
Based on nothing much more than a gut feeling, the pick here is that the Huskers find a way to get it done at Spartan Stadium.