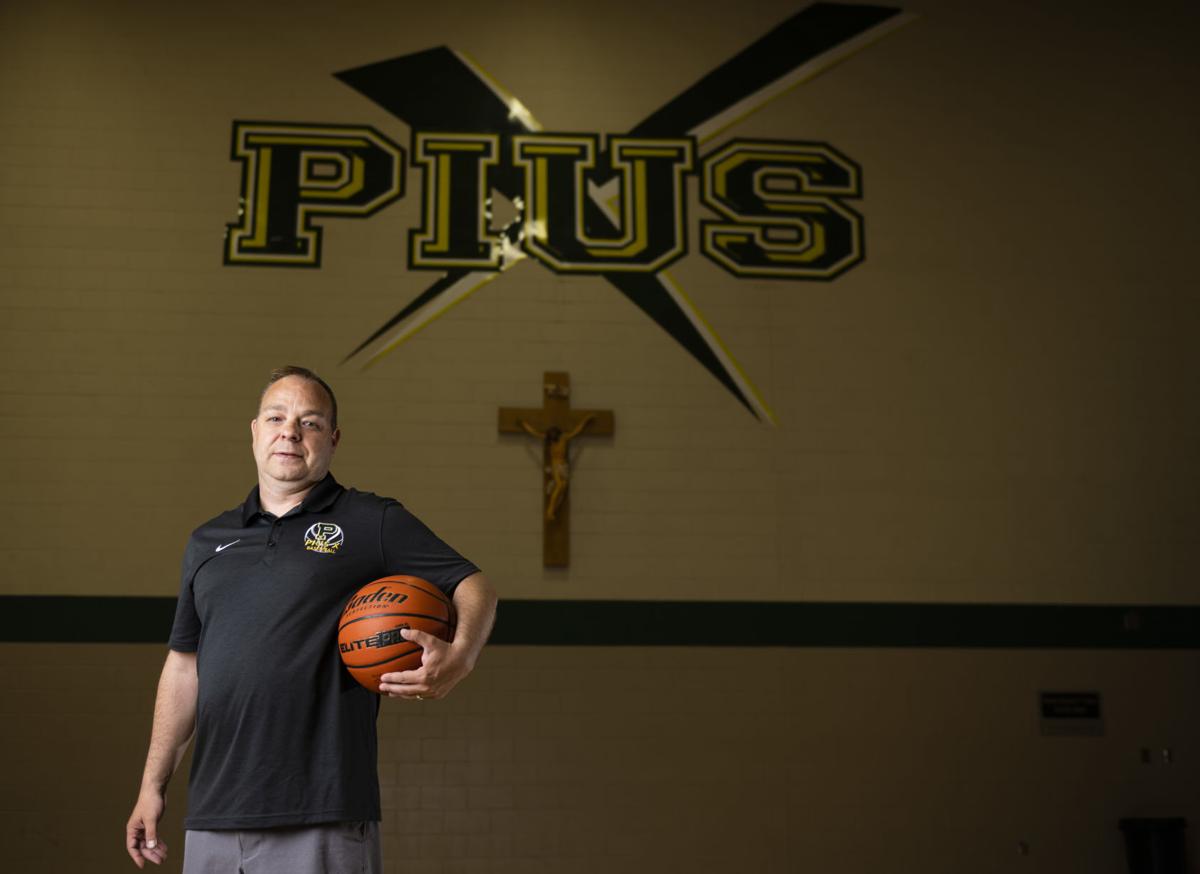 Ryan Psota wanted to teach and coach, and he didn't have to go far to begin building his knowledge and principles when he first arrived at Lincoln Pius X.
His first undertaking at the school was a student-teaching job. He was assigned to work under Jake Moore, who was in the midst of leading the Thunderbolts' volleyball program to 700-plus wins and seven state titles.
It didn't take long for Psota to start coaching. He served as an assistant to Hall of Famer George O'Boyle in track. He worked for football coach Tim Aylward, who will soon be inducted into the Nebraska High School Sports Hall of Fame. And for 18 years he worked alongside Bill Rice, who built Pius X girls basketball into a perennial power.
"We've had some really good long-term successful coaches here that I can take away a lot of knowledge from," Psota said. "Just being able to be around and picking their brains and seeing how they lead groups was invaluable."
Psota is beginning to follow his mentors' lead in building and maintaining success while expanding his own imprint at Pius X.
He took over as head girls basketball coach in 2018. In three seasons he has led the Thunderbolts to three state semifinal appearances and two Class A championships. After guiding the 2020-21 Thunderbolts to a 25-0 record — the first Class A team to finish unbeaten since 2005 — Psota is the Journal Star's girls co-coach of the year, sharing the honor with Omaha Skutt soccer coach John Carlson.
Pius X defended its state title in impressive fashion. Led by Super-State honorary captain and Husker recruit Alexis Markowski, the Thunderbolts won 21 games by double-digits. And when the contests were tight, the players never cracked, executing game plans with confidence and trust.
"The biggest thing with this group is they were so motivated and so on-task every night and locked in that I really didn't have to say a whole lot," Psota said. "It was just a group ... they were lights out every game this season."
Psota waited a long time for a chance to become a head coach.
A UNL graduate, he began working under Rice in 2000, guiding the Pius X freshman teams for two years before moving to varsity assistant. Sure, there were opportunities to leave for head coaching jobs at other schools. But Psota felt at home at Pius X.
"Just the amount of parent support and school support and the investment that our kids put into things, it was just a no-brainer to wait it out," he said.
Psota learned a lot from Rice, most notably the amount of time it takes to build a winning program. Psota also was given some top responsibilities, including the handling of the team's defensive game plans and scouting.
Rice saw someone with the tools to be a head coach.
"(He was) willing to spend extra hours," Rice said. "Before Hudl and all that, we used to travel to scout opponents all the time and we got to know each other really well traveling together, then we used to take the kids to summer camps. Just really wanting to put in the extra time to have a good program."
As a head coach, Psota wanted to follow Rice's recipe for success: surround oneself with good assistants and let them be hands-on with the team.
It's a philosophy Psota learned from O'Boyle, who has coached track and cross country at Pius X for more than 50 years.
"He always said, 'Let your assistant coaches coach,'" Psota said. "If you're going to have somebody on your staff and you trust them, let them teach. Bill did the same thing with me, letting us have input."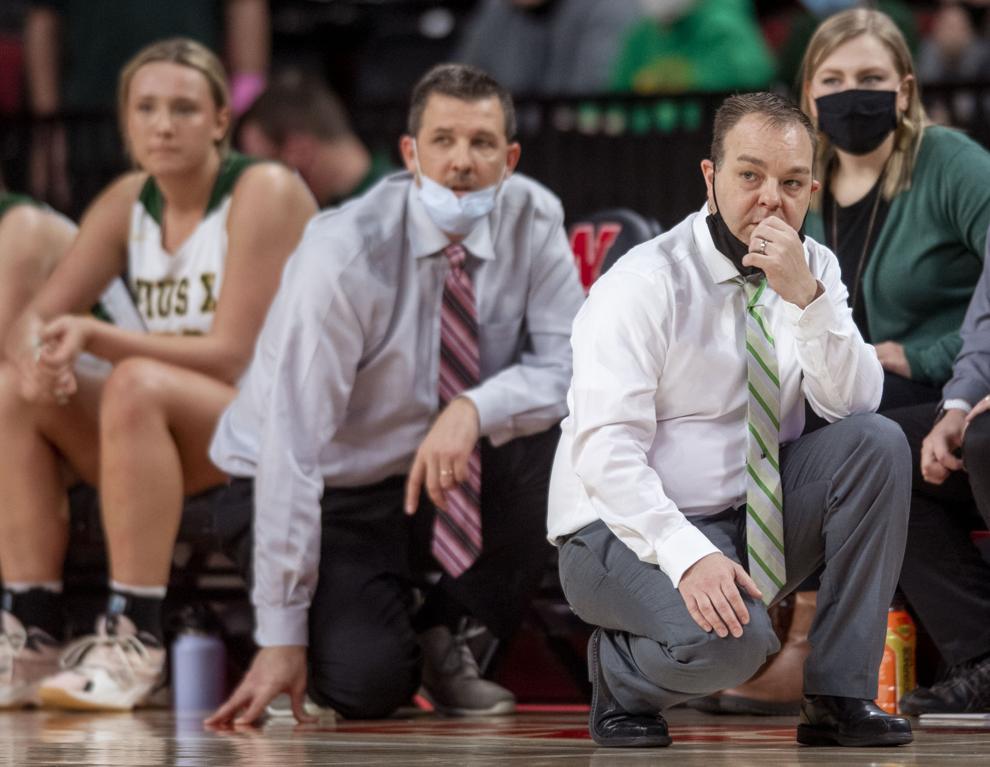 When Psota took the reins, the biggest thing was building a quality coaching staff that cared about the kids. Adding Andy Markowski was a 'no-brainer,' Psota said. Markowski played at Nebraska and had coached at the Division I level. Psota credits Markowski's scouts as a critical part to the Thunderbolts never missing a beat this past season.
The staff also includes Kole Harrach, Emily Isaacs and Haley Hall.
Why does the staff mesh so well?
"We want to win," Psota said. "We all have the same common goal, we care about kids and we want kids to be treated the right way. When you treat people the right way, I think you're going to get better effort out of them and they're going to appreciate the process a lot more."
The process also includes the support of Psota's family. His wife, Jessica, is a counselor at Pius X, and they have three young children — Makenna (age 7), Adalyn (5) and Kade (2).
Makenna wants to be a water girl, and of course, a basketball player.
"It's a team approach," said Psota, who continues to coach Pius X's hurdlers in the spring. "My wife is invested as I am in our success."
Psota is eager for the challenge that comes with continuing Pius X's hardwood success. The Thunderbolts are 71-6 under Psota, including 51-1 over the past two seasons.
The team must replace a senior class that included Markowski, Super-State point guard Jillian Aschoff and a superb defender in Miriam Miller. But there remains a lot of talent and momentum. Pius X has more than 50 girls in its basketball program.
They'll get a chance to carry the torch and embrace the expectations set by Psota, and those like Moore, O'Boyle, Aylward and Rice who helped set a winning foundation at Pius X.
"For a lot of schools, the goal is to get to state," Psota said. "Here at Pius X, our goal is to win state or to be right there at the end. That's kind of the expectation.
"Like I said to the kids every year, my goal is to get you to have that experience on Championship Saturday. If we can come close to that every year, I'll be satisfied with what we're doing. We've gotten the program that was already way up here and maybe taking a step higher, but now it's time to maintain that consistency."
These first-team Super-Staters have game: Meet the five girls who took their games to another level in 2020-21
They got... 𝗚𝗔𝗠𝗘!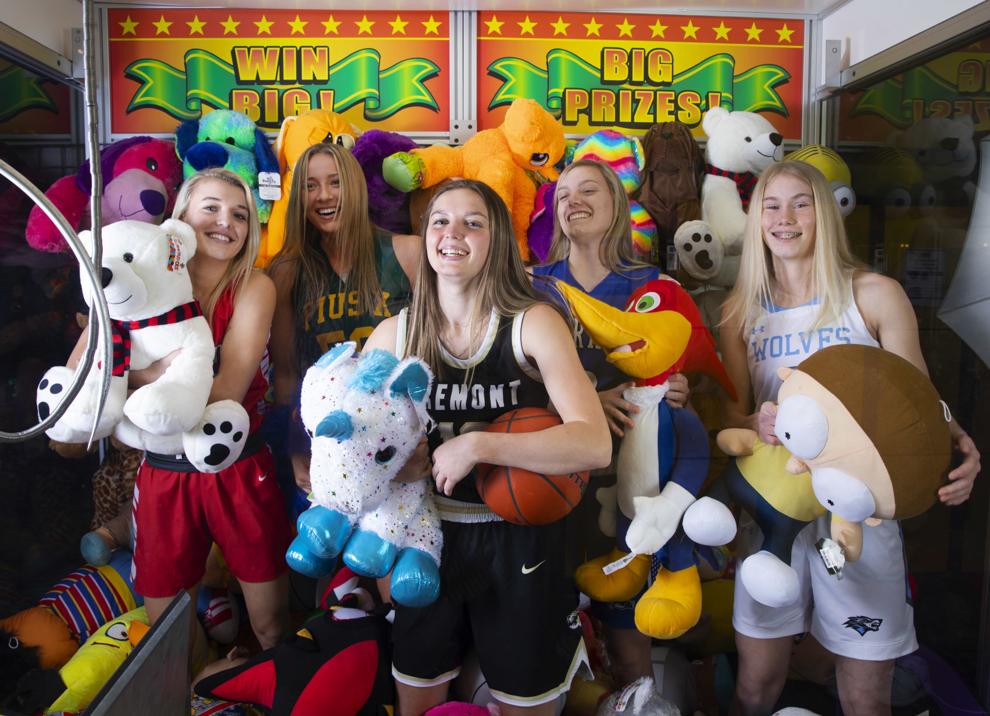 This season's group of first-team Super-Staters are gamers. They take their game to the next level. Do you see what we're getting at?
We spent a day at The Amazing Pizza Machine in Omaha. Sure, there were serious questions, but we enjoyed learning a little bit more about how games, arcade or otherwise, play in each player's lives.
We got some good answers, too.
Let us introduce the 2020-21 Journal Star first-team girls Super-Staters.
A day at the arcade 🕹️
Frankie Fidler and Saint Thomas getting some shots up on the pop-a-shot.  Stuffed animals. Flashing lights. Enjoy this behind-the-scenes look at the Journal Star's first-team Super-State photoshoot. 
𝘼𝙇𝙀𝙓𝙄𝙎 𝙈𝘼𝙍𝙆𝙊𝙒𝙎𝙆𝙄 (captain)
𝙻𝚒𝚗𝚌𝚘𝚕𝚗 𝙿𝚒𝚞𝚜 𝚇 | 𝚂𝚛. | 𝟼-𝟹 | 𝟸𝟹.𝟹 𝙿𝙿𝙶 | 𝟷𝟹.𝟶 𝚁𝙿𝙶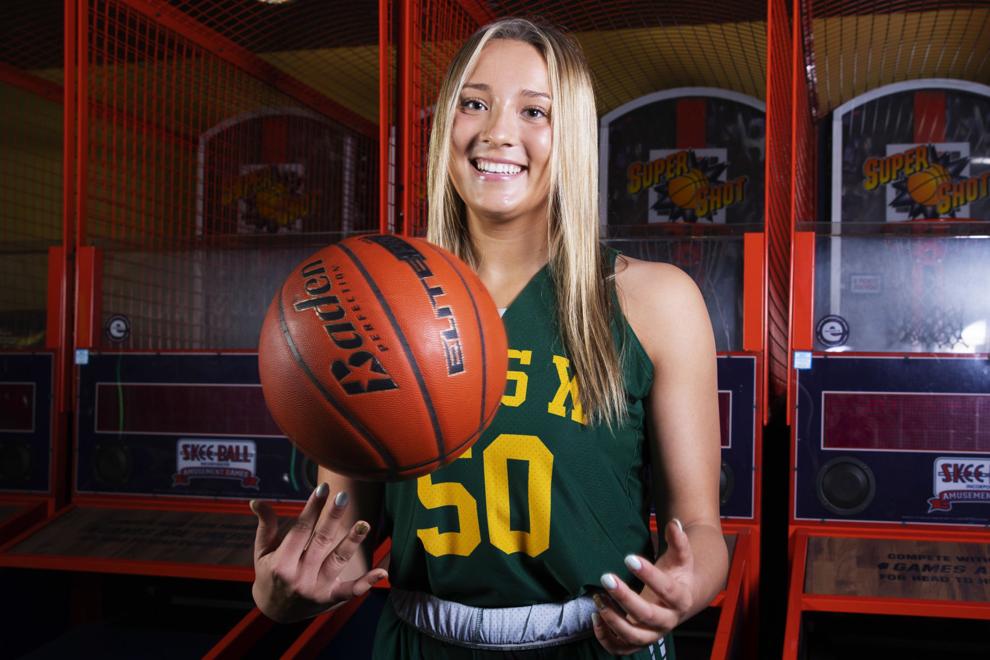 She's got game: Markowski was again the most dominant player in the state. When she got the ball near the block, it was game over for foes. Her size, power and touch near the basket made it difficult to stop her, or even slow her down. Defensively, she had the paint closed off each night. Markowski opened her season with a 34-point, 21-rebound showing against Lincoln North Star, and closed it with three double-doubles at the state tournament, including 30 points and 27 boards against an Omaha Central team that matched her sizewise in the semifinals, and 27 points and 19 boards in the Thunderbolts' state championship victory against Fremont. In between was a school-record 43 points against Fremont in the HAC Tournament final. The future Husker had 16 double-doubles and shot 60% from the field. Her athleticism made it possible for Pius X to utilize her offensively no matter the pace of the game. A two-time first-team Super-Stater, Markowski set numerous school records, including career points (1,485) and career rebounds (866), and she accomplished those marks in only three seasons.
Coach mode: "It was reminiscent of last year where against (Lincoln) East (in the state final), same thing this year, when we needed baskets, she just kind of put our team on her shoulders and decided to do whatever she could to get us another state title," Pius X coach Ryan Psota said. "When you really need somebody to step up, she just has that will to win that I have never seen out of any other player, who can just come up with key moments and key baskets and key rebounds."
Fun game she can maybe beat other Super-Staters in: "UNO! We always play UNO! in the Markowski household. I would take anyone on in UNO!"
Go-to games growing up: "We always got creative with balls and stuff, like if you make a ball in this basket or football, playing catch in the living room and the lamp breaks. Just stuff like that. And UNO!"
How many makes out of 20 on pop-a-shot: "Fifteen."
𝙏𝘼𝙔𝙇𝙊𝙍 𝙈𝙘𝘾𝘼𝘽𝙀
𝙵𝚛𝚎𝚖𝚘𝚗𝚝 | 𝙹𝚛. | 𝟻-𝟿 | 𝟸𝟹.𝟾 𝙿𝙿𝙶 | 𝟺.𝟿 𝚁𝙿𝙶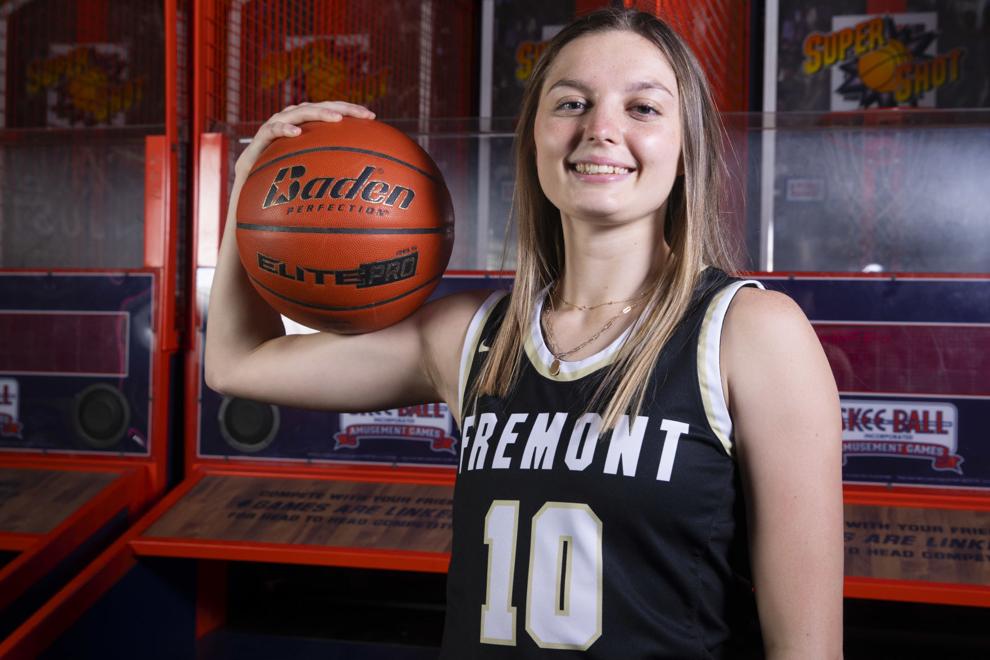 She's got game: McCabe dazzled as a sophomore (20.3 ppg, 35.2 rpg, 2.3 apg, 107 threes), and yet she found a way to take it to another level in her third season with the Tigers, who relied a little more on McCabe for her ball-handling skills this time. She averaged career bests in assists (3.7) and steals (3.7) and continued to shoot at a high clip. McCabe splashed 106 three-pointers, and shot 42% from three-point range in each of her first three seasons (How's that for consistency?). McCabe can score at all three levels and perfected the pull-up jumper this season, coach Kelly Flynn said, while also shooting deeper threes. Only one opponent held the two-time first-team Super-Stater to below 18 points (and that was 16), an incredible accomplishment when you consider, one, she's seeing the other team's best defender every game in Class A, and two, even the good ones have quiet nights. McCabe never did.
Coach mode: "She reminds me of a little bit of a girl (Steph) Curry," Flynn said of the Golden State Warriors star shooter. "When I watch him play, where he stops and start, stops and start and almost baits you, sets you up, and all of the sudden the step-back. She's perfected it to where when she freezes that defense with her step-back, it surprises you when it doesn't go in. Along with her scoring, she really has some impressive stats overall."
Fun game she can maybe beat other Super-Staters in: "There's a light thing … you have to press the things as fast as you can. I have the most coordination by far, not to brag (laughs), so I would definitely win at that."
Go-to games growing up: "They have a Go-Kart thing here (at Amazing Pizza Machine), I used to do that. I used to come here a lot when I was little with my siblings and parents."
How many makes out of 20 on pop-a-shot: "I'm still convinced it's rigged, so I would say 16."
𝘼𝙇𝙇𝙄𝙎𝙊𝙉 𝙒𝙀𝙄𝘿𝙉𝙀𝙍
𝙷𝚞𝚖𝚙𝚑𝚛𝚎𝚢 𝚂𝙵 | 𝚂𝚛. | 𝟻-𝟷𝟶 | 𝟸𝟻.𝟶 𝙿𝙿𝙶 | 𝟽.𝟶 𝚁𝙿𝙶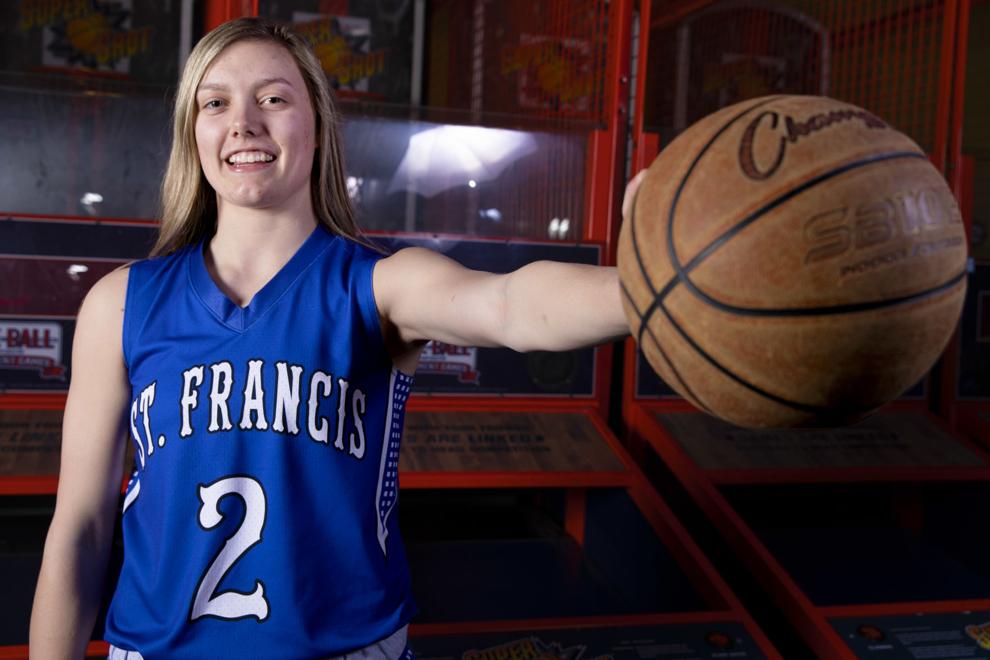 She's got game: Oh, man, does Weidner have game. In addition to scoring 25 or more points 13 times this season, including 43 against Hartington-Newcastle, Weidner averaged 6.4 assists and 6.4 steals per contest. She focused on improving her shooting coming into the season, and it showed as she shot 38% from beyond the arc and 57% from the field. Her stats were big, and her feel for games — when to take over as a scorer, when to feed teammates, when to speed up or slow down — was unmatched. A two-time first-team Super-Stater, Weidner finished with 2,282 career points, which ranks third all-time in the state, 740 career assists and 630 career steals; and she tied a bow on her prep career by leading the Flyers to a 25-0 record and a Class D-2 state championship.
Coach mode: "She's doing all of that at an extremely high rate of speed," St. Francis coach Bryan Reichmuth says of Weidner's ability to control games as either a scorer of facilitator. "Our style of play is up and down the court, (and) that's the way Allison is going to play. She's dissecting things before they even happen. I don't know how many nights I'd get a text from her, she'd seen this on film or that on film. She's just a student of the game."
Go-to games growing up: "Video games with my brothers, like Call of Duty, NBA2K. I feel like I'm pretty good at them."
How many makes out of 20 on pop-a-shot: "Are the rims the right rims? Out of 20 shots, I'd say I make 14."
𝘽𝙍𝙄𝙏𝙏 𝙋𝙍𝙄𝙉𝘾𝙀
𝙴𝚕𝚔𝚑𝚘𝚛𝚗 𝙽𝚘𝚛𝚝𝚑 | 𝙵𝚛. | 𝟻-𝟷𝟶 | 𝟸𝟸.𝟺 𝙿𝙿𝙶 | 𝟽.𝟹 𝚁𝙿𝙶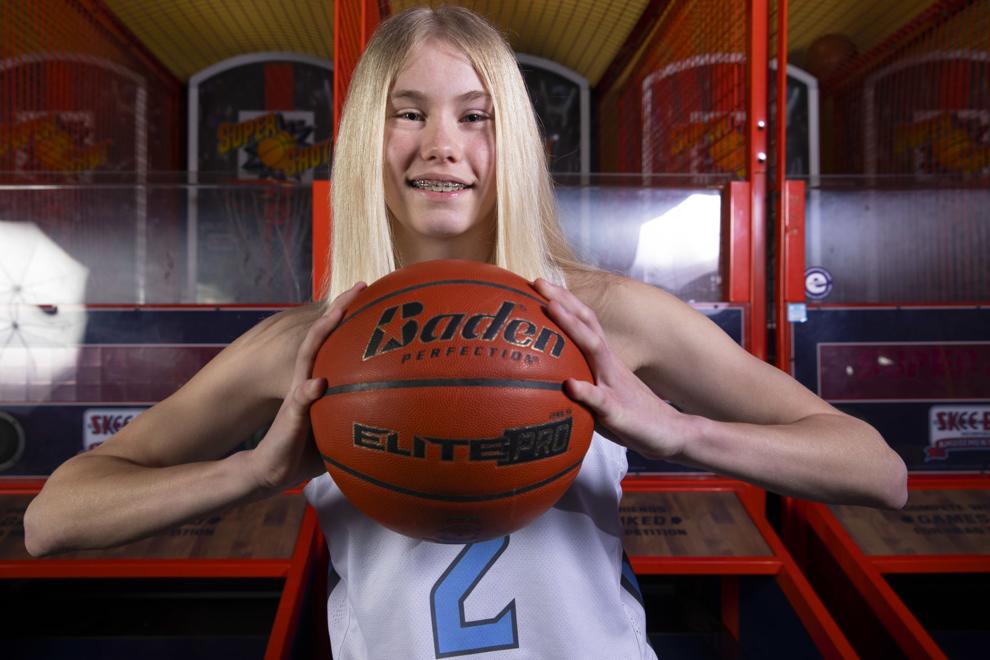 College: Has multiple DI offers, including ones from Louisville, North Carolina, Nebraska and Creighton.
She's got game: This was Prince's rookie prep season, but she didn't look like a freshman, and it's evident why she was receiving DI college offers before she even set foot in high school. She scored in double figures in 22 of 23 games, had four games of 30 points or more and 11 20-plus games, while shooting 54% from the field. She was dangerous behind the arc as well, knocking down 40% of her three attempts. Prince, who placed fifth at the Class B state cross country meet and runs track, put up big numbers despite seeing junk defenses every time out. More impressive was Prince's ability to run an offense with a sense of calm and efficiency as a freshman. Her poise and production played a big part in Elkhorn North, in its first year of existence, marching to a Class B state championship at Pinnacle Bank Arena.
Coach mode: Ann Prince, Elkhorn North's coach and Britt's mother, said she saw a lot of growth in the freshman as a leader. "I think she started to embrace that role a little bit before midseason. I think she felt connected with her teammates, I felt like our team chemistry was strong and I think when you get that feeling, then you finally give yourself the OK to lead on the court. So credit to her teammates for having an amazing team culture. I think that enabled her to feel comfortable and confident enough to take that leadership role as a freshman point guard."
Fun game she can maybe beat other Super-Staters in: "I'm pretty good at the game where you roll the ball (Ski Ball)."
How many makes out of 20 on pop-a-shot: "Twenty."
𝙂𝙍𝘼𝘾𝙀 𝘾𝘼𝙑𝙀
𝚆𝚎𝚎𝚙𝚒𝚗𝚐 𝚆𝚊𝚝𝚎𝚛 | 𝚂𝚛. | 𝟻-𝟾 | 𝟸𝟷.𝟺 𝙿𝙿𝙶 | 𝟻.𝟺 𝚁𝙿𝙶
She's got game: Weeping Water coach Joe Haveman has seen Cave thread defenses as a shooter and passer for four seasons. A deep run at the state tournament allowed the rest of the state, and a TV audience on Championship Saturday, to see it, too. Cave played a leading role in guiding the Indians to a Class D-1 state championship, capping it with a coast-to-coast layup in the final seconds to beat No. 1 Pleasanton 40-39 in the final. Cave, a four-time first-team D-1 all-stater, can attack defenses so many ways, whether it's transition threes, slashing to the basket or delivering an array of passes to her teammates (She averaged five assists per contest.). Her season included a school-record 39 points against Falls City, and one of the best three-games stretches in recent memory at the state tournament.
Coach mode: "Hopefully they got to really see and appreciate how good of a basketball player she is and how much she can do," Haveman said. "Her skill set is so wide. For her to really hit her peak and hit her stride in the state tournament was fitting just for her great career, really an exclamation point on it. She showed at the state tournament that she can be extremely aggressive and extremely efficient at the same time, and for her to do it passing the ball, defensively and then we all know that she can score it, was very fulfilling, and obviously we needed every ounce of it."
Fun game she can maybe beat other Super-Staters in: "I like the car ones, but I am not good at any of them."
Go-to games growing up: "Chutes and Ladders. You'd spin it and then you would have to go. That was my favorite."
How many makes out of 20 on pop-a-shot: "Twenty. On a good day."