Tears streamed down Connor Millikan's face.
With the Class B second-place medal hanging around his neck, Platteview's prolific guard walked alone toward the Trojans' locker room at Pinnacle Bank Arena.
The weight of his world took hold all at once: the heartache of losing the state championship game, the realization that his high school career is over, and that Saturday was the last time he'll suit up with his lifelong friends.
"Hugging the coaches for the last time, people I've been around for so long and made really special relationships with, it finally hit me that it's all over," Millikan told the Journal Star. "It really got to me."
Sadness wasn't the only feeling consuming Millikan as he stepped off the floor.
He felt a twinge of happiness, too — because regardless of Saturday's loss, Millikan and Platteview accomplished a whole heck of a lot in the last four years.
"I didn't know this is where I'd be ending my career," Millikan said. "I didn't know I'd have all these achievements and accomplishments, but it's been one heck of a ride."
Three straight years of making the state tournament — advancing further with each year. This season, Platteview's first title game appearance in program history.
For Millikan alone, his 2,639 points firmly solidify him as the No. 2 scorer in Nebraska high school basketball history, regardless of class. He's second to only the late Bill Holliday, who scored 2,748 points in 89 games for then-Class E Wilsonville before graduating in 1960. Holliday died last month at the age of 81.
Additionally, Millikan's 910 rebounds rank No. 31 in state history.
"It's been super special," Platteview coach Tim Brotzki told the Journal Star. "Connor Millikan coming into our program, I knew he was going to be a good player. Did I know he was going to be the second all-time leading scorer in the state's history? No. Never. He's just a relentless, tireless worker.
"He puts in countless hours that people don't see. He just wants to be as good as he can be. He's got there. There's really nothing else he can do at the high school level."
And he ended his career while playing with a partially torn meniscus in his left knee.
Connor Millikan recites the date verbatim: Jan. 28, 2023: the Trailblazer Conference championship game against Wahoo.
At some point in the first quarter, Millikan went up for a layup and a Wahoo defender blocked him. Millikan landed awkwardly while landing backward on his folded knee.
When he first peeled himself off the hardwood, he felt fine, as the adrenaline of the game masked any initial symptoms. At halftime, though, his knee felt tight, but he didn't think anything of it — "It's a basketball game. I'm a basketball player. Knees are bad."
The tightness, soreness and a swollen joint lingered, and that's when alarm bells started to sound for Millikan. To the doctor he went. Imaging painted a disappointing picture: a partially torn meniscus.
"When you hear those words, you think your season's over, probably," Millikan said.
Brotzki added: "That was rough. I wanted him to physically be able to finish his high school career. If he would have had to had surgery that day and miss the last seven, eight, nine games, it would have been devastating."
Platteview initially feared the worst, but Millikan's medical team said he could play through the injury and have surgery in the offseason. So, on Millikan played. And if his tweaked knee bothered him any, he didn't show it.
In the 10 games following his knee injury, he averaged 25.9 points per game with eight double-doubles and his first career triple-double against Grand Island.
His final game: Twenty points, eight rebounds and five assists in 29 minutes.
"It's been amazing," his dad Matt Millikan said, choking back tears. "It sounds simple, but it really has been. He is the most relentless and determined person I've ever known. I think it's a reflection of that."
One hug released the waterworks.
Not just for Connor Millikan, but for coach Tim Brotzki, too.
Brotzki's known Connor since he was a first grader, so the finality of Saturday was emotional for him, too.
"I love him like he's one of my own kids," Brotzki told the Journal Star. "To imagine Platteview High School without Connor Millikan next year is going to take a while to get used to."
Millikan's parents knew Connor had a spark of something special when he was in the fourth or fifth grade — shooting hoops in their neighbor's walkway.
The years of behind-the-scenes work paid off by the time Connor entered high school — making varsity as a scrawny 5-foot-10, 140-pound freshman. Connor thought he'd have "a little bit of an impact," but he surprised everyone, including himself, with his production.
His first game out? He scored 27 points against Fort Calhoun. His season-high came a few months later with 35 points in a February win over Columbus. By the season's end, Millikan averaged 18.6 points and 4.7 rebounds per game on a team full of veteran, senior talent.
"He did some things as a freshman that I'm just like, 'Wow,'" Brotzki said. "For a freshman to do those things, at a high school Class B, big-time basketball, was amazing. After his freshman year, I thought he could be special."
Millikan grew three inches and put on 25 pounds between his freshman and sophomore seasons. The additional weight came from prioritizing the weight room and adding protein shakes to his diet. He added more work, learning from Alvin Mitchell through Team Nebraska Express and working with Cody Levinson at Going Vertical.
From there, his game grew, too — finishing his sophomore season averaging 26.6 points and 8.8 rebounds per game. That's when he, along with Tyler Riley and Alex Draper helped propel Platteview back to state after a brief absence.
"Not a lot of people expected us to be great that year," Millikan said. "When me, Tyler and Alex got it rolling and I started to become the player I was, it's like, 'Man, I can really be one of the top players in the state.' That was a pivotal moment."
The progress carried over into his junior year. He added 10 more pounds and continued to dominate on the floor, averaging 28.3 points and 9.7 rebounds per game — helping boost Platteview to state for the second straight season and giving the Trojans their first win at the state tournament since 1984.
Representing Platteview at the state tournament the last three years — the first round in 2021, the semifinals in 2022 and the finals in 2023 — has meant the world to Millikan.
"It's the best community to play for, it really is," Millikan said. "People show out all the time. People are always supporting you. It's awesome to be in a town like that."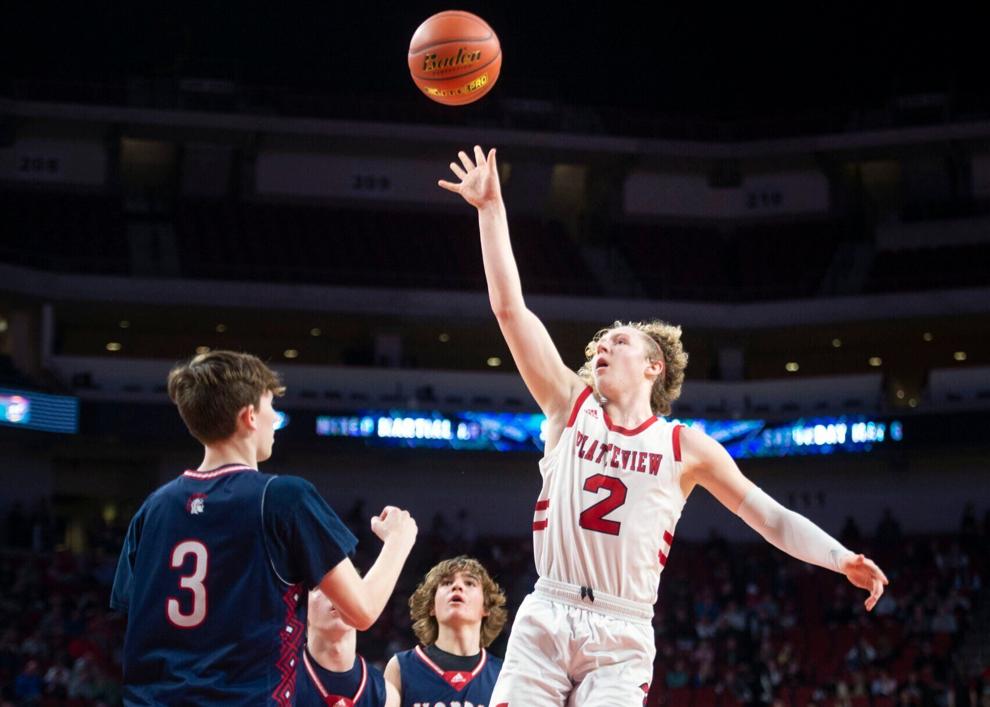 Millikan's high school career may have concluded, but he has a bright future ahead.
He committed in July to play NAIA basketball for Dordt College in Sioux Center, Iowa.
One added bonus for Connor: his older brother Tanner will be a senior on Dordt's football team next fall.
Tanner, who made the three-hour drive to watch Connor's final state tournament, added: "Just being able to be up there and support him and be together and go through college together, I'm extremely excited and very blessed and fortunate to do that."
Having Tanner on campus played a small role in Connor's commitment, he said, but since they'll only overlap for a year, Connor noted he "had to make a decision for himself."
While Connor's stellar, record-breaking season raised eyebrows and garnered plenty of attention, he remains steadfast in his pledge to the Defenders.
"Dordt's my family, man. I can't wait to get up there," Millikan said. "Some people look for the highest offer. Some people look for other stuff. But the feeling up at Dordt, it's something special and I can't wait to be a part of it."
For a kid that's accomplished so much, there's just one thing left to do.
Get that knee surgery that's scheduled for Tuesday.