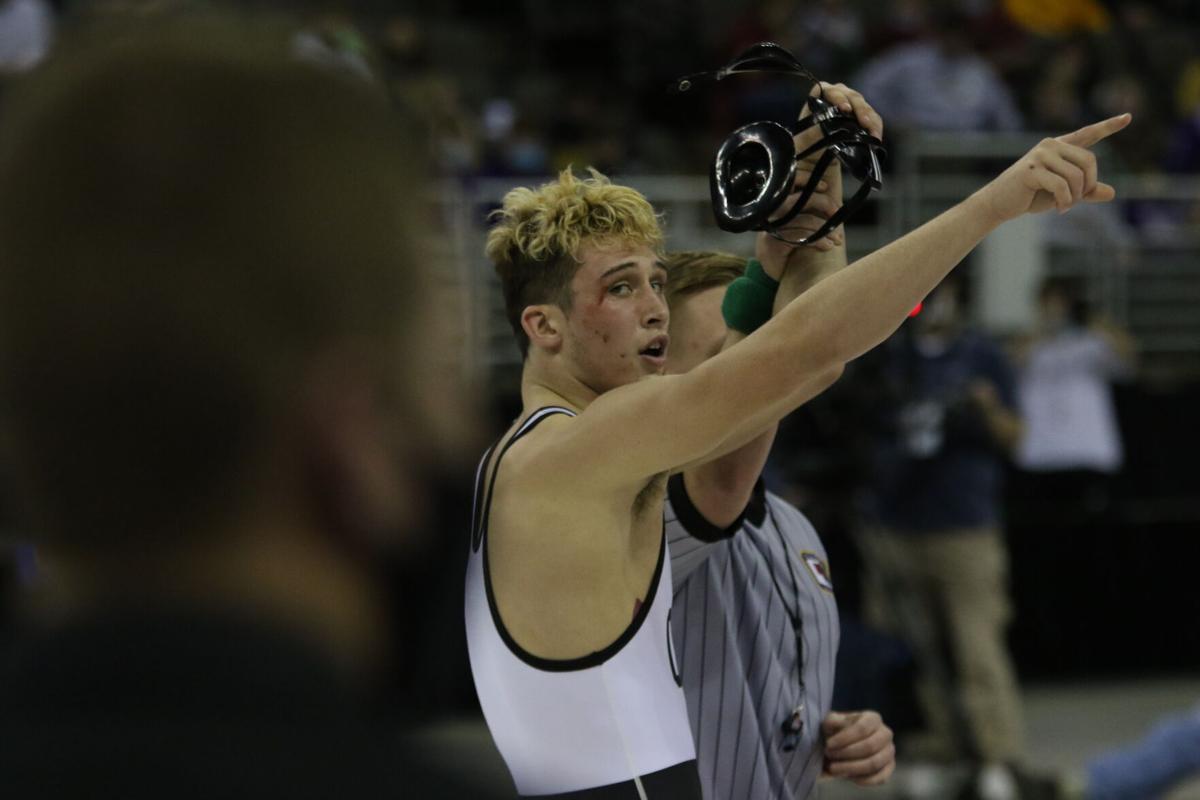 OMAHA – Cross County/Osceola head wrestling coach Matt Carroll put it simply when asked what was the biggest reason Cameron Graham won the Class C 152-pound state championship on Saturday: when Graham gets his opponent on their back, it's game over.
So when Graham gained position on Central City's Tanner Schneiderheinz, the title match was quickly on its way to ending. Graham pinned Schneiderheinz in 3 minutes, 18 seconds to become a state champ, the first since Cross County and Osceola came together and the first who Carroll has coached.
"He was so locked in mentally, so much laser focus before the match," Carroll said of Graham, who ended his junior year 48-3. "Cam is so dangerous if he gets an opponent to their back – they're in big trouble. He never forced anything and just took what was there, and that is huge in a big match like that one."
Graham's state title means a lot to the CCO program. Carroll said he was in a state of disbelief for a few moments following the match because it was something he's been striving for and dreaming about since he started coaching.
"I've seen others achieve it many times and I've wanted it so badly for so many of the guys I've coached in the past and we've always come up just short," Carroll said. "To see a kid literally define our entire program culture by peaking at the right time, being extremely coachable and maintaining incredible mental toughness, preparation and focus was truly something to be a part of. It's something I'll never forget and be looking to recreate the rest of my career."
Graham said he relied on a friend's advice before taking on Schneiderheinz. Freeman's Brody Dickinson told Graham to stay calm, cool and collected and not "freak out" while he's out there wrestling for a state title in CHI Health Center.
"It's nice having people like that to help me get my mind right so I can get to where I want to get to," Graham said. "So I was just thinking that the whole time – just don't panic and go out there and do what you have to do."
Graham placed third last year at 138, so getting back to Omaha and claiming gold meant a celebration. Following his pin, Graham tossed his headgear into the air, let out a big "let's go!" and stuck a back flip in celebration.
"I've been dreaming of this since I was very little, since I started watching them (wrestlers winning state) on TV – it's just crazy," Graham said.
Cross County/Osceola finished ninth in the Class C team race with 50.5 points. Central City was the C tournament champ with 135 points while Aquinas Catholic was runner-up with 127 and David City third with 110.
Cross County/Osceola had another wrestler in the finals on Saturday – senior Kyle Sterup at 195 pounds.
Sterup was in a back-and-forth match with the tough Burton Brandt of Syracuse. Brandt pinned Sterup in 5:05 to win the title. Sterup ended his season 49-2 with a runner-up finish.