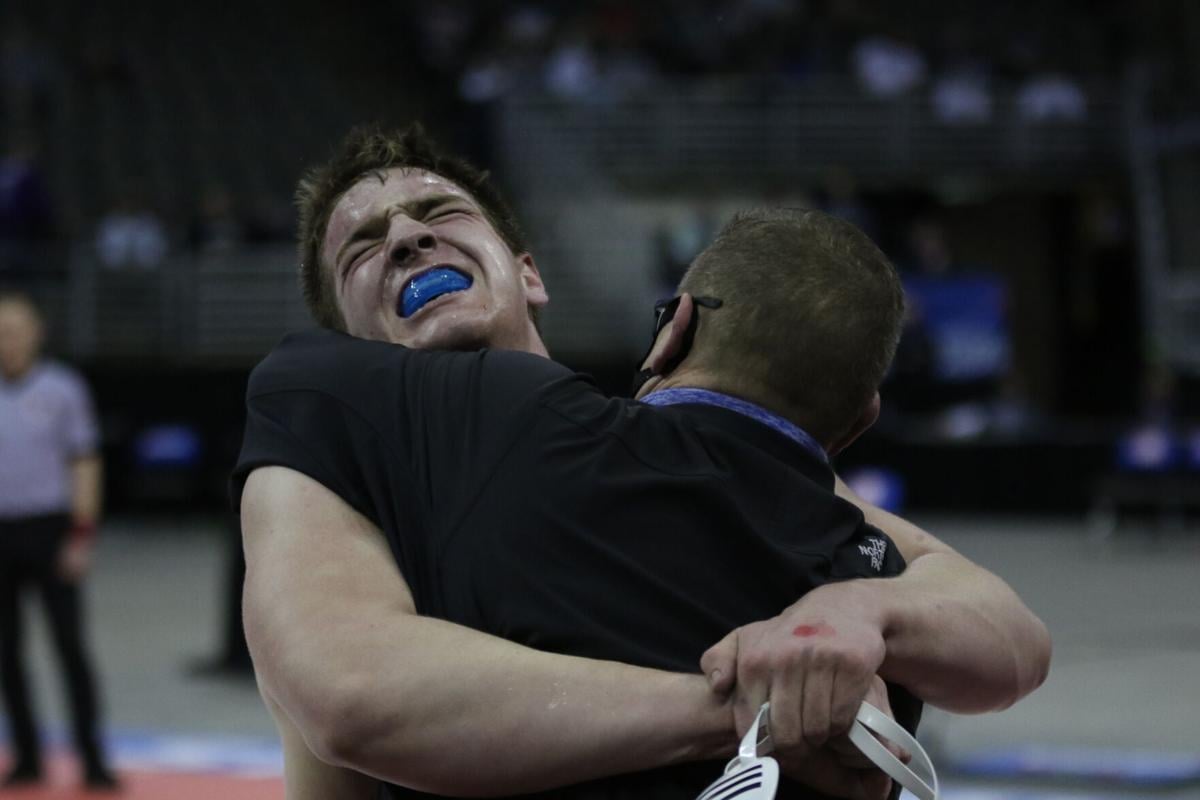 OMAHA – Centennial junior heavyweight Carson Fehlhafer may have surprised himself at the Class C state wrestling tournament, but he didn't surprise his head coach.
It was around 10:30 p.m. Saturday night when Fehlhafer pinned Norfolk Catholic's Isaac Wilcox in 4 minutes, 18 seconds – which, by the way, happened on Norfolk Catholic's own mat – at the CHI Health Center to claim the state championship.
Following his match, Fehlhafer said he expected to get to the state tournament, but not win the whole thing. His head coach, Phil Payne, thought differently, however, and he told the junior so during the season in team meetings.
"I do interviews just to check up on our guys, and when he came in I looked at his goal sheet and it said 'get to state,'" Payne said. "I told him, 'Carson, you're shortchanging yourself if your goal isn't to be a state champion.' He had a humble goal but I was like, 'Dude, I see you at practice every day and I see what you can do.' And he was firing on all cylinders at the end of the season."
Fehlhafer and Wilcox had faced each other twice before with Fehlhafer winning both – 6-5 at subdistricts and in overtime at districts. On Saturday night, he again got the best of the Norfolk Catholic Knight.
"I knew what he was going to do and I tried to counter it," Fehlhafer said. "All tournament I've been just worrying about the next (match). So that's what I did, I focused in and got the job done."
Fehlhafer has been in Centennial's youth program since he was a young kid. Payne said he doesn't care if a kid is going to be a heavyweight when he gets to high school or not, they want to coach kids the fundamentals. Those skills came into play on Saturday.
"He does some things that other heavyweights don't do," Payne said of Fehlhafer. "He hits switches and blast doubles, and even sweep singles or single legs. A lot of heavyweights, they just get forehead to forehead and they brawl, but Carson has other skillsets."
Fehlhafer went 4-0 in the tournament and all of his wins came via pin. He ended his season with a 52-5 mark. His tournament run included a thrilling semifinal match against Central City's dangerous Gunner Baily. In that match, Fehlhafer wound up on his back early and it wasn't looking good.
"Carson fought like you wouldn't believe to get off his back," Payne said. "Then he got a reversal and back points to get it within one. Then it was like watching a pinball machine with all the scoring. That match gave me some grey hairs for sure."
Fehlhafer eventually pinned Bailey in 5:31. The junior, who started on both the offensive and defensive lines at Centennial in the fall, showed off his strength during the season. Not only physical strength, but mental, too.
Fehlhafer's mother dealt with a health scare during the season that had her in the hospital. Fehlhafer continued to wrestle – he only missed one practice – and win during that trying time for him and his family. His mother is now out of the hospital and in recovery. She got to watch her son win the state title in person.
"Dealing with all that as a high schooler, I don't know how he did it," Payne said.
Payne goes on revenge tour
Centennial had another storyline on Saturday – Ryan Payne, Phil's nephew.
Ryan lost his quarterfinal match to Conestoga's Cameron Williams in heartbreaking fashion, 9-7 in overtime after coming back to tie the match in the third period.
Without a chance for gold, Payne didn't hang his head. Instead, he torched the rest of his competition and rattled off four straight wins – many against wrestlers he had never beaten or had little success against, including the tough Eli Vondra of Milford – to finish third at 132 pounds. He got revenge on Williams, too, beating him 4-1 in the third-place match.
Payne, a staple in the Centennial program for four years and even before that in youth wrestling, ended his senior season 47-12. He's a four-time state qualifier and three-time state medalist, placing sixth, fifth and third.