SHELBY — For the first time in 10 years, the Heartland Huskies will play in the state volleyball tournament.
The Huskies met the Humphrey/Lindsay Holy Family Bulldogs for the all-important D1-4 district championship at Shelby-Rising City Public School in Shelby Thursday night and started a bit slowly, losing the opening set 25-18. But Heartland cooled the nerves and stormed back to win the next three via scores of 25-20, 25-19, 25-21 to earn a trip to Lincoln next week.
"I think we came out with some nerves, like we did Tuesday night," Heartland head coach Sarah Ostmeyer said after the match. "It was loud in here and it was an atmosphere to adjust to. I think they realized after the first set that this was our chance, this was our only shot and we have to take it when we can."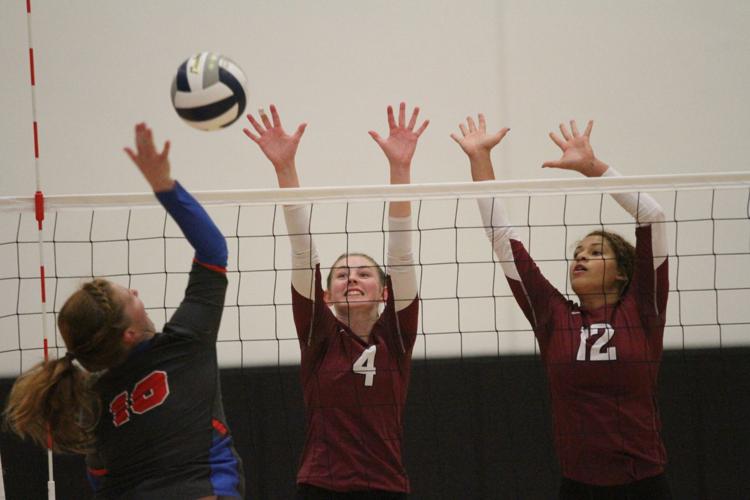 The Huskies got strong performances from the usual suspects like seniors Taylor Quiring, Kyra Dick and junior Olivia Casper. But it was the offensive production from sophomore Rhianna Wilhelm that helped her team get over the edge all night.
There were four ties in the second set but after the 11th point, the Huskies got two kills from Quiring and one from Wilhelm that pushed the Heartland lead to 17-13 and forced a Bulldog timeout.
Casper went on to record two more kills while sophomore Kalea Wetjen and Wilhelm each added one to push their advantage to 23-18 and another stoppage of play. Quiring had the final fill to end the set and tie the match at one apiece.
There were six ties in the third set early, but while trailing 9-6 Heartland went on a 6-1 run that bumped its lead to 12-10 and forced yet another Humphrey timeout. During that stretch Wetjen recorded an ace block while senior Sadie Carr, Wilhelm, Quiring and Dick all had a kill.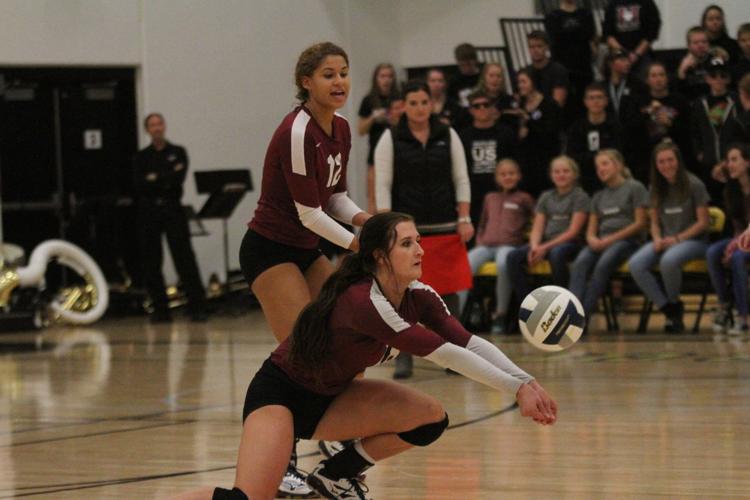 Wilhelm came out of that timeout and dished out two more kills to put the Huskie advantage at 17-12. Heartland cruised to the 25-19 win after that.
In the fourth set, Quiring scorched nine kills past the Bulldog defense as the Huskies overcame the last few rallies of Humphrey. The Bulldogs tied the set nine times, but had to call a timeout trailing 17-14 after two kills from, you guessed it, Wilhelm.
"Rhi did a great job," Ostmeyer said when asked about Wilhelm's strong play. "Our girls have been trying to incorporate her as a hitter for a while using her as an option, and she was connecting tonight and was definitely looking for spots on the court and she was hitting some nice shots."
Quiring and Wetjen had the final two kills to end the match and send the Huskies to state, 10 years in the making.
"It feels really great," Ostmeyer said when asked about being state bound. "We haven't talked about it much, but they know that it's been 10 years and it's exciting to take it on. We'll come ready to play."
Heartland heads to the state tournament, which begins Thursday and lasts until Saturday, with a record of 20-9. The Bulldogs finished their year 22-11.
Unofficially, Quiring led the team with 25 kills while Wilhelm had 10 and Dick nine. Both Casper and Wetjen recorded five.
Heartland 18 25 25 25 — 3