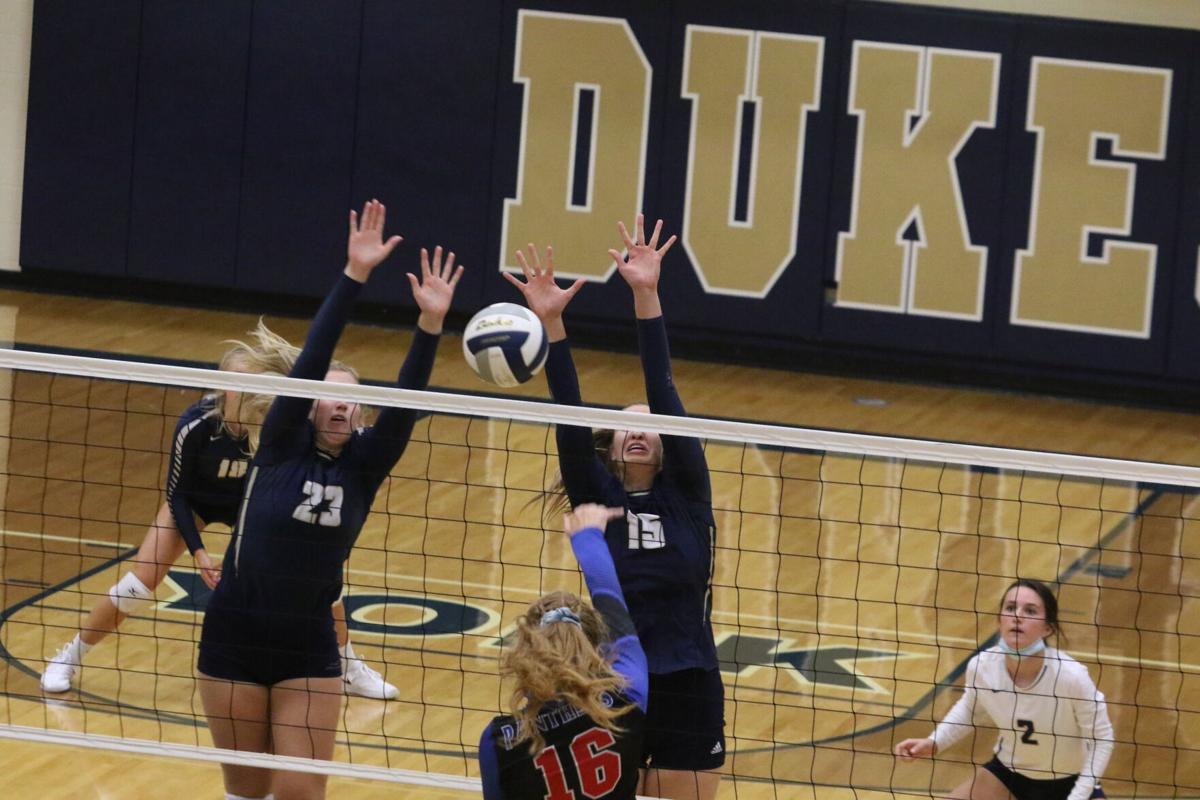 YORK -- The York Dukes did not return home from the Gothenburg Harvest Festival Invite until late Saturday.
On Monday, York hosted the 10-2 Palmyra Panthers and the 9-3 Malcolm Clippers in triangular action at the Duke Dome.
York, which went to Gothenburg as the No. 7 team in Class B, posted a 3-3 record with wins over Chadron 2-0, Gothenburg 2-0 and Minden 2-0.
The Dukes' losses came to Class C-1 No. 1 St. Paul 2-0, C-1 No. 3 Kearney Catholic 2-0 and Ogallala 2-1.
On Monday night York returned home and swept Palmyra 25-20 and 25-19 and did the same with Malcolm 25-16 and 25-15.
York head coach Chris Ericson shared his thoughts on the Gothenburg trip and Monday night's triangular.
"Gothenburg was a mental challenge for us and coming into tonight we knew if we were not in the game mentally against Palmyra and Malcolm we could be in trouble," said Ericson. "In the three losses and the three wins we learned a lot about ourselves and what we need to work on to kind of polish up in some areas. That tournament rewards the mentally strong and I applaud that format. You get done with one game and you are on to the next so there can't be letdowns.
"We feel that we have been battle tested, but we also knew that coming into tonight we had to find a way to win two games," Ericson added. "We talked after the game about being 11-5 after the first half of the season and what we need to do to get ourselves ready for conference, districts and so on. The beauty of the next week we have off is we can work on those things and get some much needed rest."
The Dukes got the sweep over the Panthers, but the Palmyra team kept it close throughout both sets.
York led early in the first set 7-2 and Palmyra made a few runs to get back within two points at 16-14.
The Dukes had 14 kills in the set and the Panthers were not far behind as they hammered 13.
Back-to-back kills from seniors Erin Case and Maddie Portwine sparked a 5-1 York run as they led 21-15.
Palmyra got a kill from Kamrin Lippold and another from Holly Wilen to close within 23-20.
York's Addison Legg made it 24-20 with her third kill of the set and the Dukes put set one in the books when a Palmyra attack was long.
The two teams battled even through the first 15 points of the second set with York on top 8-7.
An 8-3 run opened a 16-10 lead and the Panthers could never get closer than five points.
York was led by Scheierman with 11 kills and Case added seven. Legg and Scheierman each added one ace serve.
Palmyra was paced by Lippold with six winners and Rylie Hale-Keller followed with five.
York's length at the net really gave the Malcolm Clippers problems as it held the Clippers to just 13 team kills, the same number that York junior Masa Scheierman led the Dukes with.
York and Malcolm were tied at 13 in the first set when two Malcolm hitting errors and a Scheierman kill gave the Dukes a 16-13 lead.
York extended its lead to 19-13 and Malcolm could never recover from the mid-set mistakes.
The Clippers' Kiley Elkins had seven kills to lead Malcolm while Kaitlyn Dostal had three winners.
In the second set York took an early lead and continued to stretch it out to the final 10 point margin.
York's Case had five ace serves, including the winner in the second set.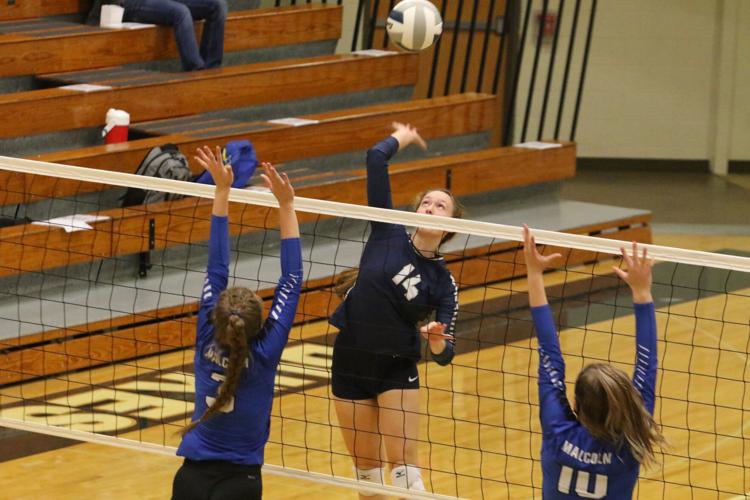 Along with Scheierman, Dannika Lamberty came off the bench to record five kills and Legg finished with four. As a team the Dukes finished with 24 kills and six ace serves.
York, 11-5 and No. 7 in Class B, gets a much needed rest as it travels to Crete next Tuesday night and to the Beatrice triangular on Thursday along with Seward.
---
Gothenburg Harvest Festival Invite
York and Minden played the first set close as the Dukes pulled out the 25-22 win.
In the second set York took charge behind 12 kills from Scheierman on 20 of 24 attacks to pull away for the 25-15 win.
Junior Destiny Shepherd led the defense with 11 digs, while junior Brynn Hirschfeld had 10 assists on 27 of 27 sets and senior Natalie Rockenbach had nine assists on 13 of 13 sets.
York won both games by the final score of 25-19.
York was charted with 20 team kills as it was 49 of 59 as a team with Scheierman the team leader in kills with nine on 22 of 25 attacks. Senior Addison Legg added four kills on 12 of 16 swings.
Scheierman and Shepherd each had six digs and Hirschfeld set up 32 of 32 setting with 11 assists.
Case, Scheierman and Legg all recorded three blocks in the two game sweep.
The Dukes posted the 25-20 and 25-19 win over the Chadron Cardinals.
As a team the Dukes were 64 of 75 at the net and Scheierman led the team with 12 kills on 22 of 27 attempts.
York had six team aces with Rockenbach the team leader with three and Shepherd led the way on defense with eight digs while freshman Josie Loosvelt had seven.
Hirschfeld and Rockenbach combined to go 58 of 58 setting with 20 assists and Case continued her strong play at the net with five blocks.
Chadron was led by junior Jacey Garrett with 18 digs and senior Emma Cogdill was 43 of 44 setting with 14 assists.
Junior Macey McDaniels led the Cardinals at the net with five kills.
Kearney Catholic 2, York 0
The Kearney Catholic Stars held the Dukes to 19 team kills with Scheierman the team leader with nine and Legg had four.
Shepherd had seven digs and Hirschfeld led the setting with nine assists while Rockenbach recorded eight. Case had four blocks.
Scheierman broke out with 19 kills and Ogallala's Jenna Curtis finished with 14 kills and four ace serves.
Legg added six winners and Rockenbach had two of the team's four aces and she led the way in setting up the offense with 19 assists on 49 of 49 set attempts.
Case and Hirschfeld each had two blocks and Shepherd had 14 digs and Scheierman 10.
Ogallala's Jillian Kelly had 20 digs and Curtis added 12.
St. Paul defeated York 25-18 and 25-13, but no team or individual stats were available.
Be the first to know
Get local news delivered to your inbox!