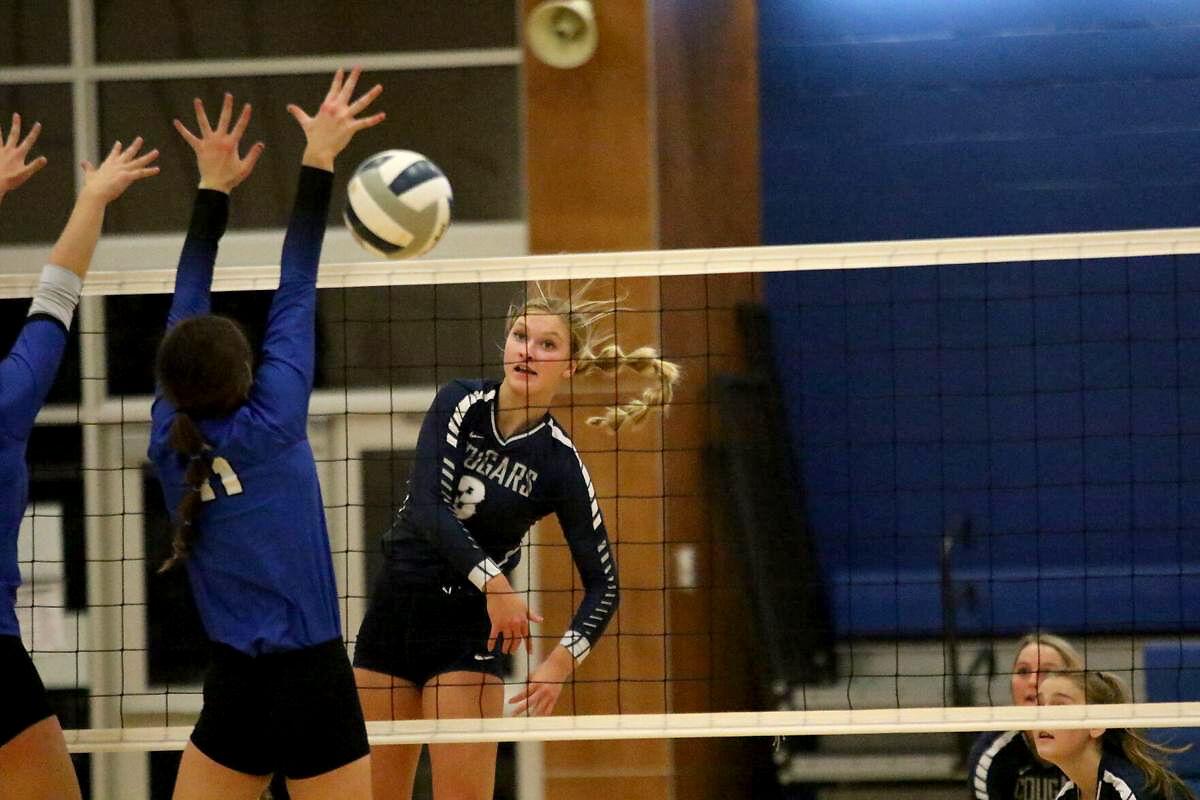 STROMSBURG – For the past four years at Cross County, volleyball fans have come to expect the same things from Cortlyn Schaefer night in and night out – a lot of kills and digs.
It was routine to see No. 3 smashing the ball past defenses or getting under an attack that was screaming toward her.
Schaefer actually owns the school record for most kills in a single season with 394, which she set as a sophomore in 2018. The 5-foot-11 outside hitter finished her prep career with 1,264 kills and 1,023 digs.
On Friday afternoon, Schaefer signed with Midland University after fielding interest from in-state schools like Concordia University, Nebraska-Kearney, Hastings College, Bellevue University, and out-of-state programs like Northwest Missouri State, among others.
At first, Midland wasn't atop Schaefer's list. A visit to campus changed that, though. Midland volleyball head coach Paul Giesselmann really wanted Schaefer, and his pitch to get her worked.
"He definitely sold his program to me – a family feel, a small-town school," Schaefer said of her meeting with Giesselmann. "And growing up in a small-town school, I love that feeling. Midland definitely has its program headed in the right direction and I know I'll get a good education there and have that second family I can always go to."
Schaefer has a few goals she wants to accomplish once in Fremont. Along with continuing to get better offensively and defensively as an outside, she wants a starting spot on the varsity team.
"I know I have a good chance," Schaefer said of earning playing time right away. "That's definitely one of my main goals. I also just want to be a contributor in any way I can, either on or off the court."
Schaefer has rewritten the record books at Cross County. There's been a lot of kills, digs and memories during her time in a Cougar volleyball uniform, but one moment sticks out over all the others.
It came last month, on Oct. 20. Cross County played Bruning-Davenport/Shickley in the Crossroads Conference championship at York High School. The Cougars won 3-2 behind 21 kills and 21 digs from Schaefer.
That was a special moment, the senior said.
"Being overlooked by a lot of people coming in as the sixth seed and then finishing on top has definitely got to be a favorite for most of us here on the volleyball team," Schaefer said.
Some of the things that helped Schaefer stay in a groove on the court came from her routine off of it before matches. Like when she goes home after school and lets the family's two dogs out – that'd be Oakley, a mini Goldendoodle who isn't even a year old yet, and Mittens, a 13-year-old Shorkie Shih Tzu – while eating a club sandwich from Subway, her go-to pregame meal. Or when she and her teammates rock out in the gym to old Taylor Swift songs, or whatever the popular jam happens to be on TikTok.
Schaefer's year isn't over yet, however. There are still new memories to make and goals to reach. Now that her college decision is over with and out of the way, she can focus on winning basketball games next.
The Cougars went 20-5 last season but lost in subdistricts. Schaefer averaged 10.5 points, 6.1 rebounds and 3.2 assists per game.
"I think we all have high expectations for ourselves," Schaefer said. "We don't have a lot of girls going out this year but we're still going to be strong as a team with the girls that we do have. We all have the mindset of going farther than we did on the basketball court last year."