Creighton teammate Ryan Kalkbrenner jokingly calls Baylor Scheierman's headband his superpower.
Bluejays basketball followers swear by its effect on his game.
"I think he plays better with it than without it," said longtime fan Dale Trumble, who refers to it as the "good-luck headband."
Jameson Frisch is a little superstitious if he doesn't see Scheierman wearing one. He's "better off shooting 3s and making them," the youngster says.
Even Creighton's president, the Rev. Daniel Hendrickson, weighed in. He says he's a big fan of the CU starter and his team and has been excited to see how well the 21-12 Jays have played heading into the NCAA men's basketball tournament.
"He had it off for a couple of games. We were wondering what was going on with the headband. And it's back," he said. "Whatever it's doing, it's been fun."
Despite what everyone thinks — and there's a lot of opinions from TV announcers to die-hard fans — Scheierman said the headbands possess no secret powers. It's all the time he spends in the gym, he says, that gives him his shooting prowess.
Still, the 6-foot-7 guard thinks all the comments about his headwear are funny.
"A lot of people think it's a superstitious thing," he said. "It's really not. It's all because the hair was in my face."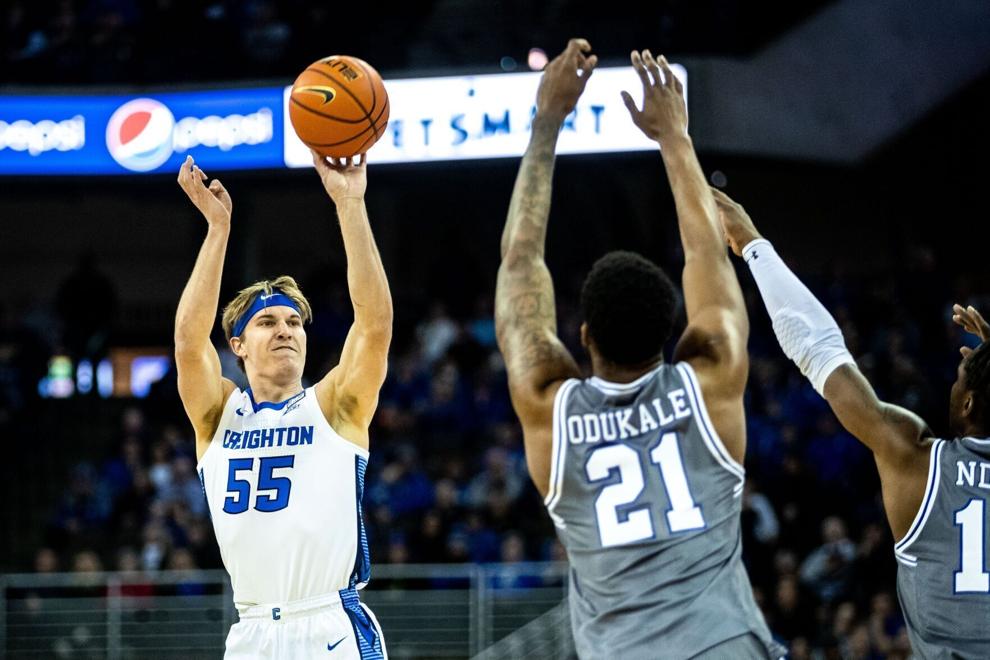 That's not to say the headbands aren't sartorially important to the Bluejay starter, an Aurora High School player who transferred to Creighton from South Dakota State.
Because CU has an equipment deal with Nike, he likes to wear its headband. The headbands must match either the blue or white of his uniform.
They have become his brand, he said, and he enjoys wearing them, no matter the length of his hair. The few games this season he didn't include one with his uniform was because he just felt like it, he said, not because of how he was shooting.
"You look good, you play good," he said.
Scheierman started using a headband before coming to Creighton. He needed it to keep his hair under control while playing at SDSU, and borrowed it from Masa, one of his three sisters.
He's the first Creighton player to wear one, coach Greg McDermott says.
"Frankly, I've never allowed them before," he said. "It was part of the process of recruiting with Baylor. It's part of who he is."
Contrary to some reports, Creighton doesn't keep track of Scheierman's shooting with the headband and without. He's made a team-leading 77 3-pointers on 213 attempts. He's drilled 42% of his field goal attempts.
"Whatever he is comfortable with, I roll with," McDermott said.
Scheierman has lots of headbands at home to mix and match with his workout clothes, but said he needs only four or five here since he doesn't do his own uniform laundry. Besides games, he wears them when he's lifting, shooting and practicing.
He doesn't don them for class or when he goes out with friends. In fact, he said, he isn't often recognized without one.
Scheierman said he's actually a hat guy. He has 15 or 16, mostly fitted caps. His one bucket hat is for golfing and days at the beach.
He'll likely be wearing a headband on Friday, when Creighton opens NCAA tournament play against North Carolina State in Denver.
But if he doesn't, don't worry.
"I'm not the basketball player I am today because of wearing a headband," he said. "I have indeed hit a lot of 3s without a headband on."