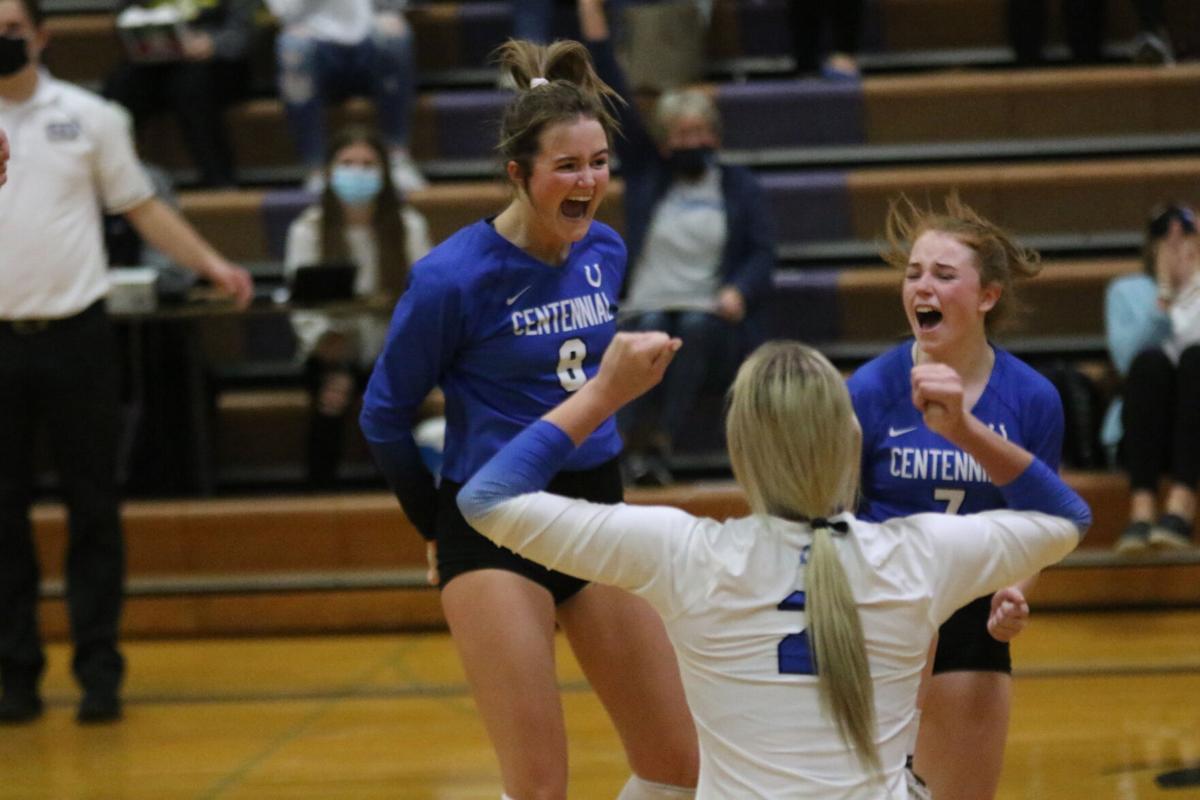 MILFORD — The Centennial Broncos were on their game in a semifinal of the Southern Nebraska Conference tournament in Milford on Tuesday.
The Broncos handed the No. 7-rated team in Class C-2, the Superior Wildcats, a 2-1 loss — just their fifth of the season — to propel themselves to the championship.
Centennial met a talented David City squad with big hitters like Lauren Vandenberg and Maya Couch in the title match, however. The Scouts make quick work of the Broncos in the championship, winning 2-0 (25-21, 25-17) to seal Centennial's runner-up finish.
Centennial (19-11) now turns its attention to the C2-7 subdistrict starting Monday. Other teams in that subdistrict are Aquinas Catholic, Cross County and Shelby-Rising City.
Superior's Shayla Meyer, a junior who came into the match with a team-high 351 kills, 41 aces, 46 blocks and 218 digs, notched a match-high 20 kills against the Broncos. But the rest of her team didn't produce much, which allowed Centennial to rally from a 1-0 deficit.
Centennial recharged for the second and kept a lead that it gained early. The Broncos held an 11-9 edge but wound up going on a 7-1 run to put them on top 18-10. That run included three blocks from Kiley Rathjen and a kill from Jaycee Stuhr.
Superior never recovered from that Rathjen-led run, and the Broncos knotted the match at 1-all with the 25-20 second-set win.
In the third, Centennial got five kills from Kate Hirschfeld and four from setter Jaci Opfer. Hirschfeld unofficially led the team with 15 in the match while Opfer added six and Stuhr five.
Centennial got off a good start and led 10-5 before a Hirschfeld kill forced a Superior timeout. The Broncos continued to press the gas out of the stoppage and gained a 19-12 edge before Hirschfeld connected on back-to-back kills to up her team's advantage to 21-12.
The Broncos closed out the win when Opfer and Stuhr dished out consecutive kills.
Centennial (19-10) 19 25 25 — 2
Superior (16-5) 25 20 14 — 1
---
David City 2, Centennial 0
Vandenberg was on her game for the championship match, lasering 11 kills past the Centennial defense while Couch added seven.
The Broncos' offense struggled to find a rhythm the entire match, and didn't get a kill until Hirschfeld's first to cut David City's lead to 9-4.
The Scouts, who beat Centennial in a triangular on Sept. 15, let up a bit toward the end, however. Centennial got as close as four points, 22-18, after the Broncos went on a 4-2 run that featured a kill from both freshman Karley Naber and Rathjen. David City ultimately earned the first-set win, though.
In the second stanza, the Scouts jumped out to leads of 10-4 and 15-6 before Centennial went on a 7-2 run that turned a 17-7 hole into a manageable 19-14 deficit. Hirschfeld had two kills and a block during that stretch which got the Broncos in shouting distance. Hirschfeld unofficially ended the match against David City with a team-high 11 kills while Rathjen and Naber each had two.
But much like the first set, David City owned things down the stretch. The Scouts saw an ace serve from Vandenberg and a kill each from Maya Couch, Avery Couch and Neely Behrns. David City improved to 21-8 with the win.
Centennial (19-11) 21 17 — 0
David City (21-8) 25 25 — 2
PHOTOS: Centennial volleyball, Oct. 20
Be the first to know
Get local news delivered to your inbox!