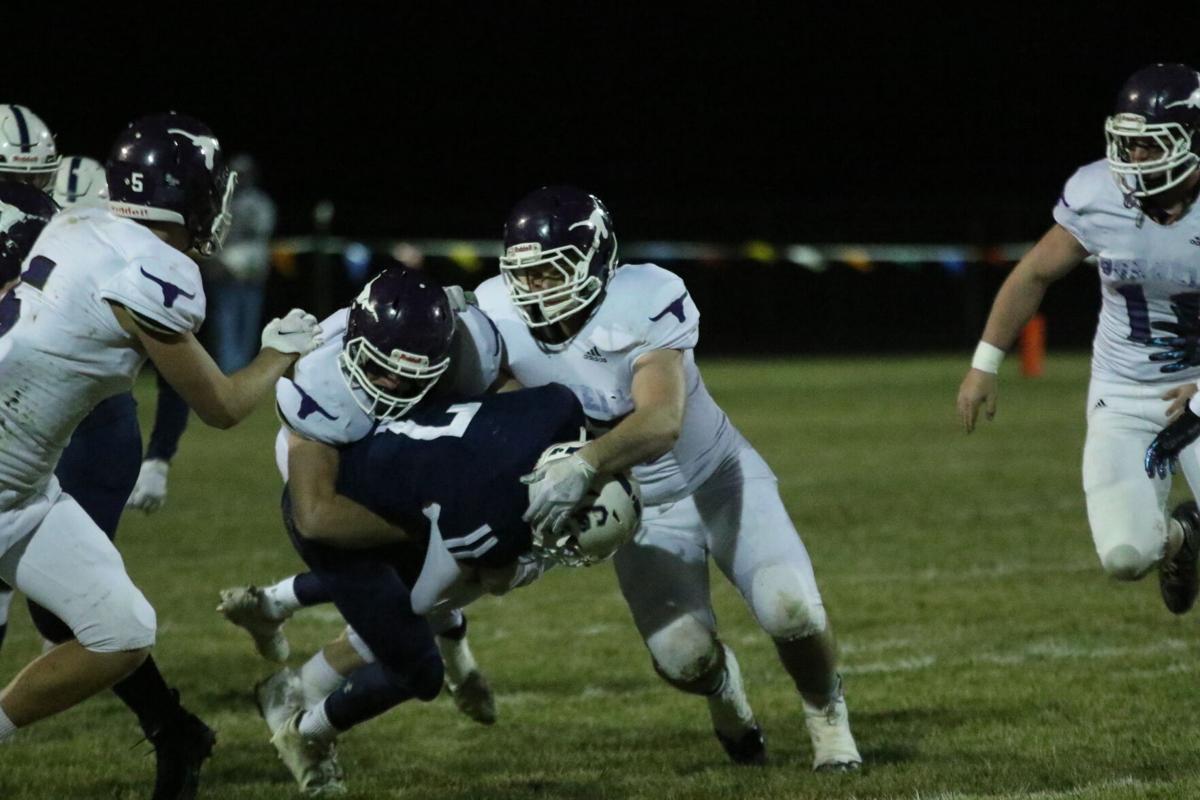 STROMSBURG — The Standoff in Stromsburg between the Burwell Longhorns and Cross County Cougars delivered.
Burwell took one on the chin for most of the first 12 minutes and watched as Cross County shot out to a 22-0 lead. But the Longhorns stayed calm, cool and collected, and wound up outscoring the Cougars 37-14 from the four-minute mark of the opening quarter to earn a 37-36 come-from-behind win in a Class D-1 state semifinal.
Burwell, which also got past Neligh-Oakdale by a single point in its quarterfinal, advances to the state championship, a place it knows well. With Friday night's win, the Longhorns have made the championship game in six of the last seven years.
Burwell will host Dundy County-Stratton for the title on Friday, Nov. 20. The state championship games of Classes A, B, C-1, C-2, D-1 and D-2 will be played at the higher-seed team's home field, according to the NSAA.
"What a heck of a football team Cross County is," Burwell head coach Luke Gideon said. "When they come at you like that, you can't practice against that. So when it hits you a few times in the mouth like it did us, we just needed to settle down and get it figured out. Our kids are tough and we've been through stuff like this before. When you play good teams they make you do things like that."
While Burwell's offense was trying to find its footing early, Cross County's was ready to roll. The Cougars scored a touchdown on its very first offensive play when senior Isaac Noyd, one of the team's two 2,000-yard rushers, sprinted 33 yards to put his team on top 6-0. Then junior Carter Seim, the team's other 2,000-yard back, found room for a 45-yard run that found the end zone.
After a Longhorn fumble that was recovered by Christian Rystrom, the senior fullback/linebacker got to finish what he started by powering in for a score from 4 yards. That created the 22-point punch-in-the-mouth for Gideon's group.
"We were able to overcome all of that and get back to our game," Gideon said. "We survived the storm and got ourselves back in the game."
Burwell junior Cash Gurney was a key piece to the comeback. The 180-pound junior caught two touchdown passes from senior quarterback Barak Birch and rushed for another. After being held in check for much of the first half, the Longhorns' Caleb Busch, a powerful junior running back and 2,000-yard rusher himself, found the end zone twice after being shut out for a quarter and a half.
Birch completed touchdown passes of 65 and 6 yards to Gurney that cut the deficit to 22-14.
After the Cougars busted off another long run for a touchdown — this one a 23-yarder from Seim — in the second quarter, Burwell took advantage of the final drive of the first half. It resulted in a 2-yard touchdown run from Busch to cut the Cougars' halftime lead at 30-22.
Burwell tied the game at 30 with around six minutes left in the third off a Gurney 5-yard touchdown run. The Longhorns then took the lead for the first time in the game when Busch crossed the goal line from 4 yards to give his team a 37-30 edge with 10 minutes remaining in the game.
Cross County used a clever play-action pass from Noyd to Rystrom that turned into a 27-yard touchdown toss, but the Cougars fumbled their 2-point conversion attempt, putting the Burwell score at 37-36.
The two teams exchanged fumbles midway through the fourth, but it was Burwell senior Hunter Mayfield who gave his offense the ball back with around four minutes left after the Cougars put it on the grass. That play stopped Cross County's potential game-winning drive and ultimately helped win the Longhorns the game as the Cougars couldn't get the ball back and ran out of time.
"Credit to Burwell, that's a really, really, really good football program — notice I didn't say 'team'. They're not a good football team, they're a good program and they reload and they're well-coached and their kids believe and they're tough," Cross County head coach Hayden DeLano said. "That's just a phenomenal program. I feel like our boys played extremely well too, but we just didn't make as many plays. All the credit in the world to Coach Gideon and that staff."
Cross County had six seniors play their final game in a Cougar uniform, including Noyd, Rystrom, Zach Haug, Lincoln Kelley, Owen Powell and Terrance Heyes.
"They all played well, filled their roles and gave it their all," DeLano said. "They all played well, but Christian (Rystrom) has nothing left to give to this program. He's physically, mentally and emotionally drained right now. It's mixed emotions for me. I hate losing and I want to win a state title for these boys and this community and everybody, but I'm extremely proud of this senior class."
Burwell (12-0) 7 15 8 7 — 37
At Cross County (11-1) 22 8 0 6 — 36
CC: Isaac Noyd 33 run (2-point run failed)
CC: Carter Seim 45 run (Christian Rystrom 2-point run)
CC: Rystrom 4 run (Seim 2-point run)
B: Cash Gurney 65 pass from Barak Birch (Casimir Koskela kick)
B: Gurney 6 pass from Birch (Koskela kick)
CC: Seim 23 run (Noyd 2-point run)
B: Caleb Busch 2 run (Busch 2-point run)
B: Gurney 5 run (2-point run successful)
B: Busch 4 run (Casimir kick)
CC: Rystrom 27 pass from Noyd (2-point run failed)
Be the first to know
Get local news delivered to your inbox!