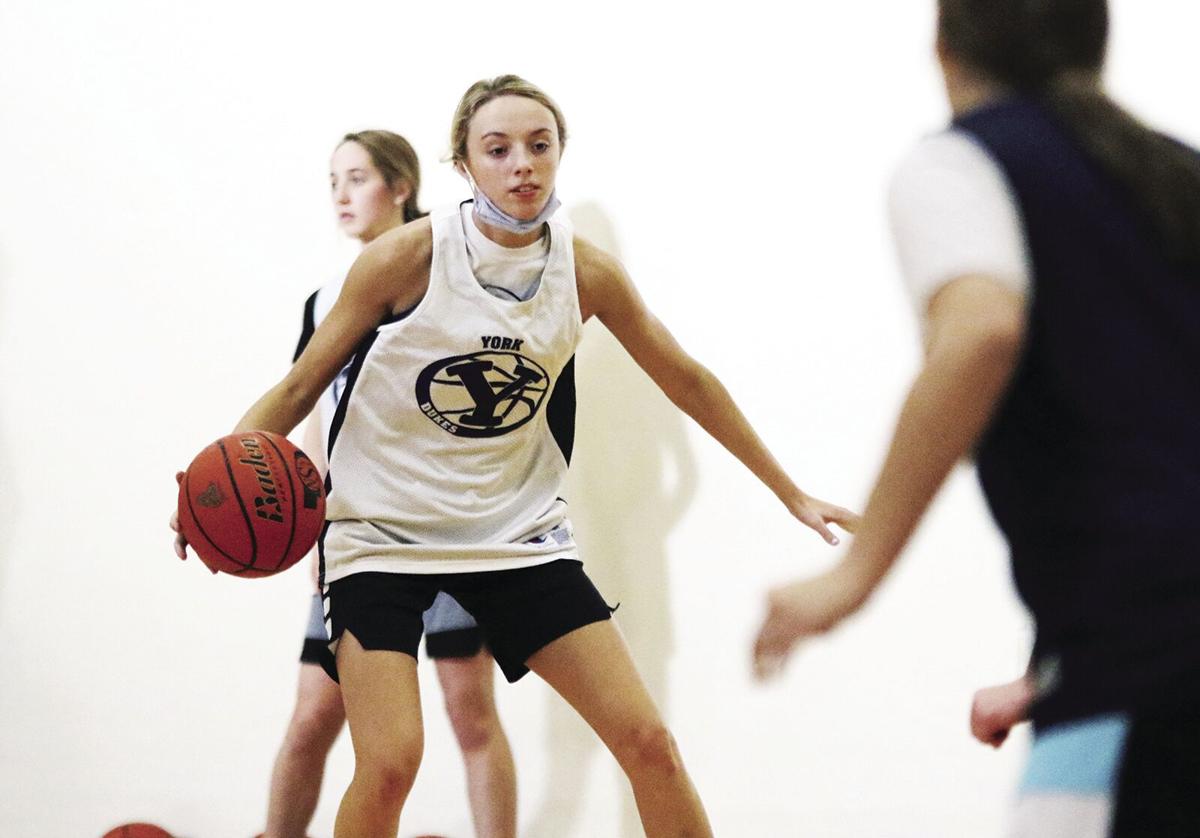 YORK – After a district final appearance last February, head coach Matt Kern's York girls basketball team is eyeing another strong season.
To do that, the Dukes will need to replace two starters from last year in Natalia Dick and Addison Legg.
Dick, a Hastings College basketball player, was a force in the paint last season and provided some physicality under the hoop. Those are big shoes to fill, but Kern has options.
"Natalia was a great player and person in our program. We'll miss her," Kern said. "With that said, we have a very exciting team coming back. We return a number of contributors from last year and people tend to forget how young we were the last couple of years. That experience will pay off this year. Our youthful energy makes each practice fun."
Leading the team will be Maddie Portwine, a tall and athletic Fort Hays State University basketball commit who averaged 13.5 points and 2.5 steals last season as a junior. According to Kern, the 6-foot Portwine is focused on having an exceptional year.
"Maddie is an extremely good scorer, one of the best in the state," Kern said. "She can score from almost anywhere on the court and has the ability to get in the lane with the drive and has multiple finishing moves. She's an excellent three-point shooter and her range is unlimited. She also can flash into the post and score against smaller guards trying to defend her."
Without a true 5 in the middle this season, the York girls may spread things out on offense to make use of the quickness they possess.
"You should see us in more of a five-out look on the court with no true post as we want to take advantage of our speed and dribble drivers," Kern said. "We want to play fast, run the floor and get to the rim. As always, you will see us taking a number of three-point shots."
Junior guards Destiny Shepherd and Mattie Pohl, as well as junior forward Masa Scheierman, will be key players again this season. Scheierman, fresh off a strong campaign on the volleyball court, averaged 6.5 points and a team-high 8.3 rebounds per contest last year. Shepherd and Pohl chipped in with 5.5 and 5.2 points per game, respectively.
All that quickness can be used on the defensive end, too. The York girls program has been known for its high-pressure, aggressive man-to-man defense. The Dukes don't plan on changing that anytime soon.
"We want other teams to feel uncomfortable with the ball when they play us," Kern said. "We have girls that have played this style of man defense for a number of years and they continue to improve their knowledge and skills. Occasionally, we'll look to trap in the full court and half court."
York is scheduled to open the season Dec. 3 in the friendly confines of the Duke Dome against Ralston.