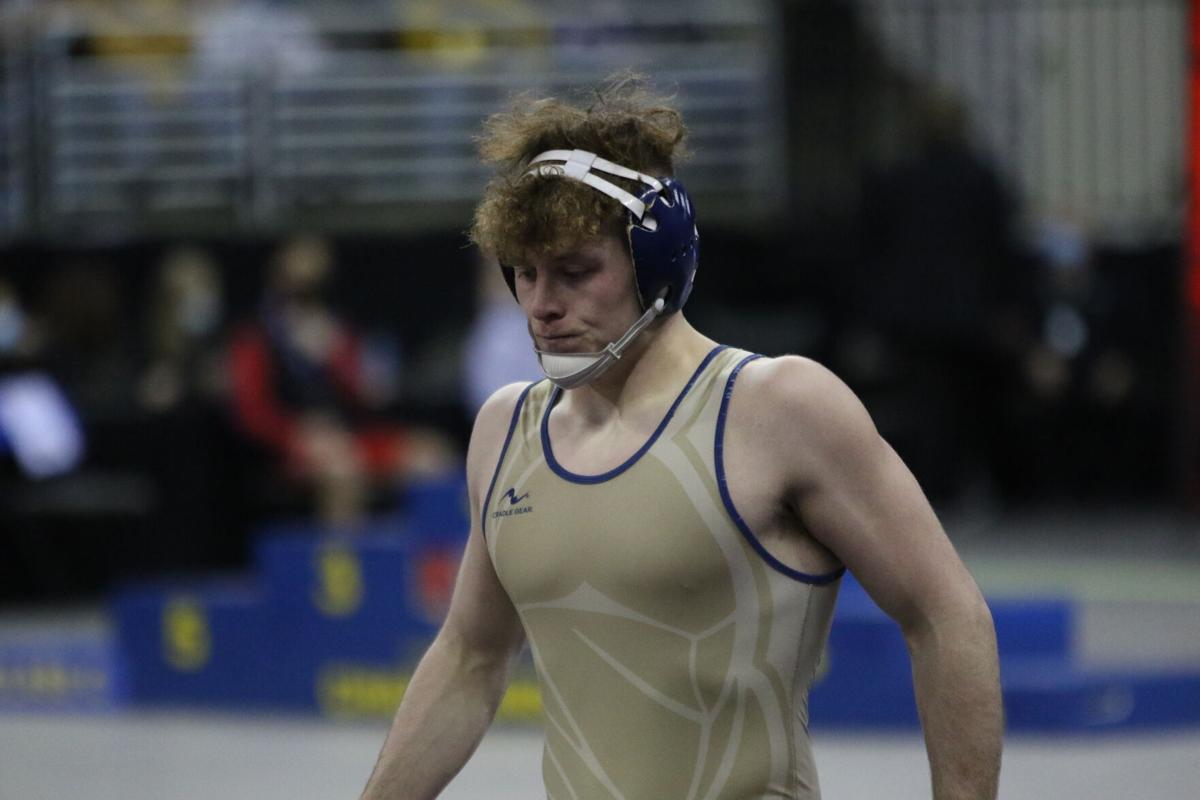 OMAHA – Before the season even started, Kobe Lyons got his college decision out of the way and said he wasn't interested in losing any matches during his senior year.
That's right – Lyons literally didn't want to drop a single match. He wanted an undefeated season and to wear gold around his neck.
Mission accomplished on both fronts.
Lyons won the Class B 160-pound state championship on Saturday night at CHI Health Center in Omaha. The Chadron State College wrestling recruit beat Plattsmouth's Josh Colgrove 3-2 to earn his championship.
"That kid's a stud and he can wrestle," Lyons said of Colgrove following the match. "But I had a game plan – if I could get the first takedown it's done from there. I felt confident on top all tournament so I knew I'd ride him out."
Lyons' plan worked. Colgrove couldn't do much scoring against Lyons, who ended his season 41-0. During his signing ceremony at York High School back in November, Lyons said going undefeated and winning a state title were the goals.
He echoed that in the tunnels of CHI Health Center after his win.
"I didn't really expect to lose any, but I wrestled a bunch of good kids and ranked kids," Lyons said of his season and tournament run. "I'm just glad I finished undefeated and took everyone out."
After the way last season's state tournament ended for him – a runner-up finish at 170 pounds – Lyons got the job done in his return to Omaha. York's first-year head coach, Brett Mauler, said Lyons' title-winning match was a thing of beauty.
"He wrestled a very smart finals match with college-style riding in a match that he controlled from start to finish," Mauler said. "I'm super proud of him, and if he keeps putting in the hours, he has the ability to do some extremely special things at Chadron State College."
Mauler was impressed with what Lyons had done all season. It's obviously not easy to go undefeated, and Mauler pointed out that Lyons had beaten 21 wrestlers who were at the state meet and had 10 wins over state medalists.
Impressed? Yes. But a surprise? Not quite, because Mauler and the Dukes' coaching staff knew the level of Lyons' dedication to his craft.
"Kobe is a special individual who has dedicated so much time to the sport of wrestling," Mauler said. "Wrestling is one of those sports where you have to wrestle more than three months a year if you want to be the best, and after last year's state runner-up finish Kobe dedicated the last year to wrestling. To see all of his sacrifices pay off was bitter sweet."
York finished 10th as a team at the state meet with 63.5 points. Gering with the Class B team champ with 116.5 points while Beatrice was runner-up with 112.5. Aurora was third with 107 points.