Jacob Weasel was in a fight with a mountain. Hurricane-force winds bombarded him with snow and brought the wind chill down to 50 below. Standing at over 19,000 feet, staring up at the Autobahn — the 1,000 feet of notoriously icy slope between high camp and the summit of Denali — he was about to lose.
Despite pleading with his guides to let them continue, and after 18 days of sleeping on the ice, it was the closest he'd get to the top of North America's tallest peak. 
But Denali, coming in at 20,310 feet, wasn't Weasel's first nor his highest adventure at altitude. The spry and fit young Monument Health trauma surgeon and member of South Dakota's Cheyenne River Sioux Tribe had successfully climbed Mt. Rainier (14,411 ft.), Cloud Peak (13,171 ft.), Grand Teton (13,775 ft.) and a handful of 14-ers in Colorado. He summited Cotopaxi (19,347 ft.) and Chimborazo (20,549 ft.) in Ecuador within 48 hours of each other, and bagged Kilimanjaro (19,341 ft.) in Tanzania — checking off that continent's tallest peak.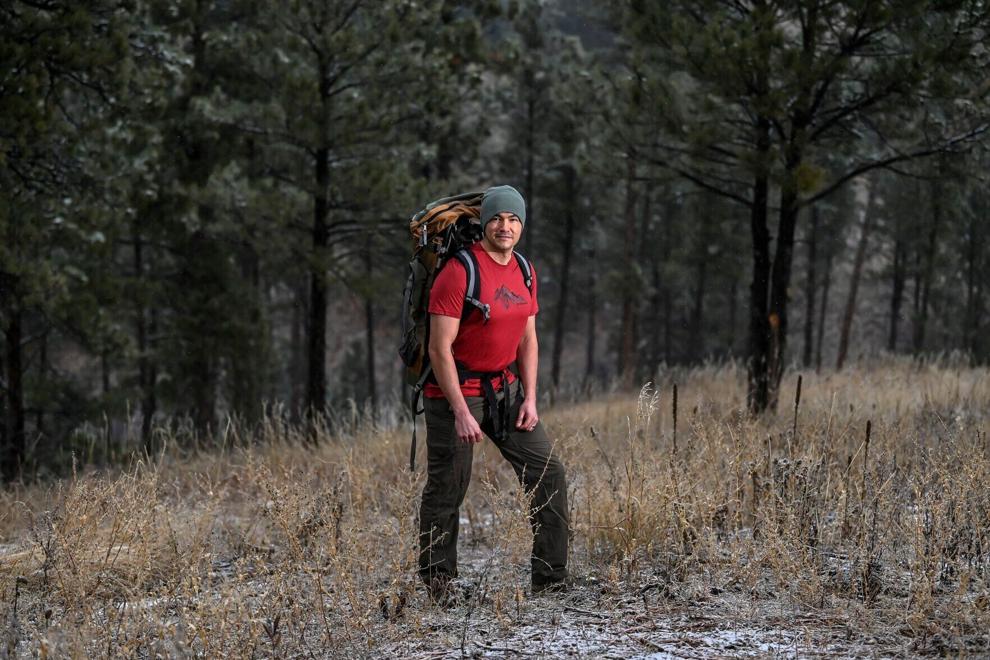 So, it wasn't for a lack of capability, training or experience Weasel's group was turned around on Denali, and it wasn't a lack of grit either. In fact, Denali was not only the first time he's ever been turned around on a mountain, it's one of the only times Weasel's ever been turned around by any challenge — period.
But the crushing defeat set in motion another dream that only time or success can stop. 
"I came away from that experience, being let down to that degree and knowing that I was fully capable of summiting that mountain," he said. "I came away from that experience knowing in my heart that I was going to be the first Native American to summit the 'Seven Summits' — the highest peak on each continent." 
The seven summits are a bucket list goal for many adventurers. 
American businessman Richard Bass was the first person to complete the seven in 1985. However, Bass climbed Australia's Mt. Kosciuszko (7,310 ft.) as the highest point in the Australasian continent, a point disagreed on by Italian mountaineer Reinhold Messner in 1986. Messner argued that the Carstenz Pyramid (now known as Puncak Jaya) was higher than Kosciuszko and should be the agreed-upon summit for that continent. 
The disagreement resulted in the "Messner List" and the "Bass List," with the one peak difference. Most mountaineers agree with Messner's List, although some summit Kosciuszko as well just to be safe. 
Messner's generally accepted "Seven Summits" are: Kilimanjaro; Mount Everest (29,032 feet) in Nepal; Aconcagua (22,838 feet) in Argentina; Denali; Mount Elbrus (18,510 feet) in Russia; Vinson Massif (16,050 feet) in Antarctica; and Puncak Jaya (16,024 feet) in Indonesia. 
Scalpels and ice picks
Laden with a 60-pound pack and dressed for summer amid freezing temperatures, Weasel treks up and down the hills in his neighborhood to prepare himself for the grueling, frigid, weeks-long ascent he's soon to face. 
He's already made his mark on the world by being, as far as anyone knows, the first Lakota Sioux surgeon in history. But this spring, the 36-year-old Rapid City doctor will make an attempt to be the first Native American to summit Mount Everest — the highest peak on earth, situated in the Himalayas on the border between China and Nepal. 
The plan is to leave after Easter and be back by early June, climb and weather conditions permitting. 
Weasel trains 15-20 hours a week with a mix of cardio and weightlifting focused on the muscles used in mountaineering — legs, back and core. Using his knowledge of medicine, he trains in cold exposure as well, going from his sauna outside to the freezing temperatures in order to activate the body's natural adaptation ability.
But as a child, mountain climbing was never on his radar. A professor-turned-friend regaled him with his own experience of climbing Mt. Rainier in Washington state. The spark was lit and has since grown to an inferno.
For many, mountaineering is a sport of glory, a desire to push the reaches of the human body and mind for bragging rights. But Weasel wants to set an example for others, especially Native youth. He also wants to generate support for the charity he founded.
"[I] really want [the expedition] to serve as an inspiration for the native kids, that whatever their dreams are for their life, they're equally capable as anybody else to dream big dreams and see them come to reality. That's really what my heart is through this whole thing," he said. "If it weren't for the fact that no native person has ever summitted, I probably wouldn't be doing this. But I feel like there needs to be somebody first to do it, so why not me?"
It's the wider implications and goals of his climb that keep the support of his wife. Mountaineering is a dangerous sport, but it also requires time spent away from home — a sacrifice for both of them. For her, it's equal parts excitement and fear, he said. He believes if it were just about him wanting glory, she wouldn't support it. 
Life of medicine
While sitting in the pews at church dressed in his Sunday best and listening to the sound of his father's voice fill the hall, Jacob Weasel's lifelong journey into medicine began.
As his father's sermon drifted into the hearts of his congregants and past his 16-year-old ears, Weasel began to pray. He had a vision. He was in a room shrouded in a white coat, Weasel said, he appeared to be talking to a patient, telling them he couldn't do any more for them, but said he believed there was someone who could. 
He prayed for them. They were healed. He immediately told his father he'd been called into medicine. 
Weasel was born at the Indian Health Service Hospital in Gallup, New Mexico, a town of around 20,000, marked by a stunningly alien red rock landscape. He's the middle child of three, with an older brother, John, and younger sister, Jordan. His father, Dobie, is Assiniboine from the Fort Belknap Reservation in Montana, while his mother, Jamie, is Lakota Sioux from the Cheyenne River Reservation in South Dakota, where Jacob is an enrolled member.
He grew up in a middle class, predominantly Hispanic community in Albuquerque, New Mexico. When he was 12, the family moved to Omaha, Nebraska.
At 16, Weasel was selected for a summer research program at Creighton University. It was a summer break that would repel most teenagers: hours spent in the library doing research and learning lab techniques firsthand, but it was the first door opened after his calling into medicine. The studying landed him a national award and the opportunity to present his findings at a conference in Aventura, Florida.
His dedication and success that summer netted him a full-ride scholarship to Creighton for his undergraduate studies. He studied theology and philosophy with a minor in health administration and policy before landing a spot at the University of Nebraska Medical Center's College of Medicine. 
It's an interesting dichotomy — theology and medicine — two fields which can seem so diametrically opposed, and yet, Weasel said, are so connected. At the heart of the matter is the search for truth. He's had the opportunity to study medicine and the miracle that is the human body, calling our fragility and importance an intriguing paradox. 
"I think that they're equally aimed at ascertaining what is true in the universe, and then come at it from different angles," he said. "There are certain questions that science has a very hard time answering, and there are other questions that religion doesn't really try and address because they're in separate fields. What I have found is that in that pursuit of truth is where that reconciliation is found."
Things weren't always smooth. In the first few weeks of medical school, when the stress of getting in melted away and the enormity of the workload began to settle in, he said, his classmates began complaining. Some wanted to quit. He reminded them of how they'd fought to get that far — and how many others were behind them fighting for the same thing. Weasel didn't want to give himself an easy out, he said, and not wanting to be turned around, he dug in.
Family of faith
Jacob met his wife, Lauren, while she was in college at the University of Nebraska at Omaha. Lauren began attending his father's church, and despite being a few years older, they fell in love, he explained with a boyish grin and a star-struck flash in his dark eyes. Married for well over a decade now, the couple has three children: sons Leighton and Judah, 15 and 13, and daughter Isabelle, who just turned 12.
They built a stunning home on the south side of Rapid City and spend their free time hiking and fishing, watching movies, and enjoying family life with their goldendoodle, Kona. They're regulars at Fountain Springs Church and have worked to integrate themselves into the local community on all fronts.
He gets the most satisfaction in his life by being a husband and father, something he said is also his biggest challenge. The commitment and dedication to each other and their family has allowed them to invest in a healthy marriage, putting in the effort to lead a life and relationship of intention.
"Nobody's going to care about what mountains I climb one of these days," he said. "The things that matter are the legacy and the example and the lessons and values that I hand onto my children, and the life that I build with this woman that I vowed to dedicate my life to."
The Weasels brought their children to the Black Hills for a visit during his third year of surgical residency in Des Moines. The decision changed their future. Standing amongst the pines and looking out over the landscape, the area's sacred power drew them in.
"[We] fell in love with the Black Hills, and coming here … it kind of felt like I was returning home to a place I'd never lived," Weasel said. 
But it was the place he was supposed to have grown up; his parents had planned to move to Gallup only briefly to have his older brother at the IHS hospital there, but liked the warmer weather and proximity to family.
They had set up housing at Lakota Homes in North Rapid, but never moved in.
Building bridges
Weasel's mother would tell him stories of how she was treated as a young native woman in South Dakota. How she was followed around the mall. It's important to recognize the trauma in this community — a recognition needed before healing can begin, he said. But also not to hold on to the past at the expense of the future. Part of his goal in coming to Rapid City — aside from serving the Native community — is to be a bridge of healing between cultures. 
He serves as faculty for three different medical schools, including as the assistant dean of diversity and inclusion with the University of South Dakota College of Medicine. The unique position he's in — a Native American and a surgeon — affords him a perspective not many others have. 
"Anytime I take a patient to the operating room, it is plain as day to me when I make an incision that the things that seem to separate us are only millimeters deep," he said.  
His Native upbringing and the near-miss of growing up in Rapid City all culminated in the founding of the Wopila Project, Weasel's nonprofit centered on spreading gratitude and encouraging generosity. Right now, it is working to build a playground at Lakota Homes for the children that live there. 
"There's so many kids that live in that development, but they don't have a permanent playground structure. I've talked with some of the families and they have to take their kids maybe a mile away to go and play, and that's difficult, especially in the winter," Weasel said. "[I'm] just wanting to show those kids that they're seen and that people care about them."
The playground would also have seven pillars, one with each of the traditional Lakota values. The name "wopila" comes from the Lakota, meaning "out of all you've been given and all that is, you in turn give back to others." It's a philosophy integral to his very existence. 
None of the funds he raises goes toward funding his climb or travels. But he is open to gear sponsorships for the trip, and is always open to any help offered.
A life of significance

Lying on the operating table, a young car crash victim with catastrophic bleeding in her abdomen was about to die.
But Weasel and his team held the end off a day at a time. He repaired the near-fatal damage and allowed her to leave two days later. He'd given her more time.  
In 2018, Weasel signed on to be an emergency and trauma surgeon with Monument Health in Rapid City. He does everything from consults to emergency surgeries like appendectomies and gallbladder removal, but he also sees the violent side with shootings, stabbings and suicides. 
The best part of the job, he said, is connecting with people and having the privilege to walk with them through some of the most painful moments in their lives. Weasel was driven from a young age by two ideas: time and what it means to lead a life of significance. 
"I found that significance was only found in service to others," he said. "I wanted to do something that would be able to serve people and also afford them more time — more time with those that they love doing the things that they love and experiencing all that this world has to offer."
Seeing the realities of time come crashing down on his patients motivates him to keep living life with the time in front of him.
"I've had too many encounters where I meet the greatest people that have worked their entire lives with the aim being the RV trip around the country or putting that sailboat in the water or taking that trip — whatever it is — and then getting to a point in their life where they get diagnosed with an illness that prohibits them from ever realizing those dreams," he said. "Working forever towards a goal that will never be realized... seeing that dream die... [I] just didn't want to be another one of those individuals."
The idea of "running from zero," a concept he learned from his pastor at church, is something everyone can apply to their own lives. He implores people not to let fear stand in the way of big dreams, but to run towards something — no matter how small.
Attitude for adventure
Jacob Weasel has no shortage of big goals.
Besides his Everest attempt this spring, he's planning a summit of Aconcagua in Argentina next January, and then wants to work on a visa to climb Mount Elbrus in the Caucasus region of Russia. He has his sights set on an explorer's grand slam — reaching both the north and south poles — and wants to learn to sail to be the first native person to circumnavigate the globe. 
"When you experience something that elicits equal parts of wonder as much as it elicits fear — something that is as terrifying as it is awe-inspiring — that begins to border on an experience of the divine," he said. "I find that God reveals Himself in different ways, and one of the ways is through His creation, both in the natural world as well as in different cultures on this planet."
He wants to do it all — bike ride across the United States, hike the Pacific Crest Trail, and ride a motorcycle from Prudhoe Bay, Alaska to Ushuaia, Argentina — raising money for charity the whole way. It's getting closer to God through His creation and showing his children how to dream big dreams and live without fear. 
"I think that humans have this amazing ability — if we learn to believe in ourselves," Weasel said. "I feel like you'll learn more in a week struggling on a mountain than you would in a year otherwise being within the comfort and safety of your home." 
The obvious danger, all too apparent for a trauma surgeon, is about risk mitigation, he said. He's likely one of the few trauma surgeons who rides a motorcycle, and one day plans to take up wingsuiting (skydiving using a webbing-sleeved jumpsuit).
Denali's summit still stands on the horizon for Weasel, and though it's no longer just a 1,000 feet away, he will return. But he's saving it for the last of the seven summits.