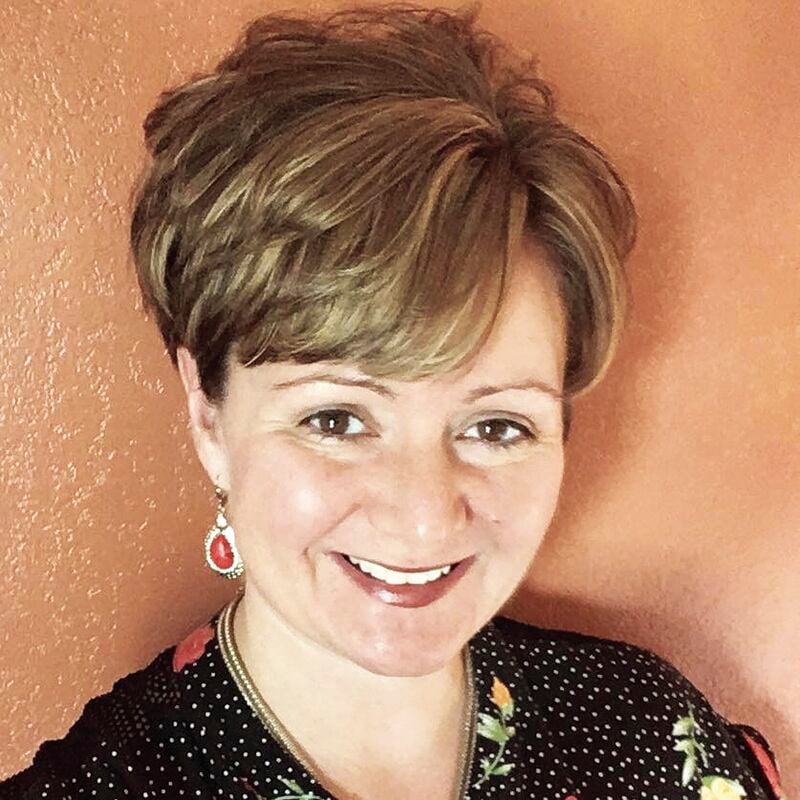 Since I am not screaming in horrific desperation waiting for a plane to pluck me out of a country that was set afire into a seemingly forever war too complicated for me to understand, I will do what I can do – write using my precious, fragile freedom today. We want to blame one man, one side, one thing we don't agree with – we plead, while others bleed. I turn inward. Questions arise – am I doing anything? What can I do? Then, I dare say it again – if we don't have a strong agriculture, we won't have any soil or life to protect here or abroad.
So, this week, I present to you, Michael Kotutwa Johnson. I was introduced to his efforts while working with the Intertribal Agriculture Council. While I have not met Michael in person, I am enamored by his passion for his corn. Michael earned his Ph.D. in Natural Resources from the University of Arizona. He sings a beautiful rendition of Silent Night. He also refers to his corn plants as his "children" and other endearing references. Beyond the stuff of science and seed, you feel something different when you learn about plants from him.
I want to share a public Facebook post Michael wrote that included pictures of his Hopi cornfield. He said, "My little Hopi cornfield may not look like much compared to those in Iowa or Nebraska. Sometimes people make fun of my plants because they are not tall, uniformed, or spaced properly. I will say this from a scientific perspective as I am one as indicated by (my) Ph.D. The biodiversity of a Hopi cornfield is what has made it truly unique in the arid Southwest. Without biodiversity, you have no sustainability. We are like corn as I was told once by a Hopi elder. Think about that."
I have certainly thought about Michael and his Hopi corn – designed and well-suited for his place in the world. Subjects like biodiversity, diversity, soil, and protection of all natural resources may seem lightyears away from subjects like war, terrorism, and crime. However, they are in-fact interlinked – and, if we become laser-focused on these subjects, we will give ourselves a fighting chance against world famine and poverty we cannot even fathom. Humble Michael and his Hopi corn spurs within me great pause and reflection.
Michael knows the true health of the farm is best founded on an in-tune relationship with the environment and a healthy enough ego to survive the chagrin and even disdain of other neighbors who simply want to destroy what they don't understand. Many modern farmers have been trained and conditioned in just a few short ag history years, and can forget what even our grandparents and their parents understood far more than we do – nothing surpasses our own intellect and its connection with our unique geology in the areas we attempt to continue our agricultural pursuits. We cannot begin to truly understand our soils and precious resources if we don't go back and consider what the landscapes we currently farm today once looked like and how that ecosystem was divinely designed to truly flourish.
This brings me back to Michael and the most sobering part of his message – "Sometimes people make fun of my plants." It is this sort of ego-centric agriculture that will be our demise. Are some of our agricultural decisions made with tunnel vision and looking down our noses at others doing things differently? What would it be like to learn from someone like Michael? We need to ask ourselves why we do what we do and why we think so highly of it. Is it the only way? Are we the best stewards or the best neighbors? I look inward and ask, can I/we do better?
Corn – its ancient mother, the wild grass Teosinte, has indeed changed from her origins. I was not far from the birthplace of this plant when I visited cornfields in Central America nearly 20 years ago. Years later, I am fully convinced everyone who loves this plant and grows it for the world's use, must listen to humble voices like Michael's if we are going to grow it better for the next thousand years. If we do not, we will also sorely continue to miss what our European ancestors did not fully understand when they plowed up the prairie with the limited knowledge they had at that time. Just as all things change as we learn, our farms can change with new relationships between each other and the crops in our midst. New and deeper relationships with natural resources and neighbors at home and across the globe can inspire us to reach the next level of the land's potential. Maybe, just maybe, we can do better if we don't look down at wisdom like Michael's, but instead, look forward – and grow even better, more resilient corn and a host of crops – together.