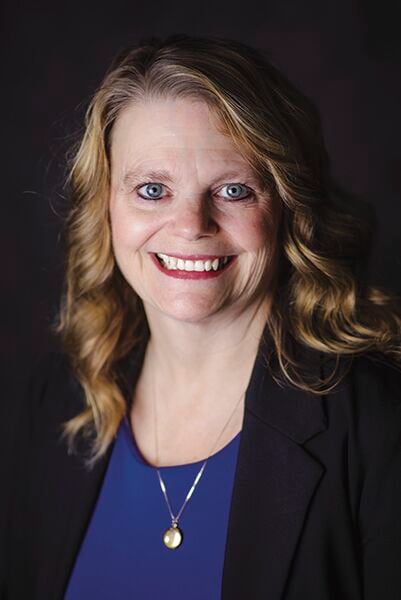 York was very busy with shoppers this past weekend during Small Business Saturday (November 27). Retail locations were filled with shoppers throughout the day. Santa was busy visiting children in front of the Chamber office. The wind was a little tricky to work with so we had to adjust Santa's setup a couple of times. Children didn't seem to mind the constant shifting, because seeing the big guy in red is really what they look forward to.
Jill and Emily were busy this week getting the foyer of York's Kilgore Memorial Library all ready for Santa's regular visiting times now through the 23rd of December. Santa's hours at the library this year will be Thursdays (December 2,9,16, and 23 from 5-7 p.m.) and Saturdays (December 4, 11 and 18 from 11 a.m.-1 p.m.). This year, the United Way of York will be assisting Santa with children and families as they come to the library. The United Way supports many projects in York throughout the year and their board wanted to be part of celebration activities too. Volunteers will be happy to visit with families about how they serve the area. There will be small snacks (while supplies last) and if you are inclined, donations for United Way of York will be accepted.
Last evening, you may have noticed the Grinch and Cindy Lou Who strolling through the downtown area. These two are on a mission to keep Christmas cheer in York this year! They handed out 11 envelopes with Chamber Checks in them to thank shoppers for supporting local. The United Way of York presented this idea to us and the Chamber along with Union Bank and Trust were excited to be part of a fun project. Grinch and Cindy will be downtown two more times this season (December 9 and 16), so make sure you are "caught" shopping local and they just may surprise you with a gift.
Thank you to the team at Nebraska Medical Mart for hosting Vibe@5 last night. The Chamber and the Chamber Ambassadors were thrilled to help you celebrate your new location with a ribbon cutting. The services you are able to provide the area are valuable to so many. Thank you for being part of the York business community.
While you are out and about next Thursday, December 9, stop in at York State Bank (main location/Seventh and Lincoln) and check out the refresh in the lobby and meet the team that is eager to serve not only their customers, but the community as well. The holiday open house is a great time to host a Vibe @ 5 and for the leadership to introduce some new team members. Take time to stop in at York State Bank on December 9, you will be glad you did.
Holiday Rewards is in full swing! There has been a steady stream of people coming through our doors redeeming their receipts and enter for a chance to win Chamber Checks. The Holiday Rewards program began Saturday, November 20 and will run through Tuesday, December 14. Customers conducting business with Chamber members between these dates are eligible to participate. On Wednesday, December 15, from 7 – 8 a.m., we will draw names live on the air with our friends at KOOL Radio. Be sure and tune in so you can call the station when you hear your name called. Full details can be found at https://yorkchamber.org/holiday-rewards/. Do business with our Chamber businesses to have a chance to win Chamber Checks all by "Keeping the Cheer Here" this season!
Our office team is full steam ahead for 2022. We are looking forward to hosting the Ag Expo January 6 and 7 at York's Holthus Convention Center. This sold-out show will be filled with exhibitors ready to visit with area producers on how they can help them with their agricultural operation. If you are needing to certify or recertify for chemical and pesticide application, UNL Extension will be conducting these important trainings both days the show. If you would like more information on how to register for the classes, contact Jenny Rees at the extension office at 402-362-5508 for details. The evening of January 6, the Celebration to Ag Social Hour will take place on the exhibit floor. The public is encouraged to attend and visit with the men and women who are so important to the economic growth of our area.
January is also the time the Chamber pays tribute to several of its members for their continued commitment to their business and community. I am always honored to be part of recognizing people that have done so much for York. The Chamber's annual banquet is set for January 18. The annual Home and Garden Show will take place February 18 and 19 and Jill has been busy working with vendors as we fill this show up as well. We will be getting more detail information out soon for this popular annual event.
Take the time to enjoy the holiday season. Even the smallest gesture can be the biggest blessing to some.