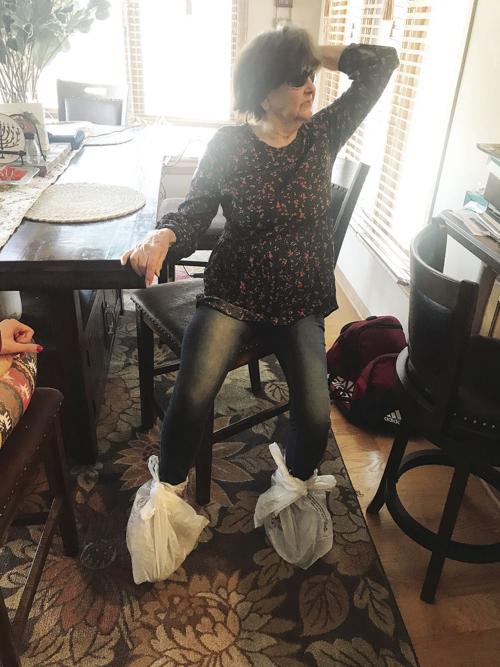 This past weekend I went to Omaha to spend the holidays with my family. It was a small gathering -- just my sister, her husband, their three kids, Bob and I and…my mom.
We all had bets that she would defy my sister's request that we all take our shoes off in her home. Sure enough she arrived (late), proceeded to leave on her high heeled boots and put plastic supermarket bags on them instead. Keep in mind she is in her late 80s and there is no reason for her to wear high heeled boots, but she did.
She wore the bags all day, and was named the Bag Lady by us.
We could hear her coming from wherever she was in the house by the "wif-wif" sound we heard.
We asked her why she simply wouldn't take off her boots like the rest of us.
"I won't be told what to do," she proclaimed.
I think it's something more to that. The fact that her daughter asked her to remove her shoes was part of it. If my sister said she couldn't walk around in her socks, sure enough the boots would have been gone.
They argued a bit and Mom wouldn't give in…she just wore her boots inside plastic bags like a regular mental case.
The other thing that astounded us was she told us she left her Visa card somewhere in Hy-Vee.
"You called them to find out….right?" we asked.
"No. I have faith in human nature that they will turn it in," she claimed.
"Well, certainly you called the bank to cancel it…right?"
"The banks were closed on Saturday," she responded.
We were astounded by this conversation. She told us she would call on Monday. We asked her if she knew they could have bought China by then. That didn't seem to faze her. As of now, she has heard nothing from either Hy-Vee, the bank or the country of China.
Other than that it was pretty normal. Mother gave us all checks for the holidays which we greatly appreciated. My two brothers called while we were at my sister's. They are both doing great but strangely they both hesitated to speak to Mom, but they did.
I told my family I was going to do Santa full throttle next year. Everyone thought it was a good idea and it would be successful next year. I've started growing my beard out (think it will take a year) and hope it will be a full beard that I will color next year. The beard and wig I have are a little wild and the more of it that's me…all the better.
I did some Santa gigs on Christmas Eve, including for my boss and her family. At least one of her daughters is on the fence about Santa and she told me I may have gotten through to her. I also visited our great former neighbors, the Hills and their crew. Two of their younger ones still believe in Santa and we had a great time. The night before I stopped at Madonna Mogul's home where her three grandsons were. We had a ball except for the fact my glasses kept fogging up -- but it was great. Don't know how many years I have with them, but I hope it's at least another year.
For next year, I am thinking of all sorts of marketing ideas for my new Santa gig. I came up with a name for it which I need to check it's not being used. My friend, Valinda, is going to check with her son-in-law about building a website for me. Sue Ann Romohr is looking into new costumes for me and I need to talk to her husband Bob about a business idea. I hope to announce it soon. It could add another new element to my Santa business. I have been looking for new additions to Santa's Hut to make it more homey. I guess I should wait to be asked next year (hint hint).
I had a great last few days at the Hut. The Sunday before Christmas was the busiest day I had there. I had a pretty steady line of kids to talk to, even with the library closed that day. A lot of kids had last minute additions to their lists and hopefully they got what they wanted. They've been very good this year under very difficult situations. I'm happy to announce that almost every kid had a mask on. I always asked the parents if it was OK to come in the hut. Hopefully next year this pandemic will be a thing of the past and we can get back to some normalcy around here.
I want to thank you for shopping locally this year. The Chamber's new slogan "Keep the Cheer Here" was perfect for this year and your support of local business is very much appreciated. I want to wish all of you a very wonderful New Year's Eve. Let's hope 2021 is better for all of us. Thanks for reading this column and I hope to keep bringing you tales of my mom all year long.