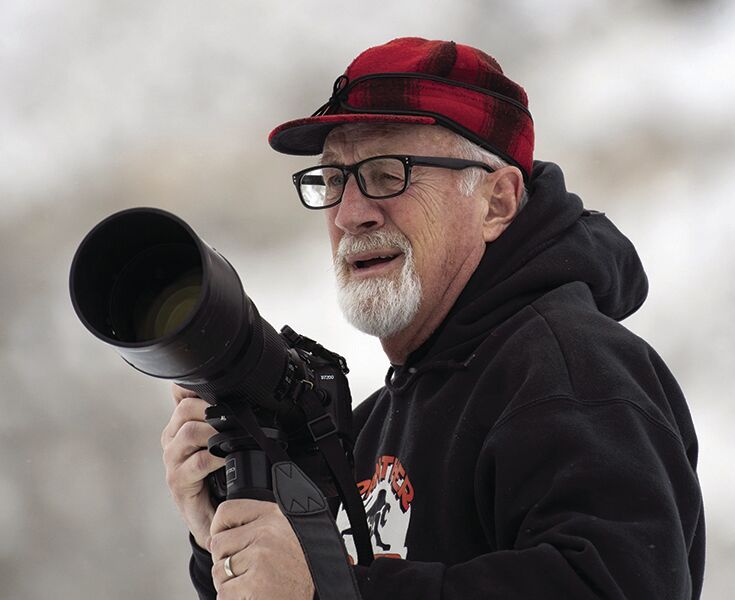 That I have been an avid reader of at least two newspapers wherever we lived in adulthood is a fact known to many. The habit long pre-dates the past 30 years in which I have made an unlikely but passable living from within the newspaper industry itself.
Even as a young guy in my 20s I was reading the paper unlike, I suspect, my running buddy peers.
My dad, Russ, was a newspaper disciple, too. Perhaps that's where I formed my own fondness for ink on my fingers. He was especially tuned in to Omaha World-Herald sports columnist Tom Shatel. Many were the times he would ask if I'd read Tom's latest piece and give me his take on it.
But he was interested in the global perspective, too, having battled the Japanese from the destroyer USS Sigourney in World War II. We would chat about the news frequently. I am confident we groused about how the country was going to hell in a handbasket … exactly as everyone does today.
He always subscribed to the World-Herald and the local paper wherever we lived, a list that includes Kearney, North Platte, Broken Bow, Genoa and Lexington.
So it's of little surprise I became infected, too.
In later years though, as he grew older, he tuned all the 'big picture' stuff out. I might ask about national leadership, a current national issue, or even a political hot potato the state was dealing with, only to get a shrug of disinterest in return. Clearly he no longer demonstrated depth of knowledge about national or world news and zero opinions to share.
He explained as he aged such things seemed of less personal relevance; kind of a 'they can't hurt me any more so I checked out' attitude.
I didn't get it then. I get it now.
It is stunning how little of the Omaha World-Herald I actually read each day
COVID? Nearly all of those stories, page upon page upon page of them, go ignored. Why? It isn't because the issue doesn't matter because it sure does. However, I've done all I can within my limited scope and influence so why waste the precious little I have left about it? I was vaccinated twice (I'm a proud, card-carrying Moderna man) at first opportunity and got my booster just this week. It is incomprehensible why anyone would refuse to 'take one for the team' out of concern and respect for the rest of us if not for themselves. Yes, I get the whole 'choice not mandate' argument, but it seems much ado about nothing in the face of global pandemic. If all of us would have made the right 'choice' there would be no need of a 'mandate' to protect the greater good. Had people stepped up to do the sensible thing at the outset, every educated and intelligent account I know of proclaims COVID would be a distant memory by now.
If a 5-year-old must endure 13 inoculations to be accepted at York Public Schools (this is a fact), would you consider putting up with just one out of concern and respect for the rest of us? Yeah, that's what I figured.
I pay more attention to political reporting than COVID, but not much. My disappointment in Joe Biden runs deep. In this lifelong Republican's view what we needed from him was a return to normalcy, or at the very least a return to sanity, honesty, human decency, respect for the rule of law, morality, intellect and integrity.
Was there a mandate for Biden to declare himself the reincarnation of FDR, trot out a second iteration of the New Deal and fly it directly into the teeth of a galactic budget deficit? If so I missed the memo.
Global warming? That one has me all burned out, too (pun intended). There is zero doubt in my mind this phenomenon is completely real and that we self-absorbed humans are primarily to blame. Weather is doing stuff more devastating than ever in recorded history, doing it faster than the speed of light comparatively and in places on the globe that have never seen such frequent, magnified death and destruction.
If you extract just one thing worth remembering today, let it be that 'weather' is NOT 'global warming.' When we get a big blizzard or crushing ice storm in York County or along the eastern seaboard or anywhere else, please do not trot that out, sniff haughtily and declare global warming a hoax. If you do your uninformed ignorance will soar like a banner for all to see. Weather is current , regional ramifications of overriding global warming and other factors which, apparently, our group inattention is going to render permanent … to our mutual doom and eternal shame.
Republicans and Democrats will come and go (thankfully 'go' in the case of our transparently shallow, self-serving governor – but don't get me started). Of course I'm a grumbling political hack, but at least I'm nonpartisan. The only example of the species left in the country, I bet.
Of course there remain sports to read, but even that is fading from view for me.
Husker football -despite our shared mortification in recent years - and college football in general still rate a good read and I soak up every syllable on Husker volleyball. The rest of the Wide World of Sports, by and large, is passed over with no more than a headline glance. Pro football? I could not possibly care less. Pro basketball? Ditto. I dragged myself out onto the frozen tundra so many nights and weekends to cover thump, thump, squeak, squeak over the course of three decades that hoops in general has been diluted by sheer exposure to thin gruel in my world.
So there you have it. I, like Dad was then, have drawn much nearer the end than the beginning and have come to understand why Dad wrote off the whole mess. Truth be told, it's a relief.