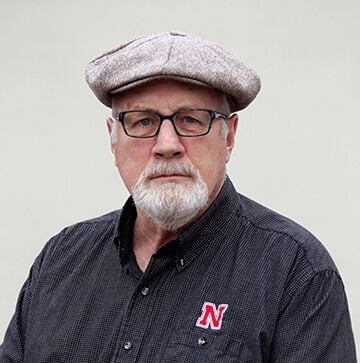 Do you recall the first time you saw the Huskers live and in full color at Memorial Stadium? It was high school for me back in the 6os. I know some of you have never had the opportunity to take in game day at Nebraska and for that I am sorry. It is an experience every Cornhusker should get to enjoy and appreciate at least once.
I recall a game or two when our own kids were young and we were able to take them to the Big Show. It was great fun, save that one game when the Huskers drubbed the Oregon Ducks something awful beneath driving sleet and rain. Son Aaron and I shared a trash bag to shed at least some of the downpour. I had my right arm across his back inside the bag. I held us together with my right hand under his arm.
Nebraska scored about every 17 seconds and each time they did the folks in front of us leaped to their feet blocking our view. To compensate, I simply stood up with Aaron still in my firm grasp. His feet dangled in the air, but at least the kid could see.
I don't know if that miserable day made a memory of note for him, but it sure did for his dad.
A generation later, Aaron and his bride Rhonda are parents to Taya, a seventh grader, and Jonathan who is two years behind in fifth. Neither had seen a Husker game in person until dear friends in Broken Bow asked if we were interested in their four tickets in prime seating for the Buffalo game.
Good Wife Norma and I, recalling the youthful exuberance of first games with our own kids, gave Aaron and Rhonda a call. Cut to the chase; we paid it forward and sent the tickets to them.
What a highlight reel day for them. What a warm-fuzzy for us. Win/win.
Parents should see their own kids react to the spectacle of that first Husker football Saturday in person and we were able to help make that happen … thanks to Mike and Sally.
In other recent grandkid news, our Lincoln Southwest senior, Dominic, defied the mathematical odds (and outshined his grandpa) over homecoming weekend for the Silver Hawks.
In a senior class that exceeds 500 kids, half boys give or take, our own Dom was voted one of just three homecoming king finalists. How impressive is that? He not only overcame daunting numerical odds, but also threw his Grandpa Moseley way back there in the shade.
You see, I was one of something like 36 in the Genoa High Class of '67. Take away the girls and I had to have been one of 18 or so fellas 'qualified' to be crowned. Nope. Didn't happen. Never got a sniff.
Good for you Dom. What an accomplishment. Way proud.