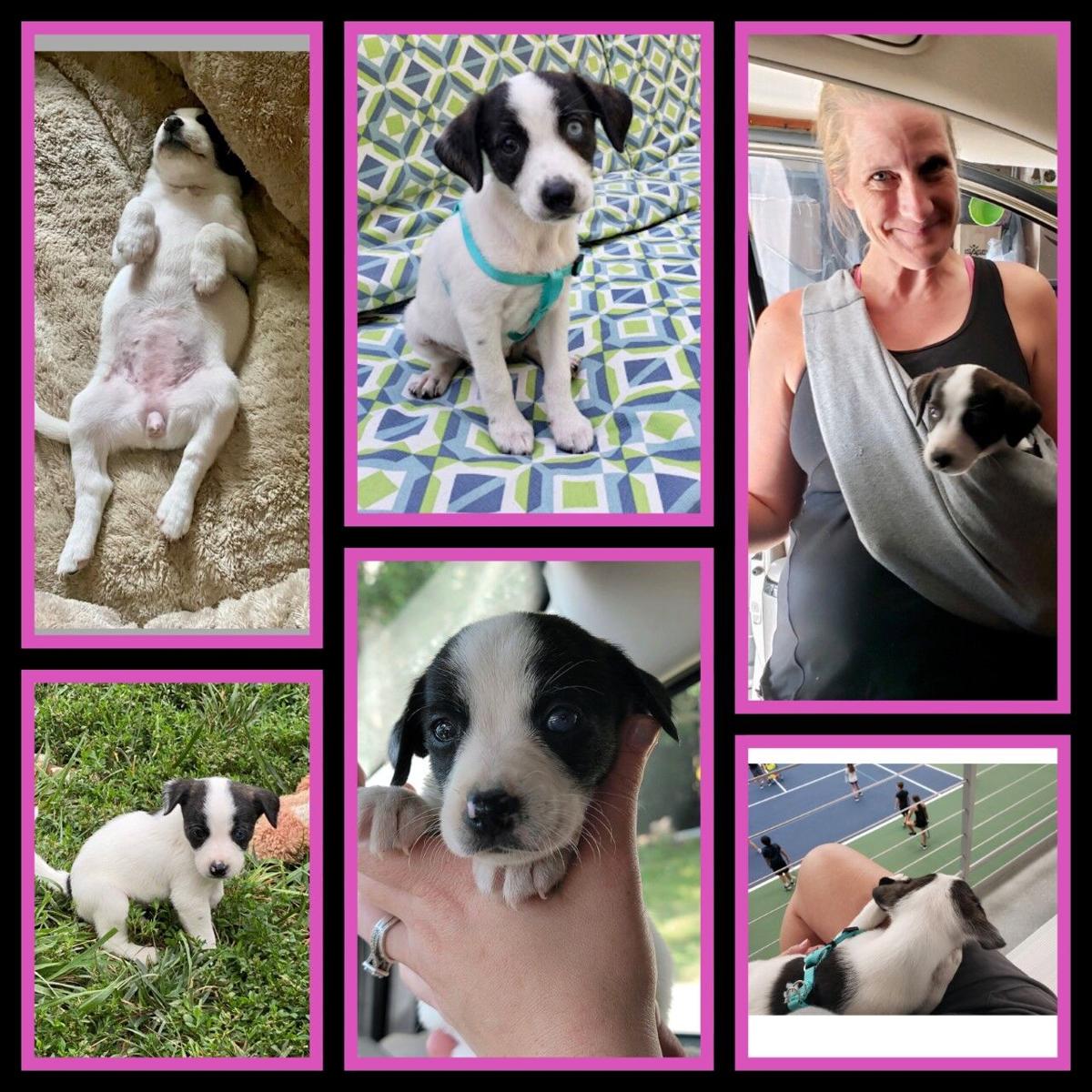 Towards the end of July, we were at the lake for a function for my husband's employer. I had people covering at the shelter but it seems whenever I leave, inevitably, something always comes up. I received a text message from Mona Peterson about a little pup a family needed to surrender. I called them later that afternoon after we made it back into town and was to meet them in the morning.
The family had been in Grand Island and someone was giving away a litter of puppies out of the back of their van. This will always be something I hate! You don't know what kinds of homes these babies will end up in when you do this. Anyway, they had taken a pup home and decided it just was not for them. I have to say after receiving this puppy, I was so glad they gave her up. That's because she was too young to be without her mom. The poor little girl didn't even weigh two pounds.
I took her home right away because I knew I would have to keep track of her weight and be sure she was eating enough several times a day. I am at the shelter quite often, but with a pup like this it's easier to have them at home. She was very tiny and weak but we could tell that she had plenty of fight in her. For some reason she looked like a "Mabel."
After a week or so I had a previous adopter send pictures of the dog they had adopted recently. She also mentioned she had a friend from church named Jessica looking for a little dog. So, I sent pictures of Mabel and also another small dog we had at the shelter. The next day I received an adoption application from this family. I could tell I was going to like them just reading their application.
As the days went by Mabel was getting stronger and stronger. She was gaining more weight and lapping formula out of a bowl. I didn't have to soak her dry puppy food in formula. The next week I started introducing hard puppy food with a bit of canned puppy food. That was a hit. We were off to a great start.
I contacted Jessica and told her I would be happy to show her Mabel and the other little dog I had at the shelter that weekend. Mabel had made it over the 6-pound mark in the 3 ½ weeks we had her and it was time to find her a home. I knew I was getting very attached to this pup and if I waited any longer I may never be able to give her up.
Jessica came and I could tell it was a hard decision between the two dogs but I could see she was leaning towards Mabel. I went to find Tom, my husband, as he had become pretty attached as well and I wanted him to be able to say good-bye to her. I was a little sad when I went home; however, I knew I could not have found a better home if I had tried.
That night, and quite often since, I have received updates from Jessica. It's so much fun to see how spoiled Mabel is at their house. She has her own children in the home, which has led to some fun outings for her such as being at one of the children's tennis matches. I bet she got lots of attention at the game. Mabel also loves the other dog, Mickey, which already lived in their home. From pictures you would swear they have always been friends. I received a picture a few days later I've included in the collage, it's a wrap Jessica had made so she could keep Mable close to her. She always had to be close to someone in our home as well and love the idea of the wrap. Spoiled girl!!
I got a text from Jessica a couple days ago and she told me that they are rehabbing baby squirrels also and Mabel is so gentle and always wants to help groom them. I am blessed that I got to spend time with this sweet pup and also very blessed to have found that perfect loving home for this little girl. Thanks to Jessica and her family giving our tiny fighter Mabel exactly what she needed!