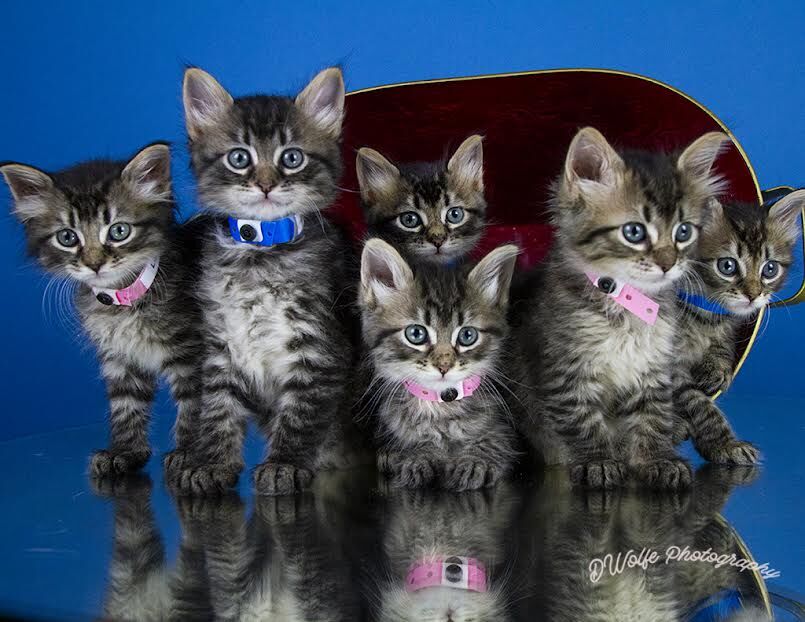 Never let it be said there is anything cuter than a litter of healthy, happy and endearing kittens.
One of the cutest litters in all my years volunteering is pictured in this article. These sweethearts, three boys and three girls, ended up at York Adopt A Pet when an expecting mother cat arrived unannounced in April at an acreage between York and Henderson.
Tim and Nancy at first thought the timid cat was a boy, but lo and behold she delivered three kittens. She started bringing them to their deck for feedings. She refused to have anything to do with them after a couple of months and it wasn't long, about July, when their questions of why she ignored her kittens were answered because she was expecting again.
They knew she had kittens, but although they hunted in their quonset, they couldn't find them. Nancy called for advice on how to stop the kitten explosion. I loaned her live traps and they trapped two of the three older kittens, another male cat and the mother. They took them to York Animal Clinic and had them all neutered and spayed.
They found the six kittens. Nancy had a week of vacation so she bottle fed and cared for these little ones during that first critical period. She had never bottle fed kittens before, much less six at one time. She and Tim were pros at it and they literally saved these little ones' lives. They used Pedialyte, KMR formula, heating pads, rice cereal and a trip to the vet.
They are now being fostered at my house. Diane Wolfe, who is amazing with her patience, managed to get six playful kittens to finally sit still for a family picture. They are Avery, Jack, Quinton, Lily, Simone and Inga. As you can see they all look so much alike, we had to put collars on immediately.
Nancy said they went from no cats to about 10 within four months. This is why York Adopt A Pet reaches out a helping hand. Nancy and Tim are responsible for the animals that were dumped on their property. Thank you for doing the right thing. I know it wasn't easy. All six little angels are residing in my enclosed back patio. They have plenty of room to run and play, places to explore, special little beds and of course the most important litter boxes that they all use faithfully.
The moral of this article is that it truly takes group efforts to accomplish what you are looking at today -- citizens who step up to do the right thing, our local veterinarians and their efforts to help with health needs, and population control. And people like Diane Wolfe who has more patience than anyone I know when she is photographing cats that are scared, non-sociable, sassy, high energy.
Hopefully this little family will be adopted in pairs. I have the enjoyment of watching their antics, listening to their purrs, wrestling and playing. And then to see them all sleeping in a little bed just waiting to start their next play time . . .