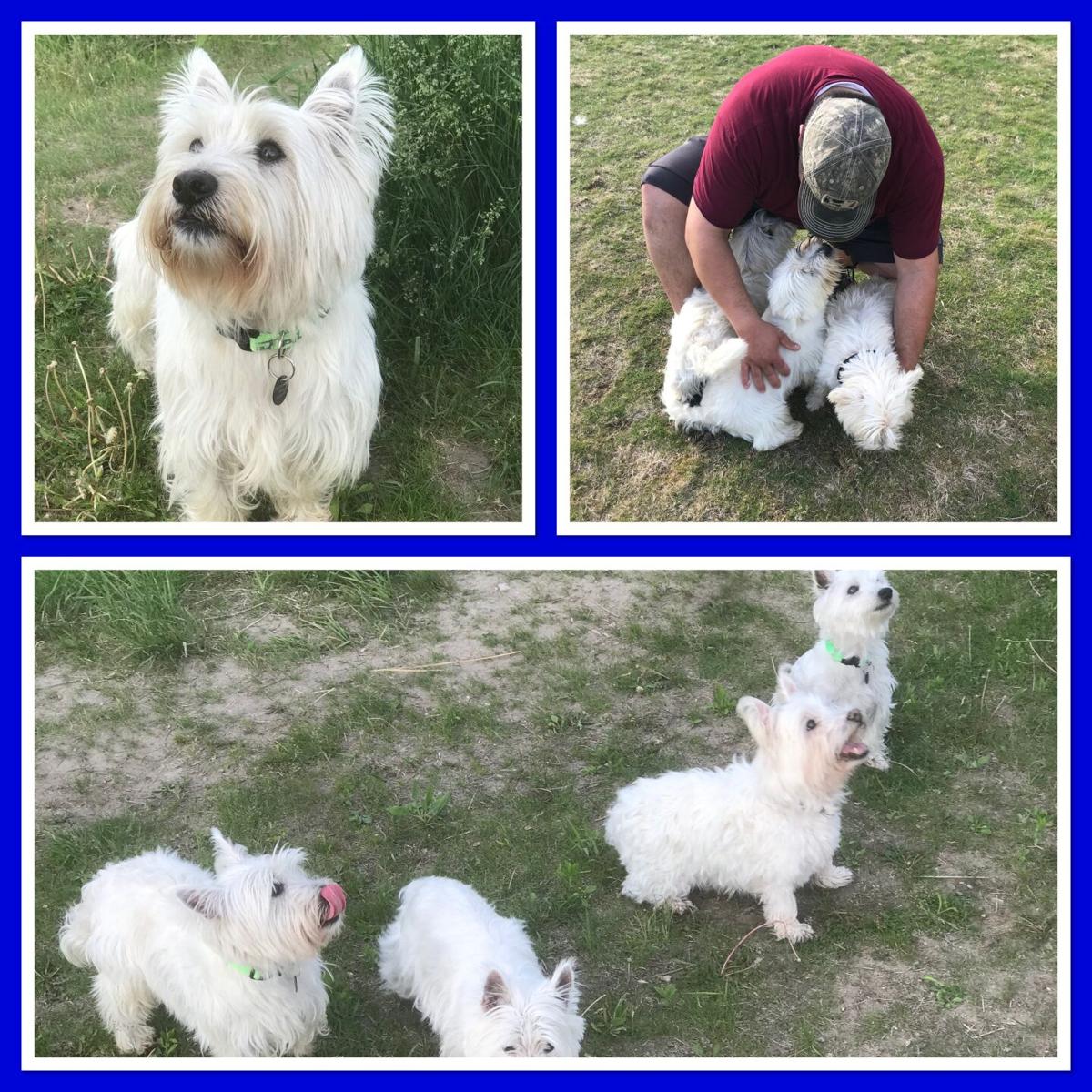 We acquired a pair of West Highland Terriers at the end of February this year. The owner was having medical issues and had to be removed from the home. One of his family members, a former volunteer, contacted me. After a short chat, I said I would take them at the shelter.
The next week was a memorable one as Mindy and Jack arrived. I can say I have never been around this breed before, so it was a real learning experience for me. They were adorable but definitely had some Terrier attitude. They weren't happy with their new surroundings and they were not afraid to tell me about it. It seemed they had been very spoiled and the shelter was not on their list of happy places.
It wasn't long before we decided to split them up as Jack was very protective of Mindy. We placed the pair in kennels beside each other and when outside they were allowed to run together. This seemed to help Jack settle down a bit.
As things started to improve, things were going much better. We got to it and had their vet work done so they could be placed up for adoption.
Then we advertised the pair on the internet. Applications flowed into my email. I noticed most all of them were from out of state. As per policy, we require potential adopters to come to the shelter in order to meet the dogs to be sure they are a good match. This is much harder to do if applicants are several states away. I approved several and it always came down to people not wanting to travel this far. We had taken them off the internet to be able to go through all the applications, but slowly I had run out of options for them.
So we decided to put them back online and try again. This time we had people that wanted to adopt them separately, which we did not want to do. I also feared that if someone that did not know the breed, yet adopted them, there could be problems.
Then, low and behold, I saw an application that looked very promising. Everything checked out great and they already had two Westies so I felt very good about this home. I contacted the family even though they were from Minnesota. Hurray! They were willing to come, meet the dogs and adopt them if they were a fit.
Caitlin, the applicant, was at the shelter a few days later and instantly fell in love with them. I told her everything I knew about the dogs and before you knew it, they were on their way to their new home.
We have kept in contact since the adoption and Caitlin says they are so blessed. She says their life is complete now they have gotten Mindy and Jack. Jack has found a new friend in Lucy who they had before. They are close in age and have become inseparable. This is heartwarming as Jack always seemed like he felt he had to take care of Mindy. Caitlin said Mindy is friends with Sam who is older like herself. Mindy and Sam like to snooze together and waste the day away.
Even though this adoption took some time to make happen, it will be one that I am most pleased with this year. It just couldn't have worked out any better for these two dogs. The owners are amazing and take the dogs with them on outings quite often. Their favorite destination is a dog park in their town. Caitlin has sent videos and it's a neat place with areas to explore, so I can definitely see why they love it.
I will forever be indebted to this family for giving these dogs, who had a good life before the shelter, a chance to be happy again. Sometimes we see dogs that just do not do well at the shelter. It is rare at our facility because we have so many caring volunteers who take time to make the dogs feel better. Jack and Mindy were just were not happy there and it makes my day each time I receive pictures of videos of them being so happy in their new lives still happy together.
I wish you well Jack and Mindy!