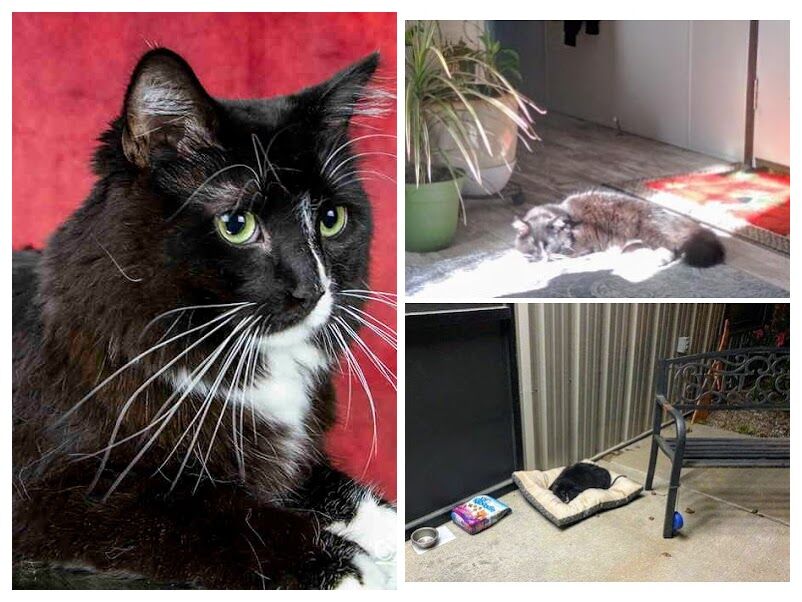 On October 22, I got a 6 a.m. phone call from Kim our dog manager. She wanted me to come the shelter right away.
Someone had left a cat outside the front door at York Adopt A Pet. I had no idea what to expect to find. I would have never guessed what was waiting for me. I hadn't quite imagined what I would find and I wondered who, when, where and why.
When I arrived, I saw a big, fluffy cat lying on a dog bed, cold and scared. He had a retractable leash attached to his collar which had been tied to the leg of the outside bench at the shelter.
He had a bowl of food beside him. My first instinct was to get him unchained and get him settled inside, where it was warm and safe.
Next, I read the note that was left with him. It said, "Please care for this cat. He has been fixed and shots up to date. I'm too old to care for him anymore. Thank you."
That was it. No name, no age or history. No information was given to help us provide the care he may need.
I then watched the video from the security camera. It should be noted he had been outside since 9:30 the night before. He must have been terrified. You can see in the picture that he pulled the bench away from the wall in his attempt to escape his new fate, whatever that may be.
The days that followed were filled with our staff and volunteers assuring him (now named Gideon) that he was OK and safe and we would take care of him.
Gideon started to accept our touches and he would even approach us from his kennel for attention. Once he started showing the signs he felt safe, he was scheduled to be vetted and groomed. Our poor Gideon had fur matted down to the skin on his back. Once he returned from getting groomed, you could instantly tell he felt so much better, the knots and mats were gone and no longer pulling on his skin.
Gideon was ready to leave his kennel and join the small group of cats calling our Isolation Room home. He accepted all the other cats in the room. He made it his home where he found a comfy shelf on which to nap daily, which was one of his favorite spots. He continued to grow more comfortable with all the volunteers and would give head bumps as a way to communicate his affection.
On December 3, I had a couple coming in to meet some of our cats to potentially adopt one. They were drawn instead to Gideon and spent quite a bit of time with him. They were amazed at how friendly he was after all he had gone through. They decided he was the one for them and were optimistic he would fit into their family.
I recently reached out to Gideon's adopters to make sure he was adjusting to his new home, and they said, "He's a good boy. It took him a day to come around. He is very friendly with anybody who comes to visit. He is fun! He likes to sleep with us and sits on the window ledge. Thank you so much for everything."